In big hit to thin trade market, De La Rosa is blocked on waivers
Star lefthander Jorge De La Rosa will stay in Colorado through this year, and the team hopes, beyond that.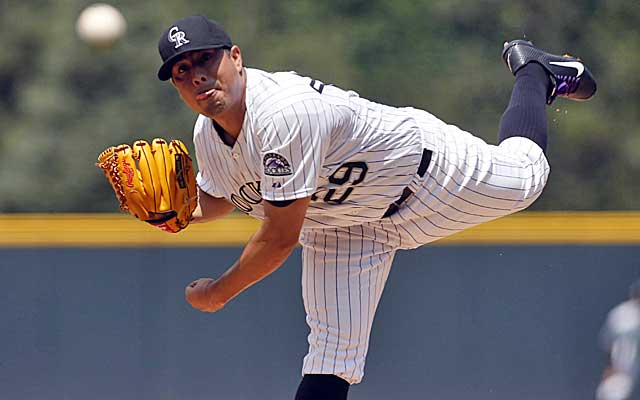 The starting pitching market, about as thin as could get as Monday's deadline for setting postseason rosters approaches, is a bit thinner with the revelation that Rockies lefthander Jorge De La Rosa has been claimed and blocked on waivers.
It isn't known when De La Rosa was claimed, but sources say it was long enough ago that he is now considered blocked, meaning he will stay in Colorado though the season.
De La Rosa, a free agent pitching for a non contender, could have helped a contender, most notably the Angels, who seek to fill a rotation spot following the untimely knee injury that knocked out ace Garrett Richards for the year.
The Rockies talked to teams,most notably the Orioles, before the deadline about De La Rosa, but Colorado's request for young righthander Kevin Gausman, a Colorado product, ended those talks.
The Rockies hope to keep De La Rosa as a free agent, and it's easy to see why, as he's a rare pitcher who's been able to not only solve Coors Field but even thrive there. De La Rosa is a startlingly good 9-2 with a 3.19 ERA this year at Coors, and 44-14 with a 4.03 ERA lifetime.
Overall this year, De La Rosa is 13-9 with a 4.19 ERA. Colorado intends to try to re-sign De La Rosa and will start by making him a qualifying offer.
The Angels have considered several pitchers who have cleared waivers, including Trevor Cahill, Bartolo Colon, Scott Feldman and even A.J. Burnett, but they are reluctant to dive in because all those pitchers have significant dollars coming to them after 2014. They would have loved the free agent De La Rosa.
It has been reported that the Reds' Mat Latos and Mike Leake, and the Jays' R.A. Dickey and Mark Buehrle recently were put through waivers. Among those pitchers, Buehrle is the likeliest bet to clear since he is due to make $19 million next year.