In big switch, Cubs considering signing Garza long-term
The Cubs have talked to several teams about possible trades for top right-handed starter Matt Garza, and it has been assumed he'll be traded. But there's apparently been a change in thinking; they will at least try to keep him now.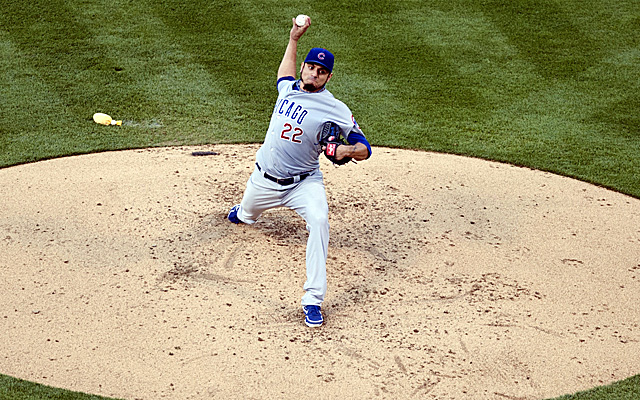 In what could be a dramatic turnaround, the Cubs are now considering keeping right-handed starter Matt Garza on the North Side of Chicago.
Cubs officials, now obviously comfortable Garza is healthy, recently have broached such a possibility, according to industry sources. So while a trade still remains an option for Garza, for the first time in more than a year the sides are in discussions about possibly signing Garza long-term. It had been presumed for weeks he would be traded for sure.
The likelihood of a multiyear deal being reached isn't known yet, but there are suggestions there's still a gap in talks.
The Cubs could also trade Garza, then try to re-engage him in the winter, another distinct possibility.
The Cubs declined comment on the new Garza contract talks, as did Garza's agent Nez Balelo.
Garza is considered the top rental starter on the market, and while there's still time to do a deal before the July 31 trade deadline, it is now far from a certainty. Sources indicate the Cubs have been seeking a top prospect back for Garza, and opposing general managers are very reluctant to part with those type players.
Garza is 3-0 with a 0.90 ERA over his last four starts, all but obliterating the physical concerns that had kept him out at the start of the season.
If Garza is indeed re-signed, this will be a disappointment to a plethora of teams. The Rangers, Red Sox, Indians, Rockies, Giants, Padres, Nationals and Cardinals are among teams that could be seeking a starting pitcher.
Garza and the Cubs had longterm discussions two springs ago that left neither side with much hope a deal was in the offing. Chicago's one real area of need is pitching, so that may have caused a re-evaluation.
If Garza stays with the Cubs, that could raise the value of available starters such as John Danks and Jake Peavy from the cross-city White Sox, as well as a few others. It is a very thin market, and Garza staying could create a feeding frenzy for the few viable starting pitchers out there.
Vogelbach is having a huge spring and may steal the first base job from Ryon Healy

Polanco tested positive for Stanozolol, a common banned substance

MLB was angry with the Yankees slugger, saying his comments were not appropriate
A closer look at the teams in the Cactus League and Grapefruit League

The Orioles are trying, even if their attempt leaves something to be desired

Braden Halladay's father tragically passed away last November