In brief chat, Selig offers no hint he may change mind about retirement
Indications are that commissioner Bud Selig means it when he says he's stepping down next Jan. 24.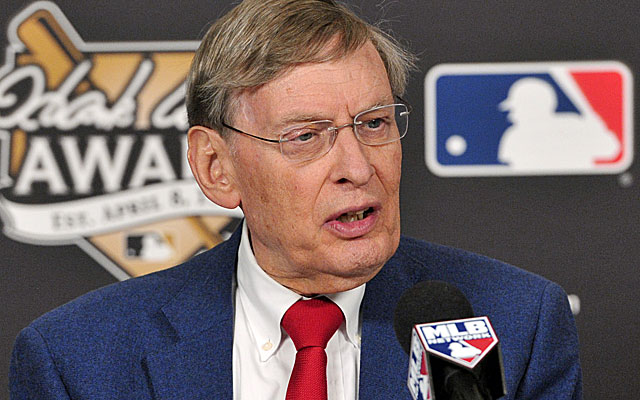 MORE: Spring Training | Scoreboard | FA tracker: hitters | FA tracker: pitchers
SCOTTSDALE, Ariz. -- Baseball commissioner Bud Selig emphatically shook his head no when asked at Sunday's Diamondbacks-Padres game whether he might stay past his retirement date of Jan. 24, 2015, but he didn't say much beyond referring comment to baseball's top spokesman Pat Courtney, who was standing right next to him and issued a brief and immediate statement.
"There is a [succession] plan in place," Courtney said.
There have been a couple speculative remarks made by baseball people on the prospect of Selig staying beyond his announced retirement date, including one by Red Sox president Larry Lucchino, who said last month he wouldn't be surprised to see Selig remain in the job longer. Selig has suggested he was planning to retire in past years, only to change his mind. But people close to him say he means it this time.
Rob Manfred, Selig's longtime right-hand man and baseball's lead negotiator who was promoted Sept. 30 to the position of MLB's COO, would appear to be one logical candidate to take over the commissionership, though Selig/Courtney didn't specify the plan. Whoever gets the job at the start of 2015 will need to be well-versed in the financial issues of the day, as the CBA expires after 2016. MLB will have had 22 consecutive years of labor peace by the expiration of the CBA, but there could be quite a battle this time, with issues involving free agency and the draft, and a new union head, ex-player Tony Clark, who took over for the well-liked Michael Weiner, who passed away this winter.
Some baseball pundits have wondered whether any commissioner candidate will have the popularity necessary to win 75 percent vote of the 30 owners, or 24 votes, after so many owners have been so used to Selig, who originally displaced Fay Vincent as "interim" commissioner and wound up staying 22 years.
Manfred also has won praise for the last CBA, with new rules to introduce draft slots and limit free-agent dollars via qualifying offers with draft picks attached to free agents who decline those offers.
A few other potential candidates could include Tigers president/GM Dave Dombrowski, Diamondbacks president Derrick Hall and MLB Advanced Media CEO head Bob Bowman.
Baseball has been in its "golden era" during Selig's most recent seasons, as he liked to say, with revenues approaching $9 billion, or six times what it was when he began back in 1992. But while he remains uncommonly energetic, he will soon be entering his own golden years. Selig will turn 80 on July 30.
Neither Josh Donaldson nor Brian Dozier have talked about a new contract extension

Francisco leads the Dominican Winter League with seven home runs

Thome deserves enshrinement and here's why the case against him does not hold up
The Twins have already fortified the bullpen with Addison Reed, and now they want to address...

The Orioles likely want pitching, and the Indians have plenty of it

Halladay died in a November plane crash off the coast of Florida