In case you haven't noticed, Albert Pujols is returning to form
In 30 games since his batting average dropped to .190, Albert Pujols has hit .325/.385/.598 and the Angels have jumped over two teams and moved up five games in the AL West standings.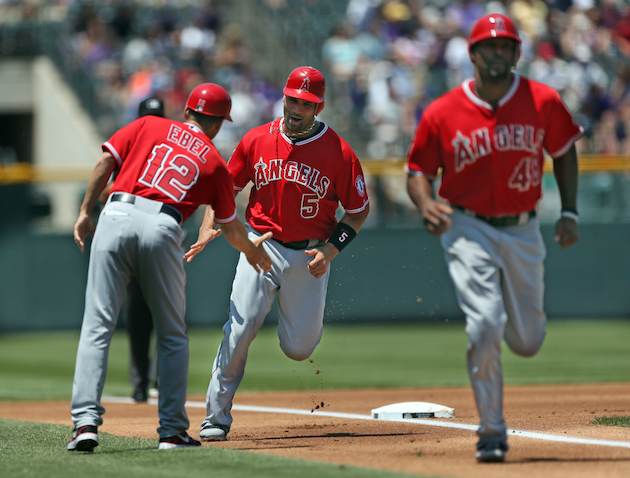 You may not have noticed, but
Albert Pujols
is good again.
The
Dodgers
hadn't gotten the message, apparently. With first base open in a tie game Monday night, the Dodgers chose to pitch to Pujols. Over the last decade, there's a next-to-zero chance Pujols gets anything but four wide in that situation. Instead, Don Mattingly chose to let
Kenley Jansen
pitch to the three-time MVP instead of having to face
Mark Trumbo
. And Pujols did what he's done so often in his career -- deliver. Pujols' ninth-inning single easily scored
Mike Trout
from first and gave the
Angels
a 3-2 victory over the Dodgers.
Yeah, everyone had a good laugh and all that after his slow start with the Angels, but in the last month or so, Pujols has nearly returned to form. Although his season line still sits at an un-Pujolsian .260/.315/.438, since bottoming out to a .190 average on May 8, he's hit .325/.385/.598 with eight home runs, eight doubles and 27 RBI. Those numbers are close to his career numbers in May, when he's a .314/.399/.570 hitter. He's traditionally heated up in June, hitting .329/.425/.637 over his career. In nine games so far this month, he's hitting .344/.415/.625.
It appears that Pujols has adjusted to his new league, new park, new teammates and a new group of pitchers. He's also benefitted from the presence of Mike Trout. Since Trout was called up in late April, Pujols has 33 RBI -- with 12 of them scoring Trout. Of course, that should be expected when a leadoff man gets on base at a .412 clip and has outstanding speed.
With Monday's victory, the Angels are just 2 1/2 games out of first place in the American League West. When Pujols was sitting 10 points shy of the Mendoza Line they were in fourth place in the division, 7 1/2 games back and it's hardly a coincidence.
For more baseball news, rumors and analysis, follow @EyeOnBaseball on Twitter, subscribe to the RSS feed and "like" us on Facebook.