In Ron Santo and Barry Larkin, Hall of Fame has dream stories we love (and will miss)
We love stories like Barry Larkin's, ones where the kid who grows up to star for the hometown team. We love stories like Ron Santo's, where the guy fights doggedly and yet cheerfully against a disease, and cheers passionately for his team. The Hall of Fame celebrated Larkin and Santo on Sunday, with the knowledge that in the years to come we'll be longing for stories like these.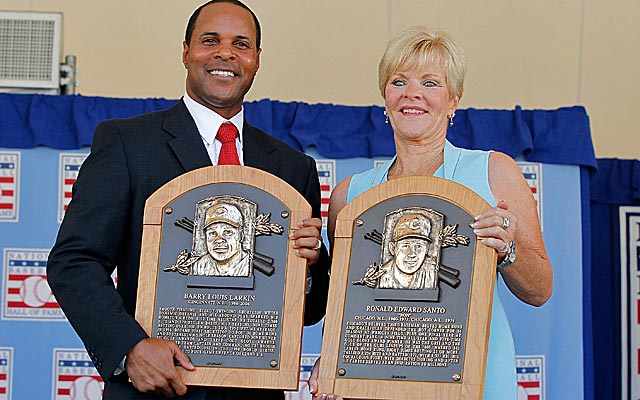 Barry Larkin poses with the Ron Santo's widow at the Hall of Fame induction ceremony.
(Getty Images)
COOPERSTOWN, N.Y. -- We want the Hall of Fame stories to go like this.

We want them to be inspirational. We want them to be noncontroversial.

On this weekend, we want to celebrate, rather than argue. On this weekend, we want to use our hands to cheer, and not to hold our noses.

The Hall of Fame ceremonies soon to come will inevitably have overtones because Barry Bonds and Roger Clemens will appear on the ballot in December. They certainly won't get voted in, not yet anyway, but the time for the Hall to confront the Steroid Era will have arrived.
More on Hall of Fame
Related links
The stories will be more complicated, and we'll long for days like Sunday.

Days when the Hall can unashamedly celebrate guys like Barry Larkin and Ron Santo.

Larkin, the Cincinnati kid who grew up to star for the hometown team, living the All-American dream. And Santo, whose legacy is of being the ultimate Cubs fan, and also of being the ultimate spokesman and fundraiser for charities fighting diabetes.

As Buddy Bell said the other day, Larkin's life and career are "the epitome of a dream."

A dream that brought him Sunday to sharing a stage with his Big Red Machine heroes, listening to his daughter Cymber perform the national anthem and looking out over a crowd filled with Reds fans.

"I think we'd have all liked to have been like him," said Bell, a Cincinnati native who finished his career with the Reds, just as Larkin was getting started.

Larkin's speech Sunday lasted a long 33 minutes, in part so he could thank people like Bell for helping him get on the right track. But in this story, we find out that he really didn't need that much help.

"There was, without question, nobody I've ever seen come to the big leagues that polished in terms of playing the game and respecting people," Bell said.

Larkin respected his teammates so much that he became fluent in Spanish -- "baseball Spanish," he says -- so that he could better communicate with teammates. He learned it so well that he switched to Spanish for a portion of Sunday's speech.

You can't imagine Santo speaking Spanish, and few would describe his life story as a dream. But because of the way he fought diabetes, and because of the spirit he brought to that fight, his story was every bit as uplifting.

Santo died in 2010, but his family chose to approach his Hall of Fame induction with happiness, rather than bitterness. His widow Vicki gave his induction speech, and while she included a plea for more funds for diabetes research, she also offered examples of the spirit that Santo's friends and family always loved.

Santo eventually had to have his legs amputated, and she spoke of the day he was having the second operation done.

"As he was wheeled in, I heard him tell the doctor the timing was perfect because he could be back [in the broadcast booth] for opening day," Vicki Santo said.

She described her husband as the "world's greatest Cubs fan," and few would argue with the description. She asked fans to celebrate Santo's life.

"He truly had a wonderful life," she said.

Three of Santo's Cubs teammates -- Hall of Famers Ernie Banks, Billy Williams and Ferguson Jenkins -- sat on the stage behind her. Other teammates, Randy Hundley and Glenn Beckert among them, sat in the seats in front of her, as did Pat Hughes, Santo's longtime partner on the Cubs radio broadcasts.

"I thought she put it right, that this is a happy day," Hughes said. "Ronny wasn't about melancholy. Ronny was about living. This just reminded me again of how much fun Ron was.

"It would have been fun to see him up there. But he might still be talking."

Hughes and the Santo family mostly avoided the subject of Santo's long wait for selection. Larkin actually came closer to controversy than they did, devoting a segment of his speech to thanking Pete Rose, his first Reds manager.

Rose, of course, is the ultimate Hall of Fame controversy. Despite holding baseball's all-time hit record, he has never appeared on the ballot. Twelve years ago in Cooperstown, Reds announcer Marty Brennaman stirred things up by including in his speech a plea for Rose's induction.

Larkin simply thanked Rose and responded to cheers from the large contingent of Reds fans in attendance. Even the short tribute to Rose no doubt made commissioner Bud Selig uncomfortable, but it didn't come close to dominating Sunday's ceremony.

There will be time enough for Hall of Fame controversies in the years to come. There will be time for many more uncomfortable moments, ones that will be far more uncomfortable than anything felt Sunday.

We know the Steroid Era is looming over the ceremonies to come, and that the ceremonies may not be seen so much as celebrations.

Eventually, inevitably, the Hall will induct a player that we're sure cheated the game. Before that, they'll hold induction ceremonies that won't include players who had no-doubt Hall of Fame stats.

The stories won't be simple, and we won't think of them as dreamy. We won't feel uplifted, and we won't feel inspired.

And we'll dream of days like Sunday.


Gallardo spent the first eight years of his career in Milwaukee

MLB revenues are at a record high right now, but teams aren't spending it on players

Chicago added Tyler Chatwood earlier this offseason but might not be done adding to the ro...
The Dodgers and Braves pulled off a whopper on Saturday

Sabathia will reportedly spend a 10th season in the Bronx

Fowler suffered a knee injury at Chicago's Guaranteed Rate Field