Independent league team schedules game with no umpires
The independent St. Paul Saints have scheduled an exhibition game with no umpires as part of a promotional event.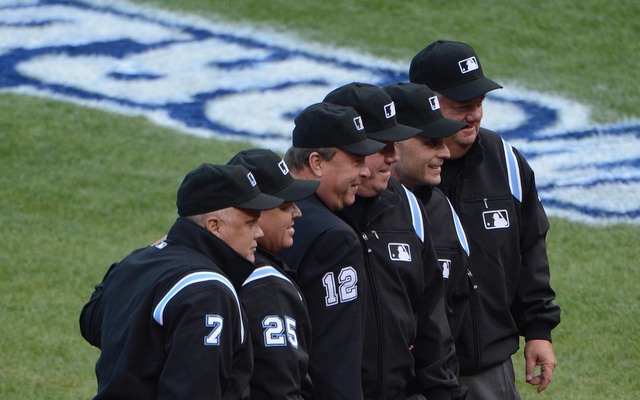 More MLB: Scoreboard | Standings | Probable Pitchers | Sortable Stats | Odds
The St. Paul Saints of the independent American Association have scheduled an umpire-less exhibition game against the Gary South Shore Rail Cats, according to Ballpark Digest. The game is scheduled for May 11.
In place of an umpiring crew, the game will feature a judge in a robe calling balls and strikes from behind the pitcher. The judge will pound a gavel on home plate to signify the start of the game instead of the traditional "play ball."
A "jury" of 12 Little Leaguers on each side of the field will act as the base umpires. Majority rules, and the on-field judge handles all tiebreakers. Fans will have the opportunity to dispute calls on the field with a second judge, who will be set up along the stadium concourse.
"We respect all baseball umpires and believe this promotion will allow our 'jurors' and both teams to realize how important they really are to the game," said Derek Sharrer, the Saints' executive vice president/general manager. "This is something that has never been attempted before, and I think it will make for an interesting and intriguing nine innings of baseball."
You have to give the Saints credit; they sure came up with a unique promotion. Drawing fans is the top priority in the independent and minor leagues, so teams are constantly coming up with creative promotional events.
The Saints have an impressive alumni list that features former big leaguers like Darryl Strawberry, Jack Morris and J.D. Drew.
Dodgers manager Dave Roberts on Sunday announced his World Series rotation for the first four...

How should the Astros play it when one of their two aces isn't on the mound against the Do...

The former big-league infielder also worked as GM of the Puerto Rico national team
The Indians pitching coach would be getting his first MLB managerial job

In the last several years, lots of droughts have ended in MLB

The most likely scenarios are Dodgers winning in five or six games