Indians 'adore' the 'incredible' Jason Giambi
Who would have ever guessed during his MVP days in Oakland and beyond that Jason Giambi one day would become such a charasmatic leader and a manager's secret weapon? No wonder Athletics general manager Billy Beane used to seek input from Giambi on A's decisions back in the day.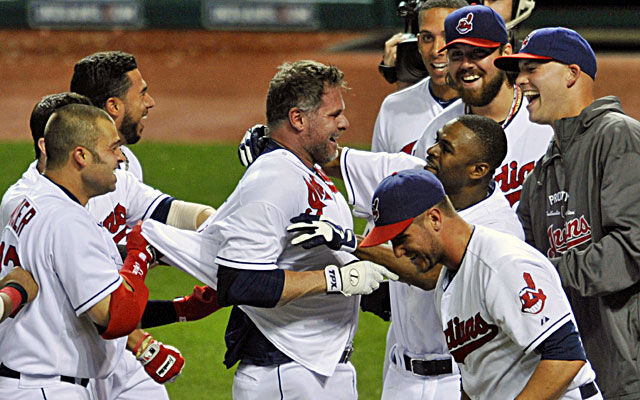 ANAHEIM, Calif. – Manager Terry Francona's secret weapon in Cleveland is 42 years old, has a face coated with gray whiskers and is hitting just .188.
Maybe you've heard of … Jason Giambi?
"I've never been around somebody who has the presence he has," Francona says.
It was clear this spring that the Indians front office liked Giambi so much they were searching for every reason they could find to keep him on the roster even as he was hitting .207 with three home runs.
It is even more clear now why that was.
"I've gone to him more times than is fair, just asking his advice or for help with something, and he's always there," Francona says. "He's just tremendous.
"It's actually better than having another coach because he's a player, and players deliver the right message."
Indians radio man Tom Hamilton says Giambi has had "the greatest impact in the clubhouse" of any player during his 24 years in the booth.
"We've had some great leaders," Hamilton says. "Sandy Alomar Jr., Jim Thome. But his impact in the clubhouse … our players adore him."
Giambi is hitting only .188/.285/.390 with eight homers and 29 RBI over 179 plate appearances in 56 games. But. …
"He's been incredible," Indians ace Justin Masterson says. "You can't say enough about him.
"I know he'd like to perform better. But you look at him in clutch situations, he's tremendous. If you look at it when it's 'We really need something here', he does it.
"That ratio has got to be off the charts."
There just so happens to be something along those lines available: With runners in scoring position, Giambi is hitting .286 with three homers and 23 RBI. With less than two out and RISP, he's hitting .318 with two homers and 15 RBI. With two out and RISP, he's at .250 with a homer and eight RBI.
"It's not about him with Jason, it's about the team," Masterson says. "He wouldn't tell you it's him. He'd tell you he's part of this team. He tries to get people motivated."
Francona says Giambi wants to play again next year. Francona also says he'd love to have him on the roster again.
We're a long way to 2014. But you can sure see why the Rockies interviewed Giambi last winter as a managerial candidate before selecting Walt Weiss.
"This guy is soooo … he makes an out, he doesn't drive a guy in, he'll collect himself, he'll sit down, and he's screaming for the next guy," Francona says. "This is a 42-year-old man. He had a ball playing [Monday] night.
"That's the way it's supposed to be. That's why he's still playing."
And that's why people still want him.
Thursday brings us plenty of stretch-drive MLB action, so keep it right here

Mondesi spent six years as the mayor of San Cristobal in the Dominican Republic after reti...

The ballparks in Cincinnati, San Diego and Seattle will have expanded netting in place by Opening...
The veteran skipper has been Mets manager since the start of the 2011 season

The Baltimore third baseman is eligible for free agency following the 2018 season

The clubs breaks ground on Globe Life Field next week