Indians aren't in playoffs yet, but dream will live beyond Game 162
After another wild day in the AL wild-card race, the Indians are on top, and they've now guaranteed that Sunday won't be the final day of their season.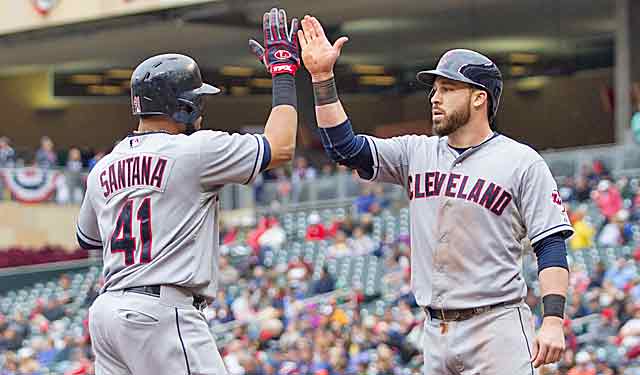 MINNEAPOLIS -- You start off dreaming of winning it all, but at some point in so many good baseball seasons, the goal becomes so much more simple and so much more immediate.
You just don't want to go home. You just don't want it to end.
You just don't want anyone to tell you that your dream has died.
The Indians' dream lives on, and Saturday's events in the wild AL wild-card race guarantee that it will stay alive at least past Sunday's final scheduled day of the regular season. The Indians aren't in the playoffs yet, but now they know they're not going home after Game 162.
If that's not mission accomplished, it's at least something accomplished, for a team that lost 94 games last year and hasn't made it beyond Game 162 since 2007.
At worst, after a Saturday that included the Indians' ninth straight win, the Indians would finish the regular season in a three-way tie for the two wild-card spots. In that case, they would get to the playoffs with a win either Monday at home against the Rays or Tuesday in Texas against the Rangers.
At best, the Indians spray champagne after Sunday's game against the Twins, and move directly on to Wednesday night's AL wild-card game.
"We just need to win," Indians manager Terry Francona said.
That's not technically true. If either of the other two AL wild-card contenders loses Sunday, the Indians still clinch.
But it's hard to blame Francona or the Indians for thinking that way, because they've been in must-win mode for more than a week now.
What's impressive -- and this is true even with the Indians' "easy" September schedule -- is that the Indians have turned must-win into almost-always-win. Saturday's 5-1 win over the Twins gave the Indians a 20-6 record this month. They were 4 1/2 games out of the second wild-card spot when the month began, and after all those wins they finally took over the first wild card spot by themselves on Saturday.
"That says a lot about this team," Ryan Raburn said.
Yes, it does. It says a lot about the way all three of the remaining AL wild-card contenders have played this week that one single win is going to determine who moves on and who goes home.
"You hear every manager say at the start of every year that every game's important," Jason Giambi said. "You think, 'Come on, you play 162 of them.' Then you get to the end of the season and you're looking back and thinking, 'How did we lose that one game?' "
With one more win (or with a Rays or Rangers loss Sunday), the Indians would have no need to look back. They could simply look ahead to Wednesday -- and with a win Sunday, they will guarantee getting that game in Cleveland.
"To be honest, after all we've been through, I'd love to play a [playoff] game in Cleveland," Francona said. "I think that would be really cool."
This is already pretty cool, for a franchise that hadn't even had a winning record since that 2007 playoff appearance, and for a manager who lost a job after his 2011 Red Sox collapsed down the stretch. Saturday, in fact, was the second anniversary of the final day of the 2011 season, when Red Sox lost in Baltimore and Evan Longoria homered at Tropicana Field to put a dismal end to Francona's final Boston season.
He can talk more easily about the worst parts of the Boston experience now. He said this a smile Saturday morning that the "hate mail is way down this year," then answered a question about how not to get any hate mail in Boston by saying, "Yeah, win every game."
He had good times in Boston, too, obviously, But watching him with the Indians, even in the heat of a close pennant race, it's easy to think that he's as happy now as he has ever been.
It helps that the Indians are winning. It helps that some of the wins, like Saturday's, rarely seem to be in doubt. The Indians went ahead in this one on Carlos Santana's two-run home run in the fourth. They made it 5-1 in the fifth, and the Twins put only three runners on base the rest of the way.
The Indians are 12-6 against the Twins, who are having such a rough season that manager Ron Gardenhire might not survive it. They went 17-2 against the White Sox, which means that nearly a third of their 91 wins came against those two teams.
Before you say that makes them any less deserving of a playoff spot, just remember that the Rangers have an even higher percentage of their wins (31 of 90) against the Astros and Angels.
All that really counts is the overall total, and whether it's big enough that they let you keep playing when they finally send all the non-contenders home. The Twins and the White Sox and the Astros and the Angels and a whole bunch of other teams head home Sunday, as soon as Game 162 is over.
The Indians will play on. Their dream will live, at least for a few more days.
Keep tabs on the top 50 free agents right here

Your one-stop shop for all things MLB Winter Meetings-related

The Angels knew about the first-degree sprain and still wanted to sign the potential ace, of...
The run on relievers continues with two more signings

The Yankees added Giancarlo Stanton in a blockbuster trade, though they now have openings at...

Smyly is currently on the mend from Tommy John surgery