Indians believe Perez is 'going to be fine,' but he'll still miss WBC
When a pitcher is diagnosed with a shoulder strain, it sometimes is bad news. But the Indians and Chris Perez are convinced his injury isn't serious. Perez will miss out on pitching for Team USA and might even miss opening day, but the Indians believe he's 'going to be fine.'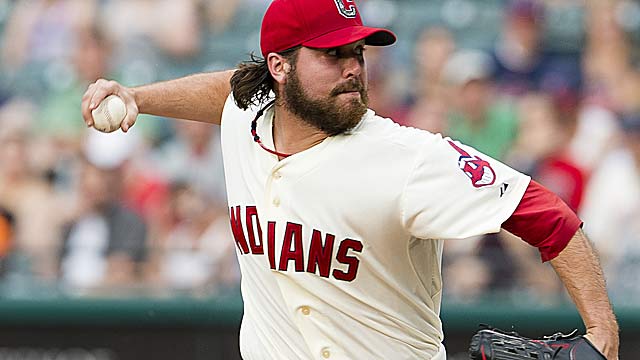 Chris Perez is disappointed he won't be able to pitch in the WBC, what he called 'the best honor I've had.'
(Getty Images)
GOODYEAR, Ariz. -- You hear strained shoulder, and you think it could be bad. You hear 3-4 weeks, and it sounds like it could be bad.

Chris Perez insists it isn't that bad.

"I was more concerned last year about my oblique," the Indians' closer said Saturday morning, a day after the team shut him down and told him not to even pick up a ball for the next week.

The Indians are sticking to their 3-4 week timetable, and manager Terry Francona can't yet say with certainty that he'll have Perez ready for opening day. But Francona agreed with Perez.

It's not that bad.

"He's going to be fine," Francona said.

In fact, Perez seems much more disappointed about missing the World Baseball Classic than worried that he won't be able to pitch effectively for the Indians during the season. In a spring in which many American players were ambivalent about the WBC, Perez was one of the most excited to participate.

"To this point in my career, it's probably the best honor I've had," he said.

The WBC meant enough to Perez that, when he felt tightness in his shoulder early this week, his first thought was whether he could manage it and still join Team USA. He said he quickly decided against that, even before an MRI exam helped Indians doctors determine what was causing the tightness.

The diagnosis was Perez strained his subscapularis muscle. While the muscle is part of the rotator cuff, the Indians' belief is this isn't a sign of any long-term issues.

Perez missed almost all of spring training last year because of an oblique strain. He made it back in time for opening day. And while he gave up three runs in a blown save in the opener, he allowed just one run in his next 12 appearances and had 11 saves.

The Indians have Vinnie Pestano available to close games if Perez can't go by opening day.

"I've made it very clear that someday I wish that job can be mine," Pestano said. "But what's best for the team now is if we can all stay in our current roles."

Pestano will be going to the WBC. He was hoping Perez would be there with him.

But even for Perez, who very much wanted to pitch in the tournament, there was never a question about what mattered most.

"It would be worse to pitch in the Classic, try to pitch through it, and maybe miss three months with the Indians," Perez said. "I can get over not pitching in the Classic.

"It'd be selfish of me to put my want to pitch in the Classic ahead of the team."
Here are the bullet-points of what went down Tuesday regarding MLB and the Braves' punishm...

The owners need to ratify on the new system in place, but the takeaway here is Ohtani is coming...

A preliminary report National Transportation Safety Board has shined some light on details...
John Coppolella was placed on the permanently ineligible list by MLB on Tuesday

Among other sanctions, Atlanta lost the player who was deemed the No. 1 international signing...

Among other penalties, No. 1 international prospect Kevin Maitan is now a free agent