Indians camp report: Sea changes on the shores of Lake Erie
GOODYEAR, Ariz. -- Excitable boys, Nick Swisher, Chris Perez, Jason Giambi, Brett Myers and new skipper Terry Francona. Might this finally help transform the moribund Cleveland Indians into an excitable -- and exciting -- team? ...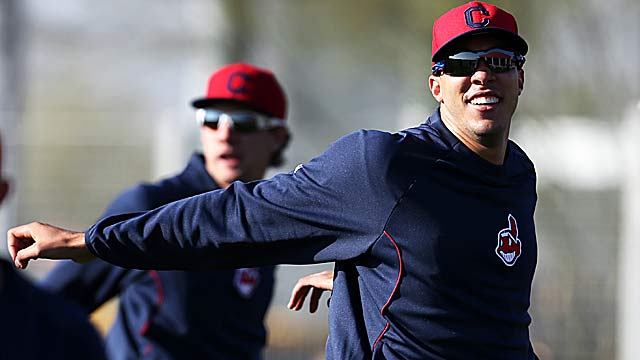 The enthusiasm is obvious in the Indians camp, and many attribute it to the arrival of their new skipper.
(AP)
GOODYEAR, Ariz. -- Excitable boys, Nick Swisher, Chris Perez, Jason Giambi, Brett Myers and new skipper Terry Francona.
Might this finally help transform the moribund Cleveland Indians into an excitable -- and exciting -- team?
When the late, great Warren Zevon was dying of cancer a decade ago, during one of his extraordinary, final television appearances, David Letterman asked if his circumstances had taught the singer anything about life and death.
Zevon's answer was simple, direct and poetic: "How much you're supposed to enjoy every sandwich."
When I asked second baseman Jason Kipnis the other day where the dramatic upgrade in both enthusiasm and energy in this year's Indians camp starts, he immediately pointed to Francona's office.
"Anyone who knows anything about him, he's enthusiastic even about the sandwich he has for lunch," Kipnis said. "His enthusiasm is infectious."
Hmmm. ...
The 2013 Cleveland Indians: Roast beef on rye, with extra relish?
Believe it, at least the extra relish part.
"When you make the types of changes we made, starting at the top with Tito and then signing Swisher and Michael Bourn, two of the bigger free agents out there, the mood has to change," third baseman Lonnie Chisenhall said. "Everybody is optimistic.
"We've got guys who are proven players who are going to help us get better. We played well up until the All-Star break the past couple of years. Now, we can take it further than that.
"Everybody gets a clean slate in the spring. But we get a clean slate with an improved team."
An Indians club that has been out to lunch more often than not during four consecutive losing seasons is ready and determined to go to work.
When these guys showed up here a week ago, they were already giddy over general manager Chris Antonetti's offseason brush strokes. Then, last Monday night, came word that the fleet Bourn had agreed to a four-year, $48 million deal.
"It went from optimism to excitement," Kipnis said of that night. "When you bring in guys like Swisher, Mark Reynolds and Myers, you're optimistic for a better year than last year.
"But when you get Bourn, you start looking at a better lineup one through nine. We've got power, speed ... he just extended the lineup. And he's an unreal defender and unreal on the basepaths.
"He's going to cause havoc."
Or disorder in the house for opponents, at the very least.
Last year's Indians ranked 13thof 14 American League clubs in runs scored. Playing for a Braves club that won one of the NL wild-card slots, Bourn ranked sixth in the league with 96 runs scored.
Swisher might not bring back memories of Luke Easter or Jim Thome, but at least the Indians have moved past the era of lying awake nights wondering how many games Travis Hafner will miss again this year.
Reynolds, Michael Brantley, Drew Stubbs, Asdrubal Cabrera ... the Indians unquestionably have more ways to score runs than they've had in recent years.
But that's all before the season's first pitch is thrown ... which could quickly grind the good vibes down into more spring bologna.
Because the biggest and most important thing the Indians will do in February and March will be to sort through their many rotation options and figure out a winning combination.
General Manager Chris Antonetti disagrees with the notion that you cannot overstate the importance of bounce-back seasons from Justin Masterson (11-15, 4.93) and Ubaldo Jimenez (9-17, 5.40).
But that point is arguable, and it probably could be proven even without lawyers, guns and money.
"I wouldn't want to put that burden on them," Antonetti said. "I just think our starters as a group need to perform more consistently than they did last year. So I think the combination of guys returning as well as the new faces will give us a chance to be appreciably better than we were last year."
That shouldn't be difficult. The Indians' rotation ranked 27thin the majors in innings pitched last summer, 28thin strikeouts ... and second in most walks allowed. Bad combination, there.
Masterson is in a better frame of mind now than a year ago, when he was forced to dial down his winter workouts because he was rehabbing from surgery on his non-throwing shoulder to repair a torn labrum.
Jimenez, however, had no such excuse last summer. The right-hander who once was on the verge of becoming an ace in Colorado now is on the verge of becoming extinct in Cleveland.
"For him, it's the ability to execute his delivery consistently," Antonelli said. "He's been searching for that for a while, and hopefully he's made some strides this offseason. He'll have the opportunity in camp to solidify a few things.
"When he executes his delivery consistently, it allows him to be over the plate and it allows his stuff to translate better."
Because things overall translated so poorly last summer, into languages unintelligible in the final weeks of a miserable 94-loss season that got manager Manny Acta fired, Antonelli spent most of his winter in overdrive.
Myers, after a detour to the bullpen with the Astros and, to finish last season, the White Sox, is another addition brought on not only as a potential innings-eater, but also as a veteran who can help patrol the clubhouse.
"He's a different animal," Perez, the veteran closer, said. "I like him. We needed someone like that on our team. He's got enough stature, he runs the show. He's the boisterous leader of the clubhouse.
"He makes sure things are running like they should. Like a policeman, if you will."
If you're wondering how a new addition emerges as a team leader within the first week of camp, well, it's rare. Unless the circumstances are so unique, as are the Indians' with the combination of youth and major changes.
"Without a doubt" lack of leadership was an issue last year," Perez said. "I can only do so much out in the pen. You need a starting pitcher, a relief pitcher and a hitter, at the very least.
"Last year in the second half, we didn't have that. We had young guys, or guys just playing for their contracts. You need someone who can come in and go, 'OK, we've lost 10 in a row, but today is a new day and who cares about the past?'
"That's easier said than done. I don't think we'll have that problem this year."
Presumably, that includes both leadership issues and the idea of a 10-game losing streak.
The Tigers unquestionably will be favored, again, to run away with the division. But then, they were last year, too -- and the White Sox nearly outran them.
Might that be the Indians this season?
"Man, I like it," Bourn said of his new surroundings. "We pretty much have a totally new team. Lotta new people, man.
"It feels like new energy around here. Everybody's excited."
The 2013 Cleveland Indians: Enjoy every sandwich.
Delicious thought, no?
Acuna edged out Shohei Ohtani and Vladimir Guerrero Jr.

There's no reason to run over the cases for and against Bonds, so let's have fun instead

The coveted right-hander would certainly be a fit in Milwaukee
We rate the best mustaches from random baseball cards because, why not?

Colon wants to break a Dennis Martinez record

The Twins have been rumored to be interested in Darvish all winter