Indians' Choo, Cabrera, Masterson, Perez expected to come up in trade talks
Cleveland GM Chris Antonetti says, "We have to be open-minded.''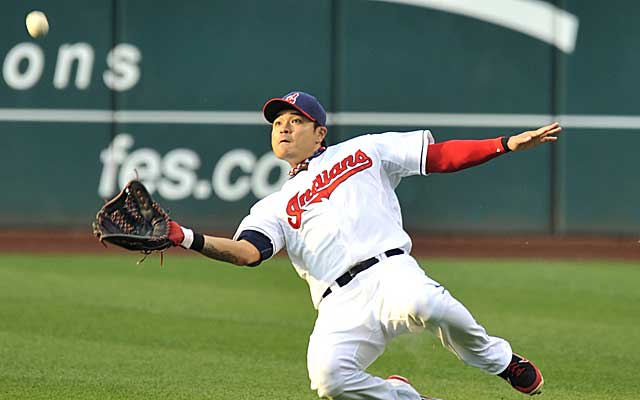 The Indians are shopping some of their best players, including outfielder Shin-Soo Choo. (US Presswire)
INDIAN WELLS, Calif. -- The Cleveland Indians, willing to discuss their biggest players in trades, could be one of the centers of trade activity here at the GM meetings.
No less than four very good Indians players are already drawing calls -- starter Justin Masterson , closer Chris Perez , outfielder Shin-Soo Choo and shortstop Asdrubal Cabrera . And Cleveland Indians will listen.
"I'm not looking to move those guys,'' Indiand GM Chris Antonetti said. "But we have to be open-minded.''
The Pittsburgh Pirates , Red Sox, New York Yankees , Detroit Tigers , Philadelphia Phillies and others could be a match for Choo, the one of the Indians quartet who's a free agent after 2013 (though Antonetti said he doesn't have to trade him, and that he could keep him through the year, make a qualifying offer and get a draft pick).
The Los Angeles Angels and others, potentially, might make sense for the Perez. Many teams would be interested in Masterson, possibly including the Toronto Blue Jays , Kansas City Royals , Minnesota Twins and perhaps his old Red Sox team.
The Red Sox, Tigers, A's and Tampa Bay Rays could be a fit for Cabrera. He might be a tough one to trade, though, since there would be a big dropoff at shortstop for Cleveland to the just-acquired Mike Aviles .
The Indians' needs are for an outfielder, a starting pitcher and a first baseman, coincidentally the same as the main needs for Boston Red Sox , a frequent trade partner. Those two teams will definitely talk, but it would seem that having similar needs would be an impediment to a deal.