CLEVELAND -- A lot of things had to go right for Roberto Perez to get the start behind the plate in Game 1 of the World Series on Tuesday night. Well, actually, a lot of things had to go wrong for the Indians. Perez wasn't even Plan B behind the plate. He was Plan C.
For Perez to get the start behind the plate, first Yan Gomes had to have a terrible, awful, no good, very bad season. Then Gomes had to get hurt and miss a big chunk of the second half. And because that wasn't enough, Perez also needed Jonathan Lucroy to reject a trade to Cleveland at the deadline.
Fortunately for the Indians, all that stuff did go wrong, and Perez is their starting catcher in the postseason. In Game 1 of the World Series on Tuesday (CLE 6, CHC 1), Perez not only smacked his second and third home runs of the postseason, he also guided Corey Kluber through a masterful performance to give the Indians a 1-0 series lead.
The home runs stand out not only because, you know, they're home runs, but also because Perez is far from a power hitter. He hit three home runs in 184 regular season plate appearances, and now he's up to three in 31 postseason plate appearances.
"His numbers at the end of the year are a little misleading," reliever Andrew Miller said following Game 1. "He came back [from a broken thumb] a little early and he had to be there behind the plate for us, and maybe wasn't ready at the plate. It's not easy to do that -- maybe [Kyle] Schwarber thinks it is, he looked that way -- but he certainly swung he bat pretty well down the stretch. That's not just saying something nice. He had good at-bats, he works the counts. He showed today he can do damage."
Perez became the first Indians player to go deep in his first postseason at-bat earlier this month, when he homered off Rick Porcello in Game 1 of the ALDS. He also joined a very exclusive club with his two-homer effort in Game 1 of the World Series on Tuesday night:
Catchers with multi-HR game in World Series:

Roberto Perez
Gary Carter (1986)
Johnny Bench (1976)
Gene Tenace (1972)
Yogi Berra ( 1956)

— Katie Sharp (@ktsharp) October 26, 2016
Roberto Perez: first multi-HR game out of 9 spot in order in #WorldSeries history #Indians

— Christopher Kamka (@ckamka) October 26, 2016
As usual, Perez shined behind the plate as well. He's a stellar gloveman who is especially adept at framing pitches. That means he catches and presents pitches well, essentially "tricking" the umpire into calling borderline pitches strikes. Check it out:
Framing runs saved (Baseball Prospectus): 8.0 (13th in MLB)
Framing runs saved (StatCorner): 8.9 (9th in MLB)
Innings caught: 451 2/3 (39th in MLB)
So despite having a backup's workload, Perez saved among the most runs in baseball via framing during the regular season. There are reasons to be skeptical about pitch-framing stats, no doubt, but even if you just use them directionally, they say Perez is very good at stealing strikes.
"His hands are so soft, and I think he's confident to boot. That's a good combination," manager Terry Francona said. "I mean, what he did at the plate tonight, my goodness, that was exciting to watch. It gave us a cushion early. And then late, come spread it out. In the seventh or eighth inning, that wasn't looking like a 6-0 game. So it's nice anytime. Everybody was happy for him. You could see the way everybody reacted to it."
That was never more evident than in Game 1 on Tuesday night. Perez helped Kluber as well as Andrew Miller and Cody Allen throw the Indians' fourth shutout in nine postseason game. Yes, four shutouts in nine games. Check out the PitchFX called ball and strike plots against left-handed batters, via Brooks Baseball: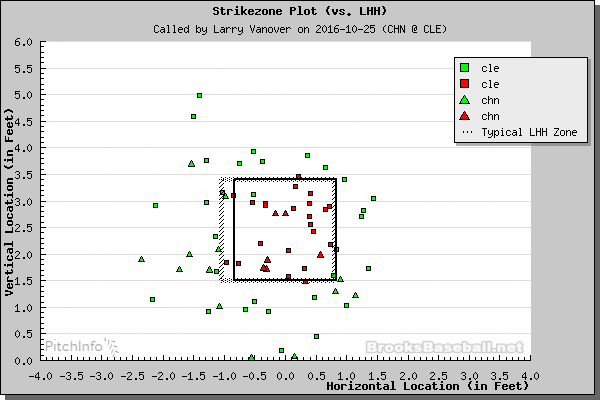 Keep in mind home plate umpire Larry Vanover has historically called a tight strike zone, so those red squares (called strikes for Indians' pitchers) near the edge of the zone aren't automatic when he's behind the plate. Perez presented them well and got those strikes, many of which were strike threes. Seven of Cleveland's 15 total strikeouts were looking, after all. Perez helped get those calls.
"He did an unbelievable job," Kluber said. "It's almost like he knew what they were looking for. He had them off balance for the majority of the night. Really the only time that they got hits was when I didn't execute a pitch. If I did what he asked me to, then it worked pretty well."
Game 1 will be remembered for Kluber's overwhelming dominance and Miller grinding through two innings when he was not especially sharp. It won't be remembered for Perez's work behind the dish -- and maybe not even for his two home runs -- but that doesn't lessen his impact. Even though he wasn't Plan A behind the dish, Perez is vital to Indians' success this playoffs.
"I've come a long ways. I'm just playing with a lot of confidence right now," Perez said. "First World Series experience, and just trying to go out there and compete and try to get good ABs up there, and try to get on base and make something happen. It's an unbelievable feeling."