Indians don't have a closer, but they may not have a crisis
Chris Perez isn't going to close games for the Indians this weekend. But Terry Francona thinks he can make this work, and history is on his side.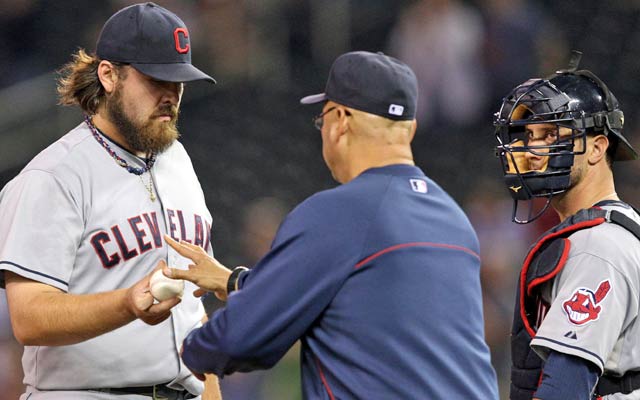 MINNEAPOLIS -- With three games to go in the tightest of pennant races, the Indians had a closer crisis.
Or maybe they didn't.
Their closer, Chris Perez, is a mess. But this doesn't have to be a crisis.
Not in the final days of the regular season. Not in late September. Not in October.
As strange as it sounds, and as much as it goes against the narrative we've been writing all week about Mariano Rivera, in some ways this is the easiest time for a team to deal with a closer crisis, and not the toughest. This is the time of year when teams find closer -- temporary closers.
Remember Phil Coke?
The Tigers would never have trusted him as a full-time closer during the season. But when Jose Valverde blew up in Game 1 of the ALCS last October, it was Coke who got the save in both Game 2 and Game 3 against the Yankees.
Remember Adam Wainwright?
Wainwright had more saves for the Cardinals in the 2006 postseason than he had in the regular season that year. He hasn't had a save since (although he has 96 wins as a starter).
The Yankees won five World Series because Rivera was near-perfect in the postseason. If you have a Rivera, you have a huge, huge advantage, all season and even more in the postseason.
But the fact is that no one else has a Rivera, and many teams don't even have anyone who comes close.
Plenty of teams have had to do what Indians manager Terry Francona has to do now.
"We'll figure out a way to make it work," Francona said Friday, after announcing that Perez won't close games the rest of this weekend (and quite probably not in October, if the Indians get there). "We'll just kind of see how the game goes."
Francona hinted that he will rely heavily on Justin Masterson, who hasn't started a game since Sept. 2, when he left a game against the Orioles with a strained left oblique. Masterson had success pitching out of the bullpen with Francona's Red Sox in 2008 and 2009.
The Indians didn't even need a closer Friday, when they scored nine early runs and coasted to a 12-6 win over the Twins. Masterson ended up pitching the eighth inning.
While Francona likes Masterson, he may not make him the closer. Francona believes he can get multiple innings out of Masterson, so the most likely scenario is that he comes into the game before the ninth . . . and maybe stays for a while.
"You know what, the plan is for him to be a weapon," Francona said.
And then Francona has a deep bullpen to pick from, with Joe Smith, Cody Allen, Bryan Shaw and Rich Hill all possibilities.
Masterson still hopes to start games in the postseason, if the Indians get there. But depending on how things go this weekend, it would hardly be a surprise if the Indians kept him in the bullpen.
You'd never work with a plan like this over the long term. Having a pitcher like Masterson in the rotation would be too valuable, and mixing and matching all the way through the ninth inning is a great way to burn out your bullpen before you even get to September.
When you get to this point in the season, the considerations are different. The possibilities are different.
"One nice thing, at this time of the year, there are no egos," Francona said.
There's no guarantee this will work. There's no guarantee that we won't get to Sunday and say that Chris Perez and the bullpen cost the Indians what would be their first trip to the postseason since 2007.
But there's just as good a chance that what happened Thursday will have set the Indians up for success the rest of the way.
According to scouts following the Indians, Perez appears to be pitching with no confidence. Masterson said he believes Perez's right shoulder is an issue, although Perez told Francona he's "completely healthy."
Perez was going to be a problem, sooner or later, just as Valverde was going to be a problem for the Tigers last October.
The Tigers survived Game 1, and Jim Leyland figured out the bullpen the rest of the way (and it was a lack of hitting, not the bullpen, that cost the Tigers the World Series).
The Indians survived Thursday night, even though Perez entered with a five-run lead and departed two outs later having surrendered four runs of it. They survived Thursday, and now Francona can work on figuring it out the rest of the way, however long that is.
"I just think we're going to be OK," Francona said Friday afternoon.
I just think he might be right.
The lefty starter is coming off a terrible season

After acquiring Ian Kinsler and Zack Cozart in recent days, the Angels are trending upward

Cozart's coming off a big season as the Reds' shortstop
The veteran slugger spent the last eight seasons with Cleveland

The Padres may be poised for an active winter

Yes, Bryce Harper is going to make a lot of money next winter