Initial MRI doesn't show extensive ligament damage, but surgery seen as 'likely' for Jeter
If ankle surgery is required it's possible he would miss the start of next year, but the Yankees are hopeful that isn't the case after initial tests were encouraging.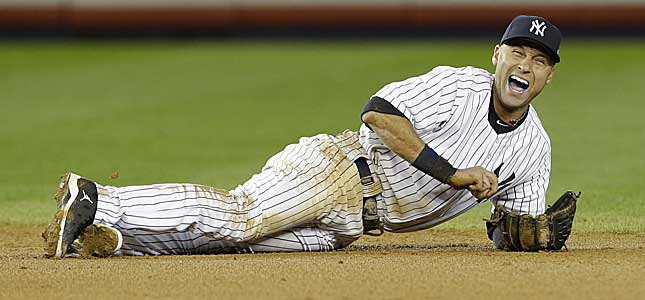 Derek Jeter makes his last play for the Yankees this postseason. When will be be ready to return? (AP)
The initial MRI on Derek Jeter's lower leg did not show extensive ligament damage in addition to the fracture, sources say, but Jeter is still said to be "likely'' to undergo surgery.
He is heading to North Carolina to see specialist Robert Anderson, the team said.
More on Yankees
Analysis

Related content
The Yankees at first said Jeter could well be ready to go after three months of rest, provided additional testing reveals no damage beyond the broken bone. However, there are cases where surgery could expedite the healing process.
Depending on what else is discovered in further testing, an operation might also prove needed.
In that scenario, medical sources say he might not be ready for spring training and could even miss the start of next season -- though Yankees people haven't suggested that is a likelihood.
Medical people say that depending on the healing, Jeter is likely to be able to continue playing shortstop, but note that he also turns 39 next season.
Jeter fractured his ankle while trying to field a ball hit to his left in game by the Tigers' Jhonny Peralta in Saturday night's Game 1. Jeter had been playing with a deep bone bruise in that foot, and Yankees people suspect that was a precursor to the break. He had a cortisone shot to improve the pain and allow him to keep playing shortstop.
Jeter wasn't at Yankee Stadium for Game 2, but he has never been one to talk about injuries. When a reporter mentioned to Joe Torre that Jeter woudn't tell the truth about his injuries, Torre responded with a smile, "That's all right. Join the club."
Jeter's standard answer to injury questions, Torre said, is: "I'm all right. I'm OK." Torre recalled when Jeter suffered a bad shoulder injury on Opening Day 2003 he told Torre, "I'll be in there tomorrow." Jeter actually missed several weeks. Jeter's penchant for playing through pain is legendary. "He's indestructible," Torre said.
"It's one of those things you don't question."
Torre was in the training room briefly after Jeter was helped there. "It was sad to see," Torre said. "There was really nothing to say. He lies there for a while, you know it's not a bruise. It takes a lot for him to have to be helped off the field."
Supposedly, MLB execs have discussed letting teams hit any three hitters they want in the...

Keep tabs on the top 50 free agents on the market right here

After the departures of Steven Souza and Corey Dickerson, the Rays add a right-handed bat
Rasmus essentially walked away from baseball during last season

Forrest Whitley is the Astros' top pitching prospect and set to work in Double-A this year

Jonah Keri talks to Orioles manager Buck Showalter