Injuries only one reason why the Rangers have baseball's worst record
The Rangers have been hit hard by injuries this season, but they aren't the only reason they have baseball's worst record.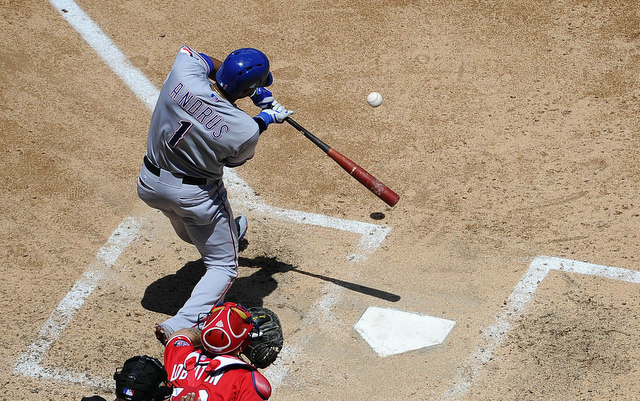 MORE: Heyman: Texas will keep its biggest stars, but markets strong for Rios, Soria

The Texas Rangers came into Saturday with baseball's worst record, and it only got worst following their 4-1 loss to the Blue Jays this afternoon (box score). They are now 39-58 with a -107 run differential, both the worst marks in the game.
The Rangers are awful for a few reasons, specifically their overwhelming rash of injuries. Cornerstone players Prince Fielder (neck), Matt Harrison (neck), Martin Perez (Tommy John surgery) and Jurickson Profar (shoulder) are done for the year while others like Derek Holland (knee) and Mitch Moreland (ankle) have missed extended time. All told, Texas currently has 14 players on the disabled list, including eight on the 60-day DL.
No team can withstand that many injuries, no matter how deep the farm system or how big the payroll. That's basically three-fifths of a major league roster on the disabled list right there. Injuries are a huge reason why the Rangers stink this season, but they aren't the only reason. Here are some others.
It's easy to forget Andrus is only 25 years old, isn't it? He's already been in the league for five and a half seasons, long enough to earn a mammoth eight-year contract extension worth $120 million last April. The deal will keep him in Texas through the 2022 season (with an option for 2023), when he will be 33 years old.
Here's the problem: since signing the contract, Andrus has hit a weak .269/.322/.334 (81 OPS+) in more than 1,100 plate appearances. Of the 128 players to bat at least 800 times since the start of last season, only five have a lower OPS+ than the Rangers shortstop. Andrus hit .283/.348/.370 (91 OPS+) from 2011-12, the two years before signing the extension, but his offensive development has stalled. Heck, it's gone backwards.
Andrus is a stud defensively and most of his value comes from his glove. He's a top notch gloveman at short and that hasn't changed at all. The Rangers did not agree to pay him roughly $15 million annually from 2015-22 just because of his glove, however. They expected him to improve offensively and contribute more with the bat. They didn't expect Troy Tulowitzki, but they expected more than an 81 OPS+.
The offensive bar at shortstop is rather low -- the league average shortstop has hit .252/.308/.366 (86 OPS+) from 2013-14 -- but Andrus is not even meeting that modest standard. Obviously he is still very young and about to enter what should be the best years of his career, but right now Andrus has disappointed since signing his contract (which takes effect next year). The Rangers could have found a much cheaper alternative if all they wanted was a good glove, no hit shortstop.
Choo was one of the best hitters in baseball last season, putting up a monster .285/.423/.462 (143 OPS+) batting line with 21 home runs and 20 stolen bases for the Reds. That earned him a seven-year, $130 million free agent contract from Texas over the winter.
After going 0-for-4 on Saturday, Choo now owns a .236/.354/.367 (100 OPS+) batting line through his first 92 games with his new team. He has swatted nine home runs, but his doubles rate is down (on pace for 23 after 30+ four times in the last five years) and he's only stolen three bases. Choo is still drawing a ton of walks and getting hit by pitches (an underappreciated on-base skill), so his on-base percentage remains solid, but all of his other offensive traits have gone missing.
Because he is only a decent and not great defensive outfielder, Choo will need to hit to be anything more than an average left fielder for the Rangers. He is in a hitter friendly ballpark and he's spent most of his career in the American League, so leaving the Reds shouldn't require a huge adjustment. Texas signed Choo to be an impact leadoff man and he has been anything but.
No pleasant surprises from the farm system
Whenever teams go through these injury riddled seasons, there is usually one or two players who emerge from the farm system and surprise when given the opportunity. Adam Warren took advantage of the injuries to the Yankees pitching staff last season and has since emerged as a trusted setup man, for example.
That surprise player has yet to emerge for the Rangers. Second baseman Rougned Odor (90 OPS+) has shown flashes of brilliance while replacing Profar and represents the best of the young call-ups this year. Michael Choice, acquired in an offseason trade with the Athletics, put up a 55 OPS+ in 219 plate appearances before being shipped to Triple-A. Luis Sardinas (80 OPS+) couldn't unseat Odor in his limited cameo. Nick Martinez (79 ERA+), Nick Tepesch (94 OPS+) and Miles Mikolas (41 OPS+) have not made anyone forget Perez, Holland and Harrison.
It's unreasonable to expect a bunch of kids to come up from the minors to save the season amid all those injuries, but Texas has not had anyone other than Odor come up to be even adequate. None of these young players will have the team trying to find a way to squeeze them onto the roster over the winter. Usually the silver lining in a disaster season like this is a young player making a name for himself. It hasn't happened for Texas.
* * *
The last four seasons have gotten progressively worse for the Rangers. They blew the World Series after being one strike away (twice!) in 2011, blew the AL West on the final day of the season in 2012, lost a Game 163 tiebreaker in 2013, and are one of the worst teams in baseball in 2014. It will take a lot of work to reverse that trend and simply waiting for everyone to get healthy next year won't be enough. The team's problems run deeper than that.
The Cardinals have been linked for a while to the Baltimore star

Gallardo spent the first eight years of his career in Milwaukee

MLB revenues are at a record high right now, but teams aren't spending it on players
Chicago added Tyler Chatwood earlier this offseason but might not be done adding to the ro...

The Dodgers and Braves pulled off a whopper on Saturday

Sabathia will reportedly spend a 10th season in the Bronx