The Dodgers, baseball's financial powerhouse, look like a major player this trading season, maybe the major player among the buyers. They've quietly continued having dialogue with the Phillies about ace left-hander Cole Hamels, and are also looking seriously into the rental market, with Reds ace Johnny Cueto their top target there.
The Dodgers appear determined to land one top pitcher to join with three-time Cy Young winner Clayton Kershaw and All-Star Game starter Zack Greinke in a potentially devastating playoff rotation, and one of Hamels or Cueto are most likely to fill that need.
While one AL executive suggested a week ago that the Phillies haven't yet "bent" on their Hamels demands since Andy MacPhail joined their front office to lead them, two other executives, using similar terminology, now say the Phillies have seemed somewhat more "reasonable" in their recent trade talks, and sources suggest there's word of some potential progress with at least the Dodgers and Rangers. Phillies scouts have been dispatched to check out multiple systems, including those of LA and Texas.
In the Dodgers' case, Philly was said to have previously insisted on at least one of the Dodgers' two top-two prospects who happened to be two of the very best in baseball -- shortstop Corey Seager or young lefty Julio Urias -- but at least now appears to be considering other possible Dodger scenarios. Rivals all seem to agree that Seager and Urias are too good to trade, and further suggested that the Dodgers' system is deep enough to land Hamels, anyway.
One GM also said the Phillies have come off their request of "four or five" big prospects for Hamels, who's been the lone ace on the market (that is soon to change with Cueto thought only moments from entering the trading block). However, a rival GM also suggested that Philly should receive at least one prime prospect back, if not one the likes of Seager and Urias.
The Dodgers already look like a World Series possibly with their incredible positional depth and the best one-two pitching punch in the game, but if they get either Cueto or Hamels they'll be the odds-on favorite, as "they'd undoubtedly have the best playoff rotation going," one scout remarked.
One reason Hamels especially appeals to the Dodgers is their assumption that Greinke will opt out of a deal that has $71 million over three years remaining. While Greinke hasn't publicly commented on the opt-out, and is said to love manager Don Mattingly, that call to opt out is basically a fait accompli. He is also said to be fond of Kershaw and much of the clubhouse (though not all of it; as Molly Knight pointed out in her new book, "The Best Team Money Can Buy," Greinke hasn't always seen eye-to-eye with Yasiel Puig). There's little other choice considering his otherworldly performance against everyone but his cross-town friend Mike Trout.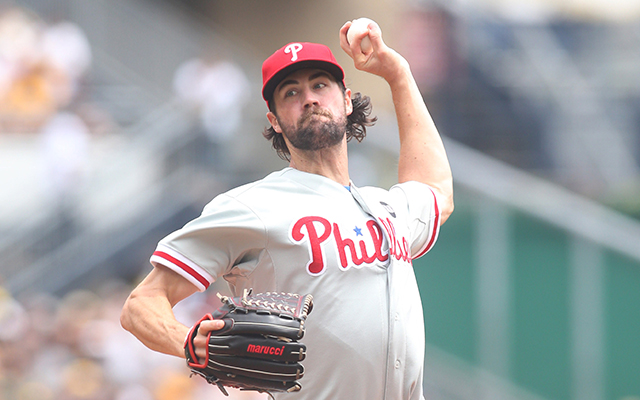 Though Dodgers people believe Greinke generally likes LA, and might stay with the inducement of an added year or two (and some dollars), there is some suspicion, too, that Orlando area native Greinke, following stays with two teams in the midwest and two on the west coast, might not mind coming east, too.
Cueto, meanwhile, remains the Dodgers' main rental target. The Astros, who also have Cueto atop their list and possess many fine prospects, much like the Dodgers, had multiple scouts at some of Cueto's recent starts. The Reds signaled before the break that they expect to seriously start selling after the All-Star Game, which was a big hit in Cincinnati, and the beloved Cueto, following a blowup after his early removal from his recent start in Miami, is said ready to go.
While Cueto topped out at 93 in Miami, Dodgers people like him very much. "He knows how to pitch," one LA person said.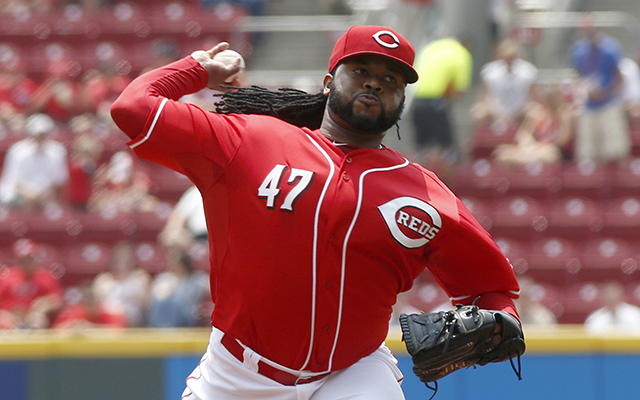 The Dodgers may consider Jeff Samardzija, too, but beyond that the White Sox are presumed likely to delay a possible sale at least a week after some much improved play, LA people figure that while Samardzija could enhance their current postseason pitching set-up, they view him as more of a "two/three" type starter. They like him, but don't love him -- at least not as much as Hamels and Cueto. Beyond that, they could look at others, too, like Cueto's teammate Mike Leake, who seems very popular on the trade market, and Oakland's Scott Kazmir.
The Dodgers, while appreciating the surprising rotation performances of Mike Bolsinger and Carlos Frias to date, may consider adding two starters, though it's more likely to be just one ace type and one mid-rung starter if they do. If they do import a second hurler, it'd be interesting to see if they consider old friend Dan Haren, who is available, performing well and anxious to get back to Southern California for personal family reasons; they also know he'd fit in nicely with Kershaw and Greinke, who they hope to keep.
Nothing can be assumed off-limits at this point for the rich and creative Dodgers, who already have a record $270-million-plus payroll, a very deep team from a positional standpoint and some interesting prospects -- though at this point, there's no evidence a young superstar pitcher such as Chris Sale will be available, leaving Hamels and Cueto as the prime targets.
More Inside Baseball ...
Team
News
The Braves remain sellers despite their decent first half. Juan Uribe, Cameron Maybin, Jim Johnson and Chris Johnson (probably untradeable) remain available ... The Pirates and Mets could make some sense for Uribe.
Rafael Soriano would be expected to come up soon since his opt-date date was at the All-Star break ... Some folks saw Kyle Schwarber as an overdraft at No. 4 a year ago. But it's hard to think of too many better hitting prospects, and offense is at a premium right now. Some scouts say the jury's out on him as a catcher, though we will see now as he's coming up Friday after an earlier DH stint.
Rival GMs were given the impression by Cincinnati a sale would likely begin late this week, and they have plenty to sell. Cueto and Leake will almost certainly go (in fact, Leake's been told the Reds intend to deal him, though apparently not Cueto, not yet, anyway) ... The more interesting question is top closer Aroldis Chapman. Other teams would love to have a crack at him, and as one rival exec put it, "What's the sense of having Chapman if you're not going to have a lead?" ... Lefty reliever Manny Parra will likely go, as will veteran outfielder Marlon Byrd. The Reds have floated Jay Bruce, who has $19 million to go through next year. They aren't offering to pay any of it down, and one rival agrees they shouldn't have to ... Leake is beloved for his athleticism, and some AL East teams also appreciate that he keeps the ball down. The Blue Jays, Reds and Royals are among many interested teams, while the Orioles, Red Sox, Dodgers, Rangers, Cubs and Giants among other teams to show some level of interest at some point ... Neither Cueto nor Leake was presented with a multi-year offer within the last year by Cincinnati. There was one spring meeting Reds execs had with Cueto's people, but when they responded that Cueto was indeed looking for a "market" deal (i.e., not a hometown discount), the Reds politely suggested that there was no sense insulting him with what they were prepared to offer ... With others headed out the door, folks are expecting the Reds at some point to put a big effort into locking up Home Run hero Todd Frazier, who has aided his cause with a huge first half (not just the thrilling Derby win) ... The All-Star Game was a huge hit this year, especially the new Derby. Cincinnati has a good park for such a competition, but there's a concern two years from now at Marlins Park. "Three home runs might win that derby," one scout cracked.
No one is convinced the Rockies will seriously entertain trading Troy Tulowitzki. "They never seemed serious," remarked one NL GM. As for Tulo, baseball's most polite superstar, said, "I've been dealing with trade talk for so long I just don't worry about it. I'm still a Rockie. As long as I'm a Rockie, I don't need to worry about it. I signed up to be on the Rockies, and that's what I'm going to do as long as I can."
Still no one sees the Tigers selling, even at only .500. "Not with that owner," one rival executive remarked with admiration about Mike Ilitch, who has spent to win for years and come close a lot ... David Price said he didn't want to get sucked into a discussion about his impending free agency, but when someone suggested to him the Cubs might work out for him since Joe Maddon, his former Rays manager, is there, Price quite reasonably said, "Wherever I play baseball next year it's not going to be because of a manager." ... Coincidentally, the Neftali Feliz signing puts the last three Rangers closers on Detroit's payroll, with Joe Nathan and Joakim Soria. Congrats to the great Pedro Martinez for breaking the Feliz story. Happy reporting.
While the Astros probably understand that Cole Hamels won't agree to go to Houston, they are equipped with a deep bench of prospects to try for top target Cueto or others. They are also one of many believed to like the ever popular Leake, as well ... Houston has an excess of outfielders and seems willing to deal from that strength, which could include Domingo Santana and Preston Tucker (whose brother Kyle, the No. 5 pick overall, was just signed).
Kansas City is looking around at outfielders with Alex Gordon out another seven weeks. They seem to prefer Jarrod Dyson in something less than an everyday role and are concerned about Alex Rios who has struggled since being "our best player the first two weeks" of the season.
After initially suggesting he'd prefer not to be the interim GM, ex-Angels GM Bill Stoneman agreed to return to do the job. Now age 72, he hasn't been very involved with the team so he had some brushing up to do. Assistant GMs Matt Klentak and Scott Servais are doing the bulk of the legwork now, with Stoneman acting more as liaison between front office and owner and front office and field staff ... Not sure if there is a cause and effect thing at work here, but the Angels are playing much better since Jerry Dipoto's plan to email all players daily information began just before he resigned following a heated battle over the importance of this change ... Some have suggested it's not out of the realm of possibility that Bud Black, the former Padres manager who was Mike Scioscia's pitching coach for years in Anaheim, could become a GM candidate there. "(Owner Arte Moreno) loves Bud," said one Angels connected person. However, many doubt whether Black would want a front office job. He's likely to have managing opportunities at some point ... The Angels at one point checked in about Adam Lind ... When he was there, Dipoto asked the A's about Josh Reddick but was told the A's had no intention of moving him, as Alden Gonzalez, of MLB.com reported. There also was some interest in Ben Zobrist, but the A's are waiting before possibly trading.
While some rival execs believe the Dodgers might consider trading Jimmy Rollins at some point (and he might be able to pass through waivers so it could be in August), Dodgers people love Rollins in the clubhouse and the field, which is offsetting his uneven offense, and they say they are giving him a lot of rope. The issue is that they have perhaps baseball's best prospect in Corey Seager perhaps ready to go (Seager is batting .375 at Triple-A Oklahoma City). But they'd want to be absolutely certain on Seager before dealing Rollins ... The Dodgers are said to have offered Louisville righthander Kyle Funkhouser, pick No. 35, about $2M, though some still see Funkhouser as having a decent chance to return to Louisville rather than sign on the Friday deadline. LA is also trying to sign Walker Bueller, Vandy pitcher and pick No. 24. This could be an interesting competition between ultra powerful "advisers" Casey Close (Bueller) and Scott Boras (Funkhouser). The Dodgers do get a replacement pick if they fail to sign them ... Mike Trout, asked what one players he'd start a team with, said Clayton Kershaw. Not a bad choice, not at all.
Mat Latos didn't help his trade value when he skipped his last start against his old Reds team after being hit in the foot by a foul ball and suffering what was termed as contusion ... Haren, who has a 3.24 ERA and 1.07 WHIP and authored the tweet of the week (@ithrow88 "Chapman's fastball is about 15 mph harder than mine. That's the same difference between me and mo'ne davis,") could help a lot of teams. Toronto would be one, as he gives a good outing most every time out. He'd win a lot of games for baseball's best offense (though his well-known preference is to go to Southern California) ... Dee Gordon's dislocated left thumb didn't look terrible up close when he showed it in Cincinnati, and he said about sliding into first base, "I won't do it again. Ever."
The Brewers are willing to trade not only star center fielder Carlos Gomez but even young shortstop Jean Segura, according to one person familiar with their thinking, who suggested it's somewhat likely they move both players. Gomez's possible move is born of pragmatism, as the person mentioned how there's no way the Brewers would be able to afford to keep Gomez long-term considering Jacoby Ellsbury's $153-million deal (Gomez is a free agent after 2016). The source also suspected Segura could easily be traded due to the extraordinary rise of shortstop prospect Orlando Arcia, who is beloved by just about all of baseball, the Brewers included. In fact, Arcia may be drawing more trade interest than Segura at present (the Padres, linked to Segura, are one of many to call on Arcia). "He's the best player I saw in the minor leagues this year," one NL executive said. Another, noting that Arcia was ranked 90th on some prospect list, said he should have been ninth, "or higher." Yet another NL executive said Arcia is comparable to the much more heralded Francisco Lindor, "only better." Arcia is only 20, but the Brewers have yet another shortstop prospect in Luis Sardinas, making it logical that Segura could go somewhere. Though Segura's value isn't at its peak ("he looks a little thick," one scout said) ... The Mets, for one, don't seem to love Segura due to his free-swinging style ... K-Rod would prefer to remain in Milwaukee. "Hopefully, I can stay -- this year, and next year, too," Rodriguez said. His contract is also backloaded, which limits his trade value. K-Rod incidentally, isn't surprised to have been back to being an All-Star closer after briefly falling to set-up status. "What you learned right, you never forget." ... Donny Everett, the first-round talent the Brewers took on a flyer in the 29th round, will indeed be going to Vanderbilt to pitch. He was the hardest thrower in the draft at 99 mph and sought $2.5 million or more to give up school as he is a student.
The Twins are primarily looking for relief help ... While Gomez's tenure with the Twins had some ups and downs, one Twins connected person disagreed with the assertion they absolutely wouldn't bring him back.
The Mets will be aiming high on the offensive front, with Justin Upton and ex-Met property Carlos Gomez said to be on their radar. Upton and Gomez are seen as difference makers in an otherwise less-than-robust offensive market, though Upton, uncharacteristically, hasn't really hit lefthanders this year (.484 OPS) ... They talked to the Brewers about Aramis Ramirez but would only have interest if there's more bad news on David Wright. Mets people are hoping Wright (spinal stenosis) can transition from back rehab in California to Port St. Lucie within a couple weeks, though it's said to very much be "up in the air." If he can't, they will need to get a third baseman, as they prefer to move Daniel Murphy off third ... The Mets may still look at Segura, but he's seen as more of a fallback option for them ... Untouchable for the Mets: the big four pitchers ... The Braves have suggested Uribe, but the Mets haven't shown much interest to this point ... Matt Harvey was said to have been disappointed by his first half, with his friends having to convince him he did quite well considering it's the year after Tommy John surgery ... The Mets finished the first half nicely but open with the worst stretch imaginable. After starting at St. Louis, they get the Nationals and Dodgers.
The Yankees have no intention to trade from their growing prospect stash, which includes Luis Severino, Aaron Judge and Greg Bird. Someone connected to the Yankees put second baseman Ron Refsnyder in that group, too, but that may a current thought since Refsnyder is being given a chance at second at the moment ... The Yankees are looking for a starting pitcher, though the likelihood of acquiring one is diminished by a reluctance to part with coveted prospects. A right-handed bat and righty reliever also are on their wish list.
If Jonathan Papelbon wants to leave Philly and pitch for a winner so badly, he should offer to give up his contract and become a free agent. Or at the very least, offer to pay some of it down to facilitate a trade. His candor certainly makes for some real and interesting stories, but he isn't necessarily helping matters. An executive with one team who's been tied to him via trade rumors says, after the latest round of candor, "We wouldn't want him, even if he did pay it down." ... Scouts are raving about shortstop prospect J.P. Crawford, and particularly his hitting ability. He is the cousin of Carl Crawford ... Latest name heard connected to Philly is Rangers assistant GM Thad Levine. Getting to be a longer list, with J.J. Piccolo, John Barr, Matt Klentak and Dipoto so far.
The Pirates are looking for positional help after the very versatile Josh Harrison went down for seven weeks. It has been reported they'd consider Ben Revere and Jeff Francoeur, but the guess here is they will aim higher first. One person guessed a return of Marlon Byrd might make some sense ... Zobrist could fit them as he plays the same positions as injured Josh Harrison. There's been some talk with Uribe ... The Pirates actually came fairly close to a deal for Price at the deadline last year. They had three prospects on the table, but not Tyler Glasnow or Josh Bell ... A.J. Burnett, flanked by his two boys, says he's not changing his mind about retiring after the season, even after making his first All-Star Game. Said he, "I'm ready to start the second half of my life."
There seems to be some concern in Trevor Rosenthal's camp about his usage, as he's pitched in 72 and 74 regular-season games the last two years and already has 41 appearances this year. Rosenthal sat out the All-Star Game with a tired arm after appearing in four of the last five games heading into the break. When asked how he was feeling before that last game, he told manager Mike Matheny he could pitch, but he wasn't at his best, as the Pirates beat him. "Postseason teams have to be very careful with the use of their closers," agent Scott Boras said without mentioning Rosenthal specifically. Boras suggested 60-65 appearances, and no more than one inning, is preferable. Boras said Dennis Eckersley and Mariano Rivera were generally kept to those limits. "Tony LaRussa said it's best to keep these guys fresh," Boras said ... All-Star outfielder Matt Holiday is coming back Friday, and the Cardinals did a generally amazing job hanging in there with one of their main leaders out (as well as Matt Adams and Adam Wainwright).
San Diego people suggest they haven't determined they are a full-scale seller, but most believe the free-agent eligible players, including Upton, Ian Kennedy, Joaquin Benoit and Max Venable, have a decent chance to go. Of Benoit, one competing GM said he has "big value." ... A trade wouldn't shock Upton at this point. He said he hoped the team can "put ourselves in better position," but admitted "in a situation where you're about to become a free agent, you never know." The Yankees may seek a righthanded bat, so they shouldn't be ruled out there, the Giants seek outfield help, and the Orioles, which talked a bit about Upton in the winter, haven't really replaced Nelson Cruz. Texas may also look for a righty bat, and GM A.J. Preller is quite familiar with their system ... James Shields has come up, and without a no-trade clause, the Padres could move him (though it would be a little unusual to deal a big free agent less than a year into his deal). Shields has pitched about as expected, but a backloaded contract and poor recent outing at Texas where he was throwing only 90 mph led a couple rival executives to suggest they wouldn't get much for him ... Craig Kimbrel is a different story. While he didn't make the All-Star team this year, he has big value (though maybe not so much that they'd be able to attach Melvin Upton Jr. to him, as has been done before) ... Tyson Ross and Andrew Cashner would also have value. Ross, for one, loves it in San Diego and would prefer to stay ... The Padres' main need remains a shortstop, and they inquired about big Brewers prospect Orlando Arcia on the off chance the Brewers didn't like him as much as they do. Turns out they do ... Wil Myers was a big loss, with one Padres person saying "he was our best player" when he went down. They expect Myers (wrist) back sometime in August, though they're hoping it's early August ... They are not as anxious to acquire a third baseman. One option could be to put Jedd Gyorko or Corey Spangenberg at third when they return from injury ... While some suspect Matt Kemp may be playing hurt, he hasn't been to the trainers room. Some may recall he had a similarly awful first half last year. San Diego has to hope he repeats his second half of a year ago ... The Padres had one of baseball's two hardest schedules in the first half, so there may be some room for hope.
Everth Cabrera gives the Giants some infield depth. He reported to Arizona Thursday.
Seattle is looking for a veteran catcher. Mike Zunino may have been rushed to the big leagues (364 minor-league at-bats) and it's showing with his .160 batting average, 100 strikeouts and 17 walks. The pitchers, though, love throwing to him, and that is said to include franchise pitcher Felix Hernandez ... There seems to be a lot of tension around the Mariners' front office, where there are some upset folks over the team's slip this year ... Manager Lloyd McClendon is doing everything he can to this point. He reminded his troops just before the break that while they haven't played up to their lofty expectations "nobody's run away from the Seattle Mariners." ... He says he's starting to see signs their best player Robinson Cano and the bullpen that was the best in baseball are coming around. The pen, which was unhittable last year, has seen four key contributors be demoted to the minors, and closer Fernando Rodney slip badly ... Some folks have the impression Seattle is tapped out of cash, likely taking them out of the big deals.
The Rays are telling people they don't want to trade from their pitching stash ... Of defensively excellent catching prospect Justin O'Connor, one scout said, "He's Johnny Bench." With 1/7/1.8 times to second, the scout said, "It's Star Wars stuff."
The Rangers have a lot of outfielders (Nomar Mazara and Nick Williams are on the cusp) and a lot of lefthanded hitters, so they are considering dealing from strength. They were also impressed Joey Gallo in the outfield (he was demoted due to numbers), and Gallo has a strong arm ... There's a chance Shin-Soo Choo might find himself in a platoon situation if he continues to struggle against lefties (.489 OPS) ... Texas seeks pen help and a righty bat should it decide to buy. Ex-Ranger Neal Cotts could work for the relief interest. If they are thinking long-term, they'll look at starters (i.e. Hamels) ... Adrian Beltre has been playing hurt, according to people close to him. While he isn't chancing permanent damage, the bad left thumb is curtailing his power, and some advise him to rest, but he hasn't wanted to do so. Rangers people have one word for him: "gamer" ... Martin Perez, who was brilliant in a cameo before getting hurt, returns from Tommy John surgery Friday to start.
Toronto has Leake on Samardzija high on its list, as well as Cueto, with the knowledge that Hamels won't come ... The Jays were in talks for Jason Grilli but pulled back before Grilli went out for the year with his Achilles injury ... A top starting pitcher remains the priority but one scout also said, "Toronto has nothing to close the game." ... There still isn't any evidence manager John Gibbons is on the hot seat despite a plus-82 run differential at one game under. If he is, Bud Black and Mike Redmond, two managers let go earlier this year, would make sense.
Zobrist would be a nice fit for the Nats considering all the positional injuries that have beset them ... Jayson Werth is getting ready to head out onto a rehab assignment soon.

Major League Baseball News

Tough to argue too strenuously with the fans' choice of Willie Mays, Hank Aaron, Sandy Koufax and Johnny Bench as the four Greatest Living Players. Certainly Mays and Aaron have to be there. Some others who are arguable for the other two spots would be Mike Schmidt, Tom Seaver, Frank Robinson and Rickey Henderson.