Inside Baseball: What you want to know about A-Rod vs. Yankees
Alex Rodriguez is back and playing well for the Yankees, but a legal battle approaches. Here is what you need to know about it and more news and notes from around MLB.
One of the more fascinating aspects of a potential Alex Rodriguez courtroom showdown over a possible $30 million in milestone bonus money is that most, if not all, of the key folks involved already have ample reason not to love A-Rod.
And that includes folks on both sides of the possible case.
A-Rod -- who stands at 659 career home runs, only one homer away from tying Willie Mays and possibly qualifying for the first of five $6 million milestone bonuses -- once threatened to sue the union and he parted ways with longtime agent Scott Boras six years ago. And those are the very folks who represent important would-be advocates (though Boras appears to be taking a neutral stance for now).
A-Rod also once threatened to sue the Yankees and he fought with MLB over his PED suspension, the 212-game ban that was mildly reduced to 162 games by an arbitrator, which still represented an MLB record and a big win for the executives at 245 Park Ave. Yankees president Randy Levine and chief MLB lawyer Dan Halem are lining up on other side, and both of them are eligible and willing to testify.
So A-Rod may already be behind by two crucial witnesses, before he even starts.
The two main men who represented Rodriguez in carving out the original $30 million side agreement were Michael Weiner, the brilliant, beloved union chief who unfortunately suffered an untimely death less than two years ago, and Boras, let go by Rodriguez in 2009 after the pair that had been together since A-Rod was a teenager and forged two record contracts -- $252 million and $275 million -- split over what were said to be "philosophical differences." In any case, they are no longer close.
The unprecedented $30 million side agreement that was expected to pay A-Rod $6 million for each of five historical milestones was Boras' handiwork, and he stands to gain financially with an A-Rod win (he gets 5 percent of the take from the deal). Yet, the super agent isn't exactly rushing to help the Rodriguez cause. Boras has for the moment stayed neutral. Word is he has yet to agree to testify for the A-Rod side, though if the union requests or requires that he does, it's possible he could feel compelled to take the stand as what would seem to be a very reluctant witness.
Naturally, this whole thing could get messy, and even ugly, as things involving A-Rod tend to become. There is still some hope a compromise can be reached. A few involved mentioned that they don't believe it ever gets to a hearing -- and one person humorously suggests putting the grievance on pay-per-view to raise the $30 million. He was kidding, of course, but that doesn't sound like a terrible idea.
Whatever, it would sure be must-see TV. A-Rod may or may not be marketable. But there's no question Rodriguez stirs interest.
It is also worth mentioning amid everything that each bonus could cost the Yankees $9 million due to their 50 percent luxury tax rate, as David Waldstein of the New York Times recently noted.
While it is interesting to note that just about all the main players have had run-ins, disagreements or some sort of problem with Rodriguez, it may not matter, as this is not a popularity contest. The arbitrator is sworn to decide based on the wording in the side agreement and the rule of law.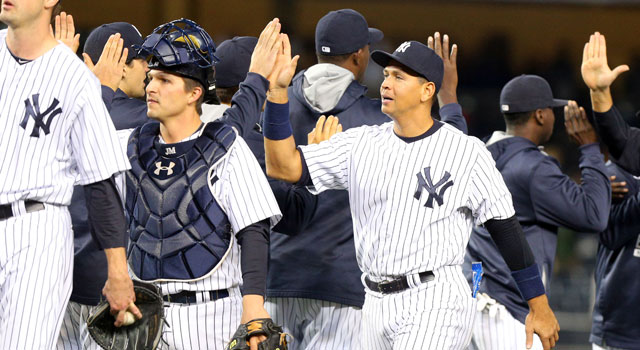 Here is a rundown of some of the issues, the arguments and the possible fallout ...
1. The side-deal document, which is billed as a marketing agreement, says right off the bat that the Yankees have the "right to designate" the achievements as historical milestones, according to people familiar with the document, and furthermore says that while they have that right, there is also "not the obligation" for the Yankees to do so. That's pretty strong wording. So this is a key clause that makes Yankees people so confident. One person connected to the club says these phrasings make the case "a layup," or even a "slam dunk." But if it were really such a slam dunk, union people say they wouldn't contest the case, and they plan to do so. Conversely, those folks say there are plenty of different phrases, and wordings, within the document, that make it something quite different than a "slam dunk" for the Yankees.
2. The document also says that the Yankees are allowed to make the designation so long as they are acting in "good faith." Yankees people will suggest that a bad-faith refusal to pay would occur if Rodriguez had been clean throughout, and the club simply decided it didn't want to pay. If anyone showed bad faith, they may say, it is A-Rod who was presumed to be clean in 2007, back when the contract was signed, and turned out to be anything but.
3. A-Rod's side may point out that Rodriguez's name is clearly tied in the document to Mays' name, and it can't be rightly claimed that it isn't a historic milestone. While the Yankees may have trouble denying it's historic, they are expected to counter that it's not marketable.
4 . The Yankees may say that there's no way to market A-Rod in such a way to make money thanks to his diminished image. They may point out that companies aren't exactly lining up to employ him commercially ("not one company is paying him any money," a Yankees-connected person said), that there are other Yankees whose jerseys sell faster now (Dellin Betances and CC Sabathia come to mind) and that the team's ratings and attendance are flat. Team A-Rod could point out that he is still popular (he received a standing ovation on Opening Day and has generally received strong fan support) and the flat attendance and ratings in the year after Derek Jeter retired are actually proof of A-Rod's popularity. They may also point out that there is more buzz, more back pages and more interest surrounding A-Rod than most of the other Yankees combined.
5. The Yankees may claim Rodriguez has hurt the team with his PED past. But A-Rod's side can say he has been punished for that already.
6. The Yankees could argue that he has been a headache bordering on a nightmare, and that he has already made a lot of money, a lot more than he deserved under false pretenses. (Remember, the contract was signed in 2007, when A-Rod was perecived as the one who could become the clean alltime home run king.) But A-Rod's side says it's immaterial whether anyone likes Rodriguez, or how much loot he has already been paid. "Whether Alex has made a lot of money or ticked people off doesn't matter," one person said. "Strip any history or histrionics. It comes down to a contract dispute."
7. A-Rod's side may point out that he's aiding the Yankees, who are in first place, as a tainted player, and that the Yankees can't have it both ways; they can't claim a rightful hold on first place with him as their DH while saying his taint eliminates him from consideration for added compensation. The Yankees are benefiting from his home runs and RBI now, so why shouldn't he? "That's what he gets the $21 million [salary] for," one Yankees connected person said. "The question is: Is he a legitimate home run king?"
8. One possible point in A-Rod's favor may regard the intent of the document -- if it can be proven. The Yankees' claim is that it's a straight marketing deal, and that it's clearly marked that way. But A-Rod's side may try to suggest the history of the negotiation suggests quite a different intention.
As with many things related to A-Rod, it was a soap operatic negotiation. Boras was looking forward to Rodriguez's free agency after he and A-Rod opted out in October 2007, with both Los Angeles teams thought to be among those interested. However, Rodriguez, concerned he wouldn't be able to go back to the Yankees after he upset them by opting out, went straight to Yankees higher-ups and did the deal for $275 million over 10 years when Boras had been seeking $300 million, or more.
Originally, A-Rod's people say the Yankees and A-Rod discussed a side deal with straight incentives based on home runs, only to be told they couldn't do that because MLB doesn't allow such deals. So A-Rod's side may further suggest that this marketing agreement was merely a way to compensate A-Rod through another means.
The Yankees may say that that suggests an admission of a circumvention of the rules, which could be a tough thing to argue. "Good luck with an arbitrator saying the union and commissioner's office made an illegal agreement," one Yankees-connected person said. Yankees people will say this is clearly a marketing deal, just like it says right there on the paper.
9. A-Rod's side may even claim that at the time MLB loved the A-Rod deal he cut for himself since it gave him only a $27.5 million yearly salary, which was only a 10-percent raise over his previous record salary following an MVP season with 50-plus homers. The guaranteed salary A-Rod negotiated with Levine and the Steinbrenner brothers was considerably less than Boras sought -- Boras was talking about $230 million over eight years before the opt out, and $300 million-plus over 10 after it. And as it turned out A-Rod's new salary guarantee did help keep salaries down; it effectively capped pays at around $28 million for years -- that's what Felix Hernandez and Justin Verlander got.
The theory goes that MLB folks didn't mind the side deal since the lower guarantee was the key and wouldn't blow open the market.
Meanwhile, the side deal was seen by Team A-Rod as a way to make up for the small raise. Now there may be no makeup pay at all. While it's hard to see Rodriguez as anything close to underpaid now, it may matter only how it was viewed at the time, back when he was seen as the best player in the game and the likely future clean home run king.
My decidedly non-legal hope: While it's possible this isn't quite the layup the Yankees perceive, A-Rod doesn't deserve the extra monies. Rodriguez and the Yankees should agree to give the $6 million to charities chosen by the two parties, plus Mays.
|   |   |
| --- | --- |
| | While the Phillies apparently haven't come off their request of a package for ace lefty Cole Hamels starting with either Mookie Betts or Blake Swihart, word is they do like Red Sox outfield prospect Manny Margot, as was reported in this space this week. While Boston "isn't blinking" according to a rival GM, they may remain the favorite for Hamels, thanks to their prospect depth and need. Betts is an exciting rookie, but one scout raised some concern in a text, "Good athlete. And I hope I'm wrong but I'm not sure about his ability to hit. You have to hit. He likes the ball in … can't hit the ball away." Swihart was thought to be a bit away defensively. But with the bat, he's major-league ready. Anyway, Boston has others, including Margot … Hanley Ramirez is an early candidate for best free agent signing. Between his new home field and added muscle, he may lead the league in home runs; he has 10 so far. Some questioned the $88 million deal, and it isn't believed anyone else was close to that when he signed early, but this is one of the game's best hitters. Word is, he began working out earlier than usual near his Weston, Fla. home (I'm told photos are on Instagram, but I'm too old for that) … The Red Sox rotation ERA is 6.03, a half run higher than anyone else. |
| | The Cubs maintain no concern about any possible grievance being filed by rookie prodigy Kris Bryant. Their one concern is finding the right time to lock him beyond the seven years they will have with him. They realize they have a potential superstar on their hands and already are thinking about trying to make him a Cub for life (though it's too early for those discussions) … The claim that the Cubs tampered to get Joe Maddon never made sense. Maddon easily should have been able to figure that he'd easily eclipse his $1.8 million 2015 Rays salary via the opt out, which triggered once GM Andrew Friedman left for Los Angeles. As a matter of fact, Maddon is said to have had a seven-figure offer to do a TV job (much easier work) should a big managing job not immediately come. So it's no surprise MLB rejected the tampering claim by Tampa Bay this week. |
| | Contract length doesn't matter much with owner Jerry Reinsdorf, the most loyal employer in baseball, but a source said manager Robin Ventura's contract expires after 2016. Ventura is especially beloved by Reinsdorf, so it's especially of little import. But that's the word. White Sox people don't comment on such matters, owing to the idea it doesn't matter … Returning Chisox Gordon Beckham has provided plus defense at third base, and appears to have re-invented himself as a solid utilityman … Tough lefty reliever Zach Duke is dealing his first year with the South Siders. Eyebrows were raised when the lefty specialist got a $15 million, three-year deal, but word is multiple other teams were also in that range, or in some cases even higher … Rookie Carlos Rodon has been told to work on his changeup, which will aid his chances to become the dominant starter they envision. |
| | As unaffordable as Johnny Cueto already was for the Reds he leads the NL with a 0.73 ERA so far. He is one of the very best and least appreciated pitchers in the game … There is focus on manager Bryan Price since his uncalled-for blowup. His bosses have stayed out of it publicly, but they couldn't be impressed. If there's a change, third base coach Jim Riggleman would be the obvious choice. |
| | New manager A.J. Hinch has set a terrific tone for the improving Astros, who have won 11 of 12. Hard as it is to believe, they are the only winning team in the AL West at present. Several of the new managers have impressed early, including Texas' Jeff Bannister, Arizona's Chip Hale and Tampa Bay's Kevin Cash … Dallas Keuchel looks like a bona fide ace. Originally seen by many as a bottom-of-the-rotation type crafty lefty, those close to him cite his competitiveness and ability to make adjustments within at-bats for his stardom ... The Astros didn't consider calling up top shortstop prospect Carlos Correa, who may be the best prospect in the game, upon Jed Lowrie's injury. Astros higher-ups didn't think 70 ABs is quite enough. … Jake Marisnick is an early Gold Glove candidate in center field. |
| | The Royals plan to try to do what they can to keep Alex Gordon long-term. While he has a $13.25 million player option he technically could exercise, he's an elite player and no one can see him simply picking that up without an extension. The Royals never thought they could play for James Shields, who's from Los Angeles and lives in San Diego, but Gordon, who's a lifetime Royal from Nebraska, is another story … The Royals have in their mind extending franchise catcher Sal Perez even beyond 2019, but that will probably wait until the winter … The Royals have been in a few brawls and have now been hit by an astounding 20 pitches, so it's been a plus start but a rough start. They've also suffered their share of suspensions. Kelvin Herrera has had two already … The bullpen has been fantastic again, even with closer Greg Holland out and Luke Hochevar slow to return from Tommy John. One big pickup has been Ryan Madson, who missed three entire years with arm trouble. Scout Jim Fregosi Jr. has been asking for two years to bring Madson to camp, and it appears he is back in form … Paulo Orlando leads the majors with five triples (in only 49 ABs). The former Brazil track star was acquired five years ago for journeyman pitcher Horacio Ramirez … That's no misprint. Besides all of their other fine attributes, the Royals lead the majors with a .306 batting average. |
| | Juan Uribe is playing well, but with Hector Olivera coming and red-hot Alex Guerrero there (third base and left field are his best positions) Uribe may become available once Olivera arrives and is proven healthy (there had been a bit of concern about Olivera's elbow) … Julio Urias, 18, is off to a big start in the minors, with two double-digit strikeout games and a 0.77 WHIP in the Double-A Southern League at Tulsa (Okla.). Amazing. As to why they wouldn't give him up for Hamels, one rival executive said, "He's as good as Cole Hamels." … Joc Pederson has a .461 on-base percentage and is an early leader for Rookie of the Year. In Carl Crawford's absence, he's even batting leadoff. At this rate, Pederson could become the next Jewish Dodgers superstar. (He played for Israel in the WBC qualifying games a few years back) … Recently released Freddy Garcia is looking for a job. He's had inquiries in Mexico, a possibility … The Dodgers interjecting themselves in the Josh Hamilton talks was apparently a creative way to try to win more prospects with money. But ultimately, they weren't needed as a go-between. No trade with the Dodgers was ever brought to Hamilton for approval or disapproval … Good luck to one of the best tweeting ballplayers, Brandon McCarthy (@BMcCarthy32), who needed Tommy John surgery. |
| | Dee Gordon's hero growing up was Jimmy Rollins, a beloved teammate of his father Tom Gordon's. Coincidentally, Gordon was traded from the Dodgers the very day Rollins became a Dodger. Gordon said they were teammates for "twenty minutes," but a quality 20 at that. Gordon, the early NL hits (38) and batting average (.409) leader, is known for his leaping ability, and he posted the top Marlins vertical leap in spring training of 38 inches. But he says he could have done better. "It was at 7 a.m.," he points out. One drawback to his trade to Miami is that Gordon's shoe dealer is there. He bought himself a few pairs for his 27th birthday April 22 and now claims to have more than 500 pairs … Gordon's DP mate Adeiny Hechavarria looks like an early Gold Glove candidate … Scouts expressed some concern about excellent closer Steve Cishek, whose fastball was timed at 88-90 mph this week, low for him … Jarrod Saltalamacchia can still help someone but "needs a change of scenery" according to someone close to him. Some think his defense has gone backward, but he's still a plus hitter for a catcher, despite his slow start. Arizona, Tampa Bay and Kansas City are among six interested teams … J.T. Realmuto, the rookie catcher, is winning raves. Great athlete with a great arm, it is said … The Marlins' two wins vs. the Mets after four straight defeats to them were big. Jeffrey Loria, a resident of Manhattan, doesn't seem to like to lose to New York … Ichiro looks even better at 41 than he did at 40. I think he was 37 or 38, when I suggested he retire. Oops … Ex-pinch hitter Gregg Dobbs has quietly retired. He's a very bright guy with a number of opportunities. |
| | Rivals are licking their chops at the possibility the Brewers might sell if things don't turn around. They've done well putting up decent seasons in recent years (they've won in the 80s seven of 10 seasons), but as GM Doug Melvin recently said, at some point retooling may be necessary. They may be getting closer to that point, at 5-17. One rival exec gave his list of marketable Brewers: Carlos Gomez, Khris Davis, Jean Segura, Gerardo Parra, Kyle Lohse, Francisco Rodriguez. That exec saw Jonathan Lucroy as likely untouchable (Gomez may be too) and thought Matt Garza and Ryan Braun may be overpriced at this point. |
| | Their $23 million, four-year deal for Juan Lagares looks like a genius stroke, as Lagares is their best player. They also tried with a deal for three years plus a team option with Lucas Duda, who has developed quite nicely on offense. Word is the team "didn't quite" get to $30 million on the deal, which could have taken up two free agent years … Kudos to Alex Torres for having the guts to wear the protective pitcher's padding on his hat. Word is, Torres gets a five-figure marketing deal for it, though it's been slow to catch on with his fashion conscious brethren. |
| | Word is, Masahiro Tanaka's elbow MRI looks as good or better than a year ago, and since there is only a modicum of concern about the forearm issue, Tanaka was none too happy to go on the DL with the forarem/wrist issue. He thought his wrist would heal in days and he could miss only a start … Yankees people shot down rumors that they are thinking more about Cole Hamels now that Tanaka's out. "Not looking," one Yankees person said. Another wondered if Hamels is still an ace, or merely a big name. So that seems like a long shot. Yankees people suspect the Phillies don't mind having New York connected to the star lefthander to try to juice up a potential deal with the Red Sox. A lot of folks still see the Red Sox as the most logical target … Carlos Beltran (.162) is a borderline Hall of Famer but there are Yankees people concerned about whether he has much left, following his slow start. |
| | Jung-ho Kang is showing signs of starting to heat up, and his teammate with the Nexen Heroes Byung-ho Park is planning to jump to MLB next year. Park hit 52 home runs last year, and has six so far this year/ Kang received $11 million for four years. The Yonhop News first mentioned Park's intentions … Gerrit Cole looks like the ace folks envisioned when he was picked No. 1 overall. He may wind up as the best pitcher ever to be the first overall pick. The list isn't as luminous as one might imagine after Stephen Strasburg (Tim Belcher, Mike Moore, etc) so he actually should be the best. The key ingredients for Cole are "great stuff, command and better knowledge of the league," says a Pirates connected person. |
| | Matt Holliday isn't slowing up a bit. His .500 on-base percentage leads the majors. He told me in spring he'd like it if the team picks up the option year on his contract, for $17M in 2017. No reason to think they won't. |
| | Center fielder Kevin Kiermaier is developing into one of the game's most exciting players, and outfield mate Steven Souza has an impressive combination of speed and power. If he can put it together, he might be something. |
| | Texas is very worried about Shin-Soo Choo, who is been absolutely abysmal this month (.096). Team higher-ups have had extensive talks about his unfathomable slump, and there seems to be a belief in his talent but also a belief that the $130 million free-agent contract is weighing on him. There also may be a confidence issue. If Texas grows impatient, well, the Yankees still like him (they actually bid about the same, $140 million but with state tax), and they may still – though a deal would be highly unlikely as a good chunk of that contract would have to be offset … Texas' hope is to stay viable in the NL West until three lefties – Derek Holland, Martin Perez and Matt Harrison – return (they hope) in June. There's been a concern Harrison may not pitch again after his third back surgery, but reports are encouraging so far … Rivals say no way should Texas surrender catcher Jorge Alfaro and outfielder Nomar Mazara for Cole Hamels. Some say it's too much; others wonder if Texas is a viable contender with all those players out, anyway … Adrian Beltre, the team leader called Josh Hamilton and told him what to expect, as it's a different team than the one he left. Beltre is a class act … Hamilton's mentor Roy Silver suggested Hamilton should perhaps retire when news of the relapse broke. But Silver, who helped Hamilton come back from the abyss by giving him a menial job when he was suspended from baseball and looking after him, said, "Today is a new day." Silver, who works for the Texas Rangers now, says he sees redemption for Hamilton. And like others, he sees Texas as the place for it to happen. "If you're doing good in life, you have a chance to do good in baseball," Silver said. |
| | The trade of Anthony Gose for Devon Travis could be a home run. Travis, who won the second base job in spring training after playing Double-A in Detroit's system last year, is off to a huge start for Toronto with six home runs and a .325 batting average (which is great but not quite up to the .647 he hit in the 2003 Little League World Series where his East Boynton, Fla., team lost to Japan in the finals). Gose (.314) is playing well for the Tigers, who always seem to make great trades. The deal came together rather quickly, due to the teams' respective needs. This could wind up being one case where the other team got the better of it, though … There's a bit of concern about the walks from talented Aaron Sanchez in a starting role, though he improved in his recent game against the Red Sox. He didn't have this issue in relief. |
| | The expectation now is that Yunel Escobar, who's been excellent at third, will stay there once star Anthony Rendon returns. He said to be much more comfortable at third than second. Rendon, who can play anywhere, will play second. The Nats aren't commenting … Bryce Harper is maturing before our eyes. He leads the NL with 21 walks and is developing into a real positive force in the clubhouse … Jose Valverde was smart to give the Nats a try. As Nats writer Mark Zuckerman pointed out, the top five Nats relievers for innings last year are all either gone or hurt. |
| | The pace of play initiative has good results so far, with the average time of game down eight minutes. The average game is now under 3 hours, which is pretty darned good considering it includes Red Sox games. The average is precisely 2:54, down seven minutes from 3:01 at this time last year (3:02 for the whole '14 season). Not surprisingly, the Red Sox lag, at 3:10. And it's not quite only because Clay seems to take a day … Best wishes to Gibby, a true gamer. |
Also, the Indians crush the Cubs, some high-profile home runs and much more

Adames is considered the Rays' shortstop of the future

Cozart thinks teams could be trying to suppress the salaries of starting pitchers
Bautista was recently released by the Braves

The shortstop, who is one of the best prospects in all of baseball, will start Tuesday vs....

Gordon had been filling in for Robinson Cano at second base