Integrity clause about to have a big month in Hall of Fame arguments
We've seen the integrity clause of the Baseball Hall of Fame voting rules cited a seemingly infinite number of times the past few years. The frequency of use is bound to increase now in the face of the circumstances surrounding this season's Hall of Fame ballot -- and those for the next 10 to 20 years.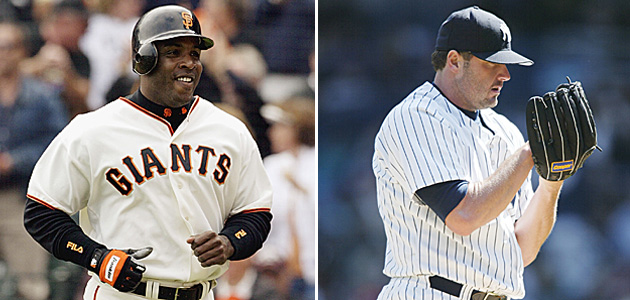 Bonds, Clemens and the integrity clause will be popular topics the next few weeks. (Getty Images)
We've seen it cited a seemingly infinite number of times in the past few years, and the frequency of its use is bound to increase now in the face of the circumstances surrounding this season's Hall of Fame ballot -- and those for the next 10 to 20 years. "It" would be the following clause from the Baseball Writers Association of America's Hall of Fame election rules:
Voting shall be based upon the player's record, playing ability, integrity, sportsmanship, character, and contributions to the team(s) on which the player played.
Now, in my continuing quest for sanity -- a battle I realize will never come close to fruition -- I would like to point out that whether or not someone feels a certain player is a Hall of Famer is an exercise in subjectivity. That is, it's based on opinion, and opinions by definition cannot possibly be wrong.
Baseball Hall of Fame
Related coverage
Nevertheless, I fully expect the next month in baseball discussions on the Internet to center around name-calling, pissing matches and put-downs. Sanctimony will be aplenty. Most of it will focus on whether or not Barry Bonds and Roger Clemens should be inducted into the Hall of Fame, and nearly 100 percent of those arguments will involve the integrity clause, quoted above, because there's no realistic way to portray them as non-Hall of Famers without the integrity clause.
Just as with the vote itself, I believe the interpretation of "integrity" and "sportsmanship" is subjective.
To some, Bonds and Clemens were absolutely "cheaters" and violated the game's integrity, thus there's no way they should be allowed in the Hall of Fame. On the other extreme, there's the school of thought that these two were merely products of an era where so many were using that it's tough to keep track -- not to mention the concrete evidence of those two using PEDs can be validly questioned -- so we shouldn't question integrity and should induct two of the greatest players in baseball history into the Hall. 
There will be references to some players in the Hall of Fame with questionable character traits. To wit:
• Ever hear of Pud Galvin? He used Brown-Sequard elixir, which contained animal testosterone, in the late 19th century. He's a Hall of Famer.
• Gaylord Perry admitted in a 1974 autobiography (Me and the Spitter) that he threw illegal spitballs throughout most of his career. He was inducted into the Hall of Fame in 1991.
• Willie Stargell has been accused of openly handing out "greenies" (amphetamines) to other players during his career, and he's in. It's worth noting Stargell emphatically denied the charges. Then again, hasn't Clemens pretty vehemently denied using PEDs (and won a court case)?
• Yankees Hall of Fame pitcher Whitey Ford's penchant for cutting and doctoring the baseball has been widely reported.
• Hank Greenberg once had a sign-stealer sitting in the upper deck with a telescopic lens (via DC Sports Bog, which has more details on the mildly funny story).
There are more, and this isn't even including a few racists, alcoholics and generally nasty men in the Hall.
So, the pro-Bonds/Clemens side might say: What's the difference? Why now is the standard changing?
The anti-Bonds/Clemens side would probably reply that what's done is done and we can't start throwing people out of the Hall. We can, however, start to better uphold the integrity clause explicitly outlined in the voting rules.
So when picking a side to the argument, make sure to consider everything above. The integrity clause is going to be bandied about for the next month.
For more baseball news, rumors and analysis, follow @EyeOnBaseball on Twitter, subscribe to the RSS feed and "like" us on Facebook.
Dodgers manager Dave Roberts on Sunday announced his World Series rotation for the first four...

How should the Astros play it when one of their two aces isn't on the mound against the Do...

The former big-league infielder also worked as GM of the Puerto Rico national team
The Indians pitching coach would be getting his first MLB managerial job

In the last several years, lots of droughts have ended in MLB

The most likely scenarios are Dodgers winning in five or six games