Interest heavy in Greinke as Brewers 'open for business,' but price tag is high
Milwaukee asked for top Orioles shortstop prospect Manny Machado, according to a source. The most likely landing spots are believed to remain the White Sox, Braves, Rangers and Angels.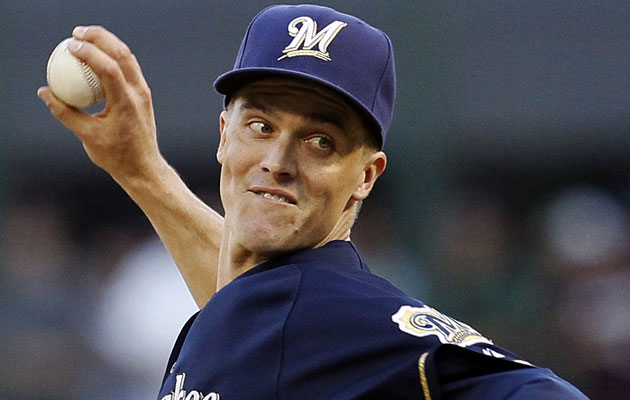 The Brewers are looking for a top-flight shortstop prospect and pitchers in return for Zack Greinke. (AP)
The interest is heavy in star right-hander Zack Greinke as the Brewers officially became sellers with their 0-6 road trip. However, the price tag is extremely high, interested teams said.
The Brewers are said to have a particular interest in a top young shortstop, and a source said they asked the Orioles about their extremely high-end prospect Manny Machado, a request that was rebuffed. With Greinke, Shaun Marcum and Randy Wolf all unlikely to be back with the Brewers next year, young pitching is also presumably a focus of Milwaukee's.
One executive with an interested team said a request for Macahado wasn't shocking as an early try and that the Brewers would "get more realistic" as the deadline draws nearer. Milwaukee just hit the "sell" button as it concluded a winless six-game trip -- as one rival put it, "the Brewers are open for business" -- so a major undertaking such as a Greinke trade wasn't expected to be arranged within a day.
The Brewers are resigned to Greinke leaving, sources said, as he hasn't shown any interest in re-signing there and giving up his free agency following the Brewers' $100 million-plus, five-year offer to him a few weeks ago, a proposal first reported by CBSSports.com.
Additionally, the Brewers might consider trades for third baseman Aramis Ramirez, reliever Francisco Rodriguez, catcher George Kottaras and veteran starter Randy Wolf (though Wolf himself pointed out that teams aren't exactly going to line up for a pitcher with a 5-plus ERA). One competing exec said he envisioned Milwaukee holding onto outfielder Corey Hart, though there's sure to be interest in him.
The Braves, White Sox, Rangers and Angels were mentioned here several days ago as the most likely landing spots for Greinke, with the White Sox making Greinke their clear No. 1 target, according to sources, and the Braves coveting him, as well. The Orioles are also interested, and a few other teams, could as well.
The Cardinals, who along with the Braves and Angels are seen as good long-term fits for Greinke, are an under-the-radar possibility. The Dodgers are a team that's been mentioned as having some interest, though they seem to be more focused on the two Cubs pitchers, Ryan Dempster, who seemingly has only given approval for a trade to the Dodgers (the Braves "moved on" after Dempster didn't approve a trade there) and Matt Garza, who will presumably need to make a Monday start and show he is healthy before he can be moved.
CBS Sports HQ Daily Newsletter
Get the best highlights and stories - yeah, just the good stuff handpicked by our team to start your day.
Please check the opt-in box to acknowledge that you would like to subscribe.
Thanks for signing up!
Keep an eye on your inbox for the latest sports news.
Sorry!
There was an error processing your subscription.
The 46-year-old Bell takes over a struggling club

Cody and Clay Bellinger have played six MLB seasons combined and gone to the World Series all...

The Red Sox are the early favorites among the bookmakers
The Dodgers are headed to the World Series again

Bellinger also had the walk-off hit in Game 4

The Dodgers are going to the World Series for the second straight season