Intrigue surrounding Padres' Quentin grows as July 31 trade deadline approaches
For the second consecutive year, the Padres are sellers as the July 31 trade deadline nears. Now, will Carlos Quentin's knees and asking price hold up to spur a deal?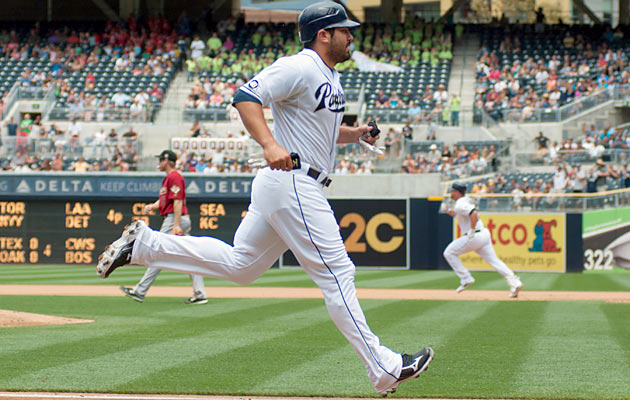 A healthy Carlos Quentin is attracting teams that are shopping for a bat. (Getty Images)
Carlos Quentin returned to the Padres lineup Wednesday following a two-game absence, which was notable for at least two reasons:

1. It surely restored a few smiles to contenders looking for help before the July 31 non-waivers trade deadline.

2. In a season filled with ice and misery, anytime a Padre disappears from the lineup, there is no guarantee he's coming back. They've used the disabled list 19 times, a total of 11 Padres are on the DL (including seven starting pitchers) and they've lost a total of 904 games from players to DL time this summer.

Quentin accounts for 49 of those games following surgery on his right knee this spring. That he sat out Monday and Tuesday's games against Houston with soreness in his left knee should serve as both a relief and a warning for clubs considering a move in his direction.


More on San Diego Padres
Analysis

Related links
Relief, because his most recent surgically repaired knee is coming along just fine (Quentin, who turns 30 next month, has had surgeries on both knees).


Warning, because since he first landed in the majors in 2006, Quentin has played in more than 120 games just twice. His long resume of injuries includes issues with his left shoulder, right wrist, left foot, left shoulder (again) and both knees.

His future in San Diego currently is uncertain because he can become a free agent this winter and, with the sale of the club from John Moores to the Ron Fowler Group (including the O'Malleys and golfer Phil Mickelson) dragging, there are no indications that a multi-year contract is in the cards.

"I'll just let it be," says Quentin, whom the Padres acquired from the White Sox for two minor-league pitchers last New Year's Eve. "I'll let whatever happens happen. I want to keep my focus on the field."

One person with knowledge of the Padres' thinking suggested Wednesday that the club will not deal him, opting instead to try to re-sign him this winter. That is the path they took with closer Heath Bell at last year's July deadline, and they were unable to get that done. One key difference is that the Padres have changed general managers since then, to Josh Byrnes from Jed Hoyer.


Among those who have inquired on Quentin are the Indians, Reds, Pirates and Marlins, colleague Jon Heyman has reported. Multiple sources said Wednesday that the Padres' asking price on both Quentin and third baseman Chase Headley remains exorbitant.

"So many teams need third basemen, it's like he's Mike Schmidt," one scout quipped regarding Headley. "I guess it all depends on your needs."

As for Quentin, two scouts who have watched him recently think he can help a contender despite playing in only 36 games for the Padres so far this season. He started hot, belting five homers in his first six games (and three in his first four games in late May), and currently he's hitting .268 with eight homers and 21 RBI.

"He can hit," one scout says. "He's not moving around very well."

Says another scout: "He's a threat. And with the lack of offensive help available. ..."

So far, the number of available impact bats is uninspiring -- Quentin, Arizona's Justin Upton, Milwaukee's Aramis Ramirez and the Cubs' Alfonso Soriano leading the pack.

Quentin, lately, has cooled off considerably: In 10 July games into Wednesday, he's hitting .162 with one homer and five RBI. He says the sore knee that bothered him this week is fine. But he acknowledges that he's having to manage his right knee, the one that was surgically repaired this spring.

"I'll have to make adjustments in the offseason. Drop some weight to take some of the pressure off of it," says Quentin, whose playing weight 235 pounds.

Padres manager Bud Black says he has not noticed Quentin's sore knee impacting his play.

"He just expands the zone a little," Black says. "He's taken good swings. He's fouled some balls back. He's hit some balls on the nose with no results."

Quentin is a notoriously streaky hitter, whether or not he's feeling 100 percent. Black thinks this season in particular for Quentin has been a combination of that streakiness with trying to get his legs back under him following this spring's surgery.

"February, March and April are when you need to get going for the regular season, and his [time[ was interrupted," Black says. "It takes awhile to get to where players need to be on a consistent basis.

"This year, it might be the case where he might not ever get those consistent reps in the cage or on the field because of his knee. But the last month or so is the closest to where" Quentin has been healthy.

In a trade market still taking shape, lots of folks are watching.
J.D. Martinez is reportedly headed to Boston on a free-agent contract

Keep tabs on the top 50 free agents on the market right here

Arizona didn't waste much time turning to its fallback option following Martinez's deal with...
The former AL MVP has been one of baseball's best players in recent years

Harper would prefer if reporters respect his wishes

Evan Longoria, Chris Archer, and Kevin Kiermaier aren't happy with the team's direction