Introducing BBTF's '2014 Hall of Fame ballot-collecting gizmo'
Interested in tracking Hall of Fame ballot returns before the final results are announced? Baseball Think Factory is here to help.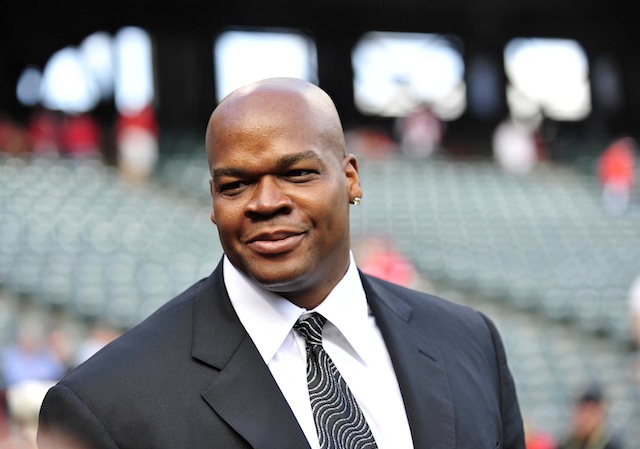 Hall of Fame cases: Luis Gonzalez | Moises Alou | Lee Smith | Fred McGriff | Don Mattingly | Jack Morris | Rafael Palmeiro | Sammy Sosa | Edgar Martinez | Jeff Kent | Alan Trammell
In this handsome space, we have of course been running down the cases of each player on the 2014 BBWAA Hall of Fame ballot in advance of the Jan. 8 announcement of the voting results (see the above links). Along similar lines, if you're also interested in tracking the early returns -- i.e., those ballots that BBWAA voters have publicly disclosed -- then know that Baseball Think Factory (BBTF) is here to help. 
Each year, BBTF keeps track of those pre-released ballots via its "ballot-collecting gizmo" and then projects how the overall vote will wind up based on these "exit polls" of sorts. The daily results are pinned to the top of the BBTF Newsblog. Here's a snapshot of where things stand as of Friday, Dec. 27:
The 2014 HOF Ballot Collecting Gizmo!

Updated 2:10 ~ 48 Full Ballots ~ (8.4% of vote ~ based on last year)

100 - Maddux
100 - Glavine
85.4 - F. Thomas
79.2 - Biggio
———————————
70.8 - Piazza
66.7 - J. Morris
64.6 - Bagwell
50.0 - Raines
45.8 - Bonds
43.8 - Clemens
43.8 - Schilling
33.3 - Mussina
25.0 - L. Smith
22.9 - McGriff
16.7 - Trammell
16.7 - Kent
12.5 - E. Martinez
10.4 - McGwire
10.4 - R. Palmeiro
  8.3 - L. Walker
———————————
  4.2 - Sosa
  2.1 - Mattingly
  2.1 - P. Rose (Write-In)
As you can see, as of this writing Greg Maddux, Tom Glavine, Frank Thomas and Craig Biggio are projected to make it (a candidate must be named on at least 75.0 percent of ballots in order to merit induction), while Sammy Sosa and Don Mattingly are projected to fall off the ballot entirely (a candidate must be named on at least 5.0 percent of ballots in order to reappear on the ballot the following year). As well, Jack Morris, who's on the BBWAA ballot for the 15th and final year, is right now on pace to fall short of election. Meantime, Mike Piazza appears to be positioning himself to make it in 2015. 
Sample size caveats of course apply (note that the above figures represent just 8.4 percent of last year's total number of submitted BBWAA ballots), but consider this a somewhat reliable early snapshot. Again, it's updated regularly, so check back at BBTF if you're interested in reading the Hall of Fame tea leaves ahead of time. 
The Marlins got a better return for Ozuna than Stanton or Gordon

The two teams are going about things in very different ways

The Marlins are indeed in teardown mode under new ownership
The Marlins still have more attractive pieces

The A's need outfield help, and the Cardinals have a glut

Minnesota has designs on the best starting pitcher available on the free agent market