Introducing the 2013 All-Merit teams
I'm picking an NL and AL All-Merit team. That is, a traditional roster of 25 players, with no rules of team representation.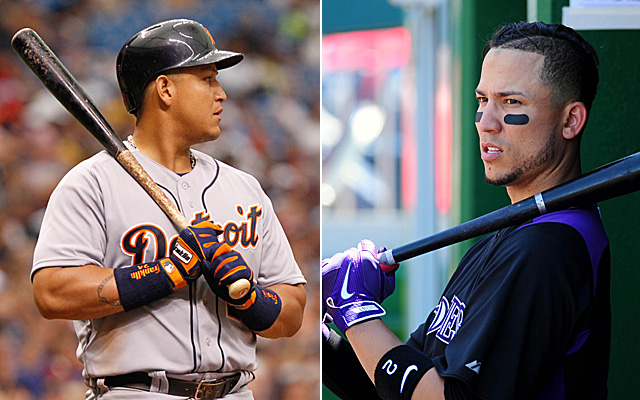 More MLB: Scoreboard | Standings | Probable Pitchers | Sortable Stats | Odds
With the introduction of the 2013 All-Star teams set for Saturday evening, I wanted to create my own teams. And I don't wanna follow the rules the MLB has in place. I want a 25-man roster for each team comprising the players who have had the best 2013 seasons.
No injured players, otherwise there aren't any rules. I just want the players who have been the best this year.
Let's dive in.
National League
Catcher: Yadier Molina , St. Louis Cardinals
The best defensive catcher in baseball also entered Friday night leading the NL in doubles and batting average.
First baseman: Joey Votto , Cincinnati Reds
He's on his way to leading the NL in on-base percentage for the fourth straight season. Amazing.
Second baseman: Matt Carpenter , Cardinals
He didn't play a single game in the minors at second base, but he's transitioned smootly on defense and is an outstanding hitter, bringing a .320/.392/.489 line into Friday.
Third baseman: David Wright , New York Mets
It's not even close.
Shortstop: Jean Segura , Milwaukee Brewers
Quite a return for Zack Greinke, eh? He entered Friday with an NL-best 108 hits and a .323/.359/.497 line.
Outfielders: Carlos Gonzalez , Colorado Rockies ; Carlos Gomez , Brewers; Andrew McCutchen
The NL outfield candidates were aplenty, but these three are pretty clearly the top of the elite echelon this season.
Pitchers: Adam Wainwright , Cardinals, Matt Harvey , Mets; Clayton Kershaw , Los Angeles Dodgers ; Patrick Corbin , Arizona Diamondbacks ; Jordan Zimmermann , Washington Nationals ; Cliff Lee , Philadelphia Phillies ; Mat Latos , Reds; Jeff Locke , Pittsburgh Pirates ; Stephen Strasburg , Nationals; Jason Grilli , Pirates; Craig Kimbrel , Atlanta Braves ; Aroldis Chapman , Reds
The only argument in here I would guess I'll see is against Stephen Strasburg and his 4-6 record. He's been the recipient of awful run support and ranks third in the NL in ERA, seventh in strikeouts and ninth in WHIP. He's an All-Star unless you believe only record matters with pitchers -- which is absurd.
Bench: Buster Posey , San Francisco Giants ; Paul Goldschmidt , Starling Marte , Pirates; Bryce Harper , Nationals; Michael Cuddyer , Rockies
I really wanted Yasiel Puig to make it, but we have to have a backup catcher and the four names listed after Posey above are pretty clearly very deserving All-Stars. If I had one more spot, however, I would have picked Puig and I absolutely believe he should be headed to New York for the real All-Star Game.
Toughest omissions: Yasiel Puig , Dodgers; Everth Cabrera, Padres; Carlos Beltran, Cardinals; Francisco Liriano, Pirates
Starting lineup
Gomez, CF
Votto, 1B
McCutchen, RF
Gonzalez, LF
Wright, 3B
Goldschmidt, DH
Molina, C
Carpenter, 2B
Segura, SS
SP: Wainwright
---
American League
Catcher: Joe Mauer , Minnesota Twins
Pretty easy call.
First baseman: Chris Davis , Baltimore Orioles
Again, easy pick.
Second baseman: Dustin Pedroia , Boston Red Sox
Pedroia is having an MVP-caliber season -- would probably finish behind Davis and Miguel Cabrera if voting were held right now -- but this still wasn't an easy pick because Robinson Cano and Jason Kipnis would be outstanding choices.
Third baseman: Miguel Cabrera , Detroit Tigers
Best hitter on the planet, no brainer of a selection.
Shortstop: Manny Machado, Orioles
Yes, I'm moving him here because it's his natural position and the AL shorstops don't present a ton of enticing options. This allows me to get another bench player I want on the team. With Machado hitting .319/.349/.481 and on pace to set a record for doubles this season, he's a worthy starter.
Outfielders: Mike Trout , Los Angeles Angels ; Jose Bautista , Toronto Blue Jays ; Jacoby Ellsbury , Red Sox
The first two picks are obvious. The third spot I gave to Ellsbury due to his excellent range in center in addition to leading the AL in triples and steals while hitting .303/.367/.417.
Designated hitter: David Ortiz , Red Sox
As with several of these picks, this was pretty easy.
Pitchers: Max Scherzer , Tigers; Felix Hernandez , Seattle Mariners ; Yu Darvish , Texas Rangers ; Chris Sale , Chicago White Sox ; Hisashi Iwakuma , Mariners; Justin Verlander , Tigers; Bartolo Colon , Oakland Athletics ; Justin Masterson , Cleveland Indians ; Jesse Crain , White Sox; Joe Nathan , Rangers; Grant Balfour , Athletics; Mariano Rivera , New York Yankees
I actually didn't feel like there were many tough decisions. I considered James Shields and Ervin Santana of the Royals in addition to Matt Moore of the Rays and Glen Perkins of the Twins, but I like the group I have above.
Bench: Carlos Santana , Indians; Robinson Cano , Yankees; Edwin Encarnacion , Blue Jays; Manny Machado
Again, we have to have a backup catcher and with a DH, that leaves only three spots. Cano is too much a superstar to be left off, Encarnacion is among the most feared sluggers in the game and Kipnis is having the type of season that shows he's an emerging star. This leaves off a litany of deserving players, most notably the first two names mentioned below -- the decision to omit them killed me.
Toughest omissions: Jason Kipnis Evan Longoria , Tampa Bay Rays
Starting lineup
Pedroia, 2B
Trout, LF
Cabrera, 3B
Davis, 1B
Bautista, RF
Ortiz, DH
Machado, SS
Mauer, C
Ellsbury, CF
SP: Scherzer
---
Which team is stronger? I think I'd go AL -- the entire lineup is great, but 1-7 would give opposing pitchers nightmares -- but it's real close. There's some ridiculous talent in baseball right now and several great players were left out.
Feel free to pick your own. The beauty of this exercise is there is no wrong answer -- now go call me names and accuse me of bias instead of respectfully disagreeing! Because, you know, Internet.