Introducing the newest MVP leader ... could it be Pirate Andrew McCutchen?
Andrew McCutchen leads the Pirates in every meaningful category and has led them to the top of the N.L. Central, making him a viable MVP candidate thus far.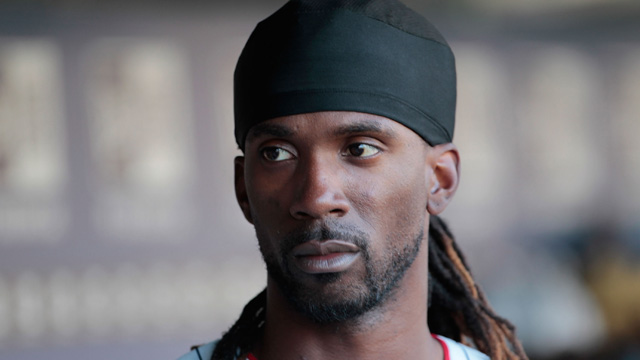 McCutchen has been a one-man wrecking crew in the Pittsburgh lineup. (Getty Images)
The
Pirates
' dynamic center fielder
Andrew McCutchen
may have just jumped to the top of the National League MVP race without anyone noticing.
McCutchen's brilliant start, and it is just that, needs more attention. That's about all he needs these days.
McCutchen certainly hasn't allowed the steep offensive struggles of almost all of his Pirates teammates throw him off his game, which has been nothing short of spectacular. He leads the Pirates in runs (32), hits (67), doubles (10), triples (3), home runs (11), RBI (36), walks (21, and stolen bases (11), as well as batting average (.325), on-base percentage (.388), slugging percentage (.563) and of course OPS (.951). The only two major categories he's behind in are at-bats (
Neil Walker
, 211) and strikeouts (
Pedro Alvarez
, 62).
"He's practically alone in the Pirates lineup,'' one scout with an American League team remarked.
That may be true. But as of late Sunday, hard as it is to believe the Pirates were tied for first in the N.L. Central with the Reds.
Since he's "practically alone'' and they are tied for first with the Reds, that should automatically make him an MVP candidate. The Dodgers' Matt Kemp and most prominently lately Joey Votto of the Reds have been mentioned far more as MVP candidates, and even the Giants' Melky Cabrera has, too. But McCutchen, only 25, needs a much closer look now.
With Kemp still out with a hamstring injury, a lot of folks are going to favor Votto, and that is understandable. But let's not disregard McCutchen's all-around game and ability to lift a far lesser team than the Reds to equal heights.
It's understandable why he's been overlooked so far. While McCutchen has made made an All-Star team, he's never even received a single MVP vote, not even a 10th-place vote in his impressive career. The Pirates, who seemed to have sneaked into a first-place tie by winning five straight series for the first time since the 1992 season, haven't had a winning season since their last MVP, Barry Bonds, left town after that '92 season.
McCutchen is, in fact, one of only four major leaguers with a double-double (10 homers, 10 stolen bases) so far, with the others being Ryan Braun, Hanley Ramirez and Jason Kipnis. He also doesn't have the benefit of anyone around him scaring anyone, so his double-double is perhaps more impressive than the others.
All 11 of McCutchen's homers have come since May 8, and he's hit more home runs than anyone in baseball in that period except Josh Hamilton, Jose Bautista and Alfonso Soriano, who each have 12.
When the Pirates signed him to a $52.5-million, six-year extension this spring, all his bosses took turns talking about what a fine young man he is (they occasionally mentioned his talent, too). Here's how manager Clint Hurdle summed up McCutchen via text: "Speed and power. Old school passion. Respect for the game. Tremendous work ethic.''
One other scout remarked that the perpetually upbeat Hurdle is making "chicken salad'' out of something far less than that so far in Pittsburgh. But Hurdle understands McCutchen is the key.
"Just watch him play,'' Hurdle said. "You'll figure it out.''
I may be a little slow. I wondered aloud in this space whether McCutchen was going to prove to be worth the $51.5-million, six-year deal the Pirates gave him this spring, suggesting he wasn't as good as Justin Upton or probably even Jay Bruce.
So I must concede I was a small part of McCutchen's under-rating and underpublicization. Consider this my 400-word mea culpa to one of the best of the game.
Neither Josh Donaldson nor Brian Dozier have talked about a new contract extension

Francisco leads the Dominican Winter League with seven home runs

Thome deserves enshrinement and here's why the case against him does not hold up
The Twins have already fortified the bullpen with Addison Reed, and now they want to address...

The Orioles likely want pitching, and the Indians have plenty of it

Halladay died in a November plane crash off the coast of Florida