Is a rift developing between Matt Harvey and the Mets?
The course of Matt Harvey's rehab may be putting a strain on his relationship with the Mets.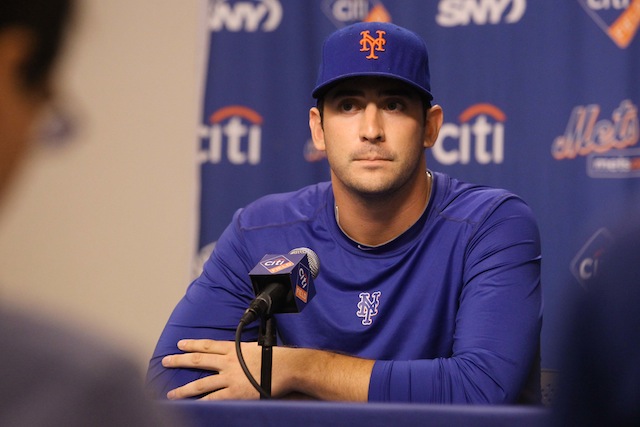 MORE: Spring Training | Scoreboard | Team previews
Andy Martino of the New York Daily News has a real eye-opener of a piece on the uncertain relationship between ace Matt Harvey and the Mets. Harvey, who underwent Tommy John surgery in October, has been doing his rehab work in Florida, and he'd like to return to New York when the team heads north. The team appears to have other plans for him. Here's Harvey:
"The biggest part is wanting to stay with the team. To learn the league. To learn Travis (d'Arnaud).  To learn how to bond with the other starting pitchers, and the guys in the clubhouse, and the David Wrights who I plan on playing with.

...

"It's just the fact that I have been not allowed to talk to anybody, and that every tweet or Instagram I send is, do not write. My locker -- me and (Jeremy Hefner, also rehabbing) was basically in a closet. I didn't think that was right. I don't know exactly who was in charge of the situation.

...

"I have worked so hard to get to the point where I was, and all of a sudden I get hurt, and it's 'you've got to stay in Florida. You've got to disappear from New York, you've got to do this.' I took pride in living in New York, and being a New Yorker.  I live there all year round.  It's a place I love being."
Candid stuff, and it certainly appears that the Mets don't particularly like this kind of candid stuff. Witness this peculiar exchange among Martino, Harvey and Mets PR man Jay Horwitz, as recounted by Martino:
About seven minutes into our conversation, Harvey and I noticed Mets PR man Jay Horwitz standing in front of us, glaring.

"He's alright, Jay," Harvey said. "Jay, he's alright."

"What?" I said to Horwitz.

"I'll talk to you later," Horwitz said to me.

"OK," I said, but Horwitz did not move.

"He's good, Jay," Harvey said again. "He's good. If somebody at the top needs to talk, I'll talk to him."

"You're causing me some problems," Horwitz said to me.

"OK," I said, then turned back to Harvey.

"Are you writing something?" Horwitz said. "Can I --"

"Jay," Harvey said. "If somebody needs to talk to the Players' Association, I have a right to have him writing about me."

Not wanting to make the situation any more awkward for Harvey, I turned off my recorder and wrapped up the conversation.
The assumption here is that the Mets are concerned about messaging when it comes to Harvey's rehab, and they want to project a unified front. Harvey, however, seems to have little interest in keeping up appearances -- at least until later that same day (read all of Martino's piece to find out how things changed in a matter of hours). 
On a certain level, this isn't terribly surprising, as Harvey and the Mets have hinted at different time-tables for his eventual return to game action. That in and of itself isn't unusual -- healing pitchers champ at the bit, while their teams try to shunt them toward a more conservative course. Yet what's going on here seems to go beyond such standard-issue stuff. 
The 24-year-old Harvey is of course coming off an outstanding 2013 season: 2.27 ERA, 157 ERA+, 6.16 K/BB ratio, 178 1/3 innings, fourth in NL Cy Young balloting. To say the least, he's essential to the Mets' future hopes, so the guess here is that things get worked out. 
Manager Torey Lovullo said so on Monday

Let's see how SportsLine forecasts the race for MLB's 10 playoff spots

Monday kicks off the final week of MLB action. Let's take a look at everything that went d...
No other rookie in baseball history has hit more home runs than Judge has this year

Jays have said goodbye to Encarnacion and will to Bautista. Should they move on from Donaldson,...

Judge's big September means Jose Altuve has some serious competition for the award