Is Alfredo Aceves an attitude problem?
Late last season, Red Sox reliever Alfredo Aceves had several run-ins with then-manager Bobby Valentine. With that in mind, news about Aceves' odd throwing session Sunday is pretty concerning for the Red Sox.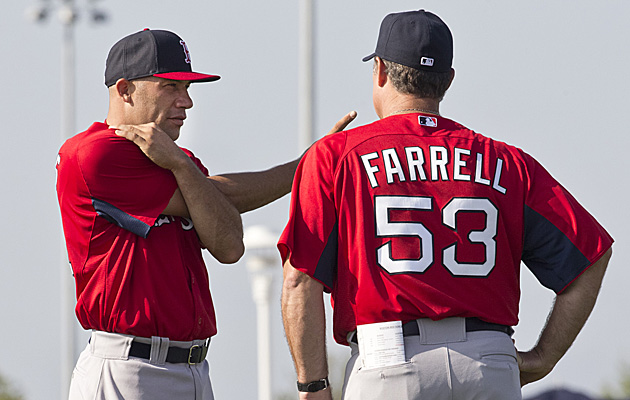 John Farrell needed to have a discussion with Alfredo Aceves on Sunday. (US Presswire)
Late last season, Red Sox reliever Alfredo Aceves had several run-ins with then-manager Bobby Valentine. Those could have been dismissed because it seems Aceves was far from alone with his contempt for Valentine in Boston. Still, Valentine was his boss, and Aceves did things worthy of winning a Bloggy for "most bush league moment." 
With that in mind, this news is pretty concerning for the Red Sox, in my view. Here's what happened, via WEEI.com:
Sunday marked the second day of live batting practice, in which pitchers face their teammates from behind the protective "L" screen. The exercise is meant to give pitchers an opportunity to build arm strength while introducing a hint of the competitive adrenaline that will characterize games. It also helps hitters to get used to seeing pitches at game speed.

But when it was Aceves' turn to throw to Jarrod Saltalamacchia, Jonny Gomes and Mauro Gomez, he did not throw at full speed. He did not even throw at batting practice speed. For about 15 pitches, he simply lobbed the ball to the plate, at approximately the speed at which a pitcher might toss a ball into an umpire if he wanted to replace it.

Members of the Sox staff were flummoxed. Triple-A pitching coach Rich Sauveur tried to get Aceves to pick up the pace. Manager John Farrell asked the pitcher if he was okay; Aceves responded that he was, but kept lobbing the ball to the plate. Finally, pitching coach Juan Nieves visited the pitcher on the mound, at which point Aceves finally started throwing with something resembling the intended intensity of the exercise.
I can't possibly envision a scenario where Aceves didn't know he was tanking the drill. He had to have seen other members of the Red Sox pitching staff throwing hard. Also, Aceves and Farrell said that there are no health issues, so the most likely scenario is that Aceves was dogging it because he didn't feel like going all out. 
Farrell told reporters he discussed the situation with Aceves and it's done. Also, yes, it's only Feb. 17, and the season doesn't start for six weeks.
Still, knowing the attitude problem Aceves was late last season and considering pitchers have only been in camp a week, I think there's enough here to say -- at the minimum -- that Aceves needs to shape up. 
For more baseball news, rumors and analysis, follow @EyeOnBaseball on Twitter, subscribe to the RSS feed and "like" us on Facebook. Also, individually interact with us on Twitter: @MattSnyder27, @daynperry and @mikeaxisa.

Keep tabs on the top 50 free agents right here

Your one-stop shop for all things MLB Winter Meetings-related

The Angels knew about the first-degree sprain and still wanted to sign the potential ace, of...
The run on relievers continues with two more signings

The Yankees added Giancarlo Stanton in a blockbuster trade, though they now have openings at...

Smyly is currently on the mend from Tommy John surgery