Is Brendan Ryan the best fielder in baseball? One group believes he is
John Dewan, author of the Fielding Bible, says Mariners shortstop Brendan Ryan is the best defender in baseball, giving Ryan the Fielding Bible Award for shortstop. Other winners for their position include Mark Teixeira, Mike Trout and Yadier Molina.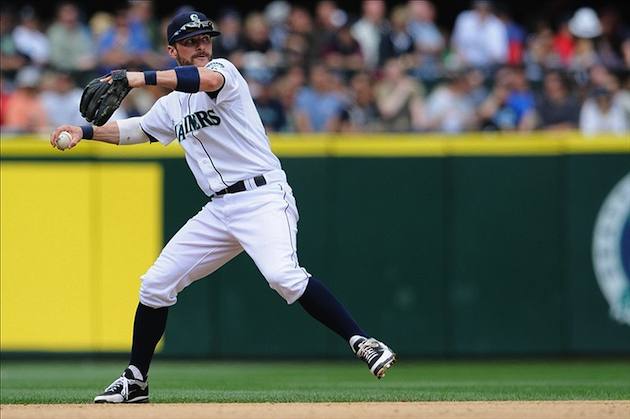 Is Brendan Ryan baseball's best defensive player? (US Presswire)
Sometime after the World Series, Rawlings will announce its Gold Glove winners for each league, but on Thursday the Fielding Bible Awards were announced by Baseball Info Solutions.
Like the Gold Gloves, the Fielding Bible Awards try to determine the best fielders at each position and uses a panel to make the distinctions. Rawlings uses managers, while the Fielding Bible uses a 10-person panel including Peter Gammons, Bill James, Joe Posnanski, Doug Glanville and John Dewan. The Fielding Bible Awards also only give one per position, instead of one per position per league.
So, who are the best fielders? According to those 10:
First base -- Mark Teixeira, Yankees
Second base -- Darwin Barney, Cubs
Third base -- Adrian Beltre, Rangers
Shortstop -- Brendan Ryan, Mariners
Left field -- Alex Gordon, Royals
Center field -- Mike Trout, Angels
Right field -- Jason Heyward, Braves
Catcher -- Yadier Molina, Marlins
Dewan, the author of the book, The Fielding Bible, called Ryan -- a first-time winner -- the "best defender in baseball."
From the press release, Dewan says this of Ryan, while adding a critque of the Gold Glove process:
Brendan Ryan is the best defender in baseball. Period. Make that double period. His has saved 67 runs for his teams defensively over the last three years, the highest total among all players. The next highest runs saved total is not even close (Michael Bourn, 51). Ryan led all shortstops in 2012 with 27 runs saved, led in 2011 with 18, and finished second in both 2010 and 2009 with 22 runs saved each year. Seattle recognizes the value of Ryan's defense, and that's why they keep putting him out there day after day despite his .194 batting average during the 2012 season. It will be interesting to see if the American League coaches and managers, who vote for the Gold Glove Awards, can look past Ryan's offense and base their ballot on his defense alone. This has been one of the problems with the Gold Glove voting—a certain amount of offense has always been required for what should be a defense-only award. Gold Glove voting has never allowed for a position player hitting below the Mendoza line to win a Gold Glove. Hopefully Ryan will be the first.
For more baseball news, rumors and analysis, follow @EyeOnBaseball on Twitter, subscribe to the RSS feed and "like" us on Facebook.
Let's see how SportsLine forecasts the race for MLB's 10 playoff spots

Monday kicks off the final week of MLB action. Let's take a look at everything that went d...

No other rookie in baseball history has hit more home runs than Judge has this year
Jays have said goodbye to Encarnacion and will to Bautista. Should they move on from Donaldson,...

Judge's big September means Jose Altuve has some serious competition for the award

Goldschmidt? Rendon? Blackmon? Stanton if he hits 62 HR? Who would be your pick?