Is Cardinals starter Lance Lynn ready to take the next step?
Cardinals right-hander Lance Lynn dominated the Brewers on Monday night. Is it a sign of things to come?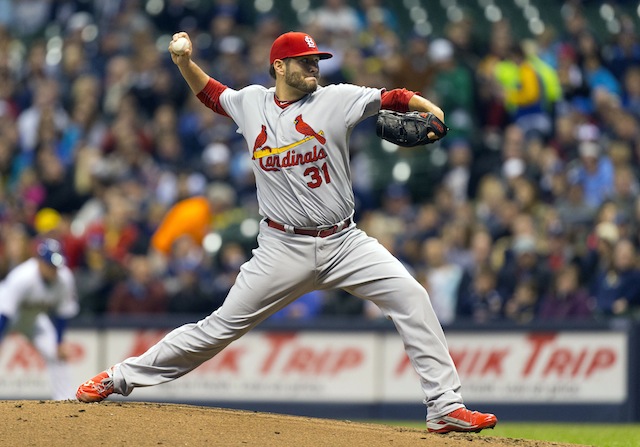 More MLB: Power Rankings | Expert Picks | Latest news & notes | Fantasy news
On Monday night in Milwaukee, Cardinals right-hander Lance Lynn dominated the Brewers: 7 IP. 4 H, 0 R, 11 K, 3 BB. Whenever Lynn twirls a gem such as this, we're left wondering: Is he ready to take the next step?
There's a reason for those high expectations. Lynn, the 39th-overall pick of the 2008 draft, has been an effective major-league starter since arriving in St. Louis. As well, he has a fastball that occasionally sits at 95, and he also throws a sinker, cutter and curve for strikes. Beyond all that, Lynn's peripherals throughout his career have been solid. For instance, if you look at Fielding-Independent Pitching (FIP), which attempts to remove defensive support and luck from the pitching calculus, then Lynn's career ERA should be a nifty 3.36. Instead, his career ERA was 3.89 heading into Monday night. That's how it's always been for Lynn, though, even coming up through the Cardinals' system. 
Elsewhere, Lynn does a good job of keeping the ball in the park, particularly for a pitcher who doesn't show extreme groundball tendencies, so there's the hint of some ability to manage contact. However, when the ball stays in the park, Lynn allows hits more often than he probably should (his career BABIP is .316). The real problem, though, is that Lynn has never shown any ability to tame the opposite side. 
Consider the following numbers ... 
Lance Lynn's career platoon splits
Side
AVG/OBP/SLG
K%
BB%
HR/fly ball%
vs. RHB
.237/.280/.348
28.0%
4.4%
7.9%
vs. LHB
.269/.374/.438
19.3%
13.3%
10.3%
As you can see, everything gets worse against lefties, especially in terms of Lynn's command. Likely, this comes down to his lack of a reliable third pitch to use against the opposite side. Lynn is a fastball-sinker guy against both sides, and at various points in his career he's favored the cutter, the curve and the changeup as his third pitch against lefties. Typically, the changeup is the go-to secondary offering against opposite-side hitters because its downward break doesn't put it in the batter's wheelhouse, unlike, say, the glove-side run of a slider. 
And speaking of the changeup, here are Lynn's changeup percentages against LHBs throughout his MLB career (HT: Brooks Baseball) ...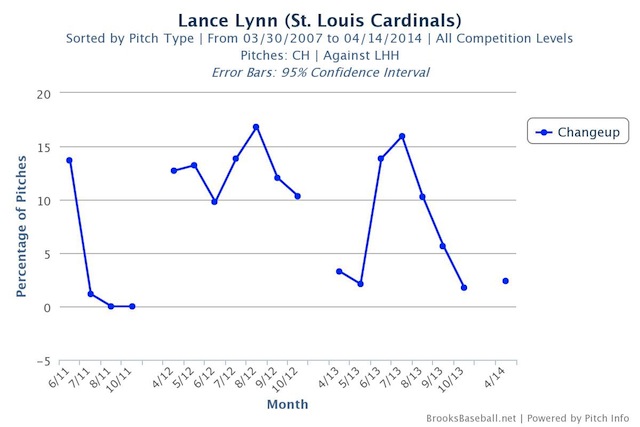 Those peaks and valleys suggest a volatile relationship with his offspeed stuff. Note that in 2013 he went to the changeup less and less as the season wore on. It wasn't because he necessarily had a better option, though. 
On Monday night, his approach against left-handed batters was similar to what it was last season: work the outside part of the plate and keep them guessing as to what that third pitch will be. It worked, but in large part it worked because two of the three Brewer left-handed bats belonged to the likes of Lyle Overbay and Logan Schafer. 
At age 26, is Lynn likely to cultivate a more usable, vertically oriented pitch against lefties? Can he do more besides "pitch away, away, away and hope to get the next right-hander out"? Maybe not. It may be those struggles in platoon-disadvantaged situations that eventually force Lynn to the bullpen. After all, as a reliever, you can get by without that third pitch. The Cardinals' pitching depth may not be quite what it's reputed to be (Jaime Garcia is predictably injured, and Shelby Miller hasn't been right since mid-summer 2013), but they still have options.
As such, it's on Lynn to prove he can handle lineups with more platoon depth than Milwaukee's. To that end, Monday night's outing -- a gem though it was -- didn't prove much. 
Lance Lynn is a useful starting pitcher at the highest level, but much about his profile suggests he'll never be more than that. 
This would undoubtedly be the worst trade in Miami Marlins history

The Pirates recently shipped Gerrit Cole and Andrew McCutchen to Houston and San Francisco,...

Surely, Martinez and his agent are holding out for more
The reliever had a very good 2017 season with the NL Central champs

We don't need to discuss Chipper's Hall of Fame case, so let's have fun instead

Dioner Navarro still hopes to return someday