Is Choo a $100M player? Boras suggests that figure is actually low
Shin-Soo Choo should be the first non-All-Star to become a nine-figure player, and agent Scott Boras suggests Choo should beat $100 million by quite a bit.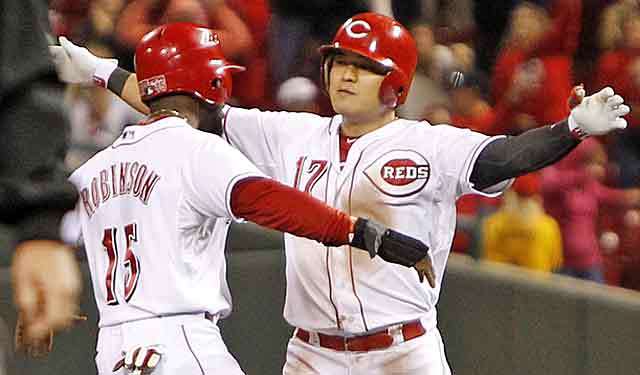 Rare has one contract prediction created such a stir as an unnamed general manager suggesting last month that Reds outfielder Shin-Soo Choo would get $90 million to $100 million via the free-agent market this winter.
Commenters, tweeps and readers couldn't believe it. Almost collectively, they shot back, "No way!"
Guess what? Choo's agent Scott Boras agrees that that estimate isn't in the ballpark. But he means the estimate is low.
Boras was asked recently about the $100 million estimate (the high end of our GM's guess), and he suggested it is low, way low.
"As a custom of the industry, prognostications by executives this time of year are dramatically divergent from the real market," Boras said in a phone interview. "I don't think anyone correctly predicted what Jayson Werth or Carl Crawford got."
If the Reds' leadoff man does get $100 million, or more, it is believed he'd become the first nine-figure player who never has made an All-Star team. Werth, Zack Greinke, Ryan Zimmerman, Mike Hampton, Mark Teixeira and Carlos Beltran are six rare players of 43 who've landed $100 million-plus deals who made only one All-Star team before signing their big deals (Beltran has made seven more All-Star teams since and Teixeira one more). Teams did commit more than $100 million apiece for Daisuke Matsuzaka and Yu Darvish, who were just coming to MLB, though they both received only a little more than half the money.
That non-All-Star note just may be a fluke since Choo is having an All-Star-caliber season, with 21 home runs, 106 runs, 20 stolen bases, a .287 batting average, .891 OPS, and most notably, a .424 on-base percentage, which is good for second best in the NL behind teammate Joey Votto.
"I think the hardest position to make the All-Star team is outfielder, and it's very difficult for a leadoff hitter," Boras said. "Those spots usually go to corner power guys."  
Choo's All-Star exclusion may be nothing more than a oddity. But it could be affecting those winter prognostications. Three more executives were quizzed, and while they have a management perspective, two guessed $75 million for five years and one guessed $56 million for four.
Two of the execs were obviously looking at B.J. Upton's $75.5 million, five-year deal, and the third was eying Michael Bourn's $48 million, four-year deal. Boras, however, doesn't believe they are in the ballpark. He says the first issue is the faulty presumption that five years is the limit. Werth, who was slightly older as a free agent, received seven years.
"The value of a leadoff hitter who has a .420 on-base percentage, 20-stolen base speed, 20-home run power, the ability to score 100 runs, and who has the ability to play center field and is a Gold Glove type defender in right field is immense," Boras said. "We don't see these types of players in the free-agent market. I only want to talk about our clients, and the last one we had anywhere near this was Jayson Werth."
Boras also pointed out that Werth was considered a 32-year-old player his first season in Washington while Choo will be considered to be 31 (though technically, only a two-month gap separates the two players).
The Werth contract, for $126 million over seven years, was widely panned as a terrific overpay at the time, though the Nationals aren't expressing great regret and Werth certainly is living up to the deal his third year into it.
"With free agency, you never know," said one of the execs who guessed $75 million, adding, "Jayson Werth is one of the worst contracts ever. If I hear Jayson Werth, it's in one ear and out the other."
But one more point to be made is that Werth's contract (and Crawford's) came three years ago. And Baseball is flush with cash at the moment. One thing both sides agree on is that MLB teams are doing better than ever financially, with a few notable exceptions.
Choo's career slash line of .288/.389/.465/.854 is actually slightly better than Werth's .273/.366/.470/.836. Boras also pointed out that Choo has had significant time in center field now this year (and could obviously play there if need be, as he's doing it for a playoff team this year), and even more important, is proven as a leadoff hitter after a huge year in Cincinnati, where he more than fulfilled their hopes for him.
No surprise, Reds general manager Walt Jocketty has said they intend to try to keep Choo. The Rangers, Cubs, and Mets have been mentioned as other potential suitors, with the Giants and Red Sox possibly needing outfielders in the event free agents Hunter Pence and Jacoby Ellsbury leave, and the Yankees always are a wild card, especially if they ditch their current plan to get below a $189 million payroll.
Boras said he wouldn't discuss any players as comparables who aren't his. But one other name that is sure to come up as a comparable has to be Crawford, who signed for $142 million over seven years the same winter Werth signed. Crawford has much more speed than Choo but his slash line (down a bit since the signing) isn't as good either at .292/.332/.438/.770.
And while Choo has proved passable in center field, Crawford always has played left. Plus, Choo has established himself as a prototype leadoff hitter, a role Crawford never really embraced until this season.
Of course, there may be as many folks who would criticize the Crawford deal as the Werth one, as Werth has come much closer to living up to his contract. (Though the Red Sox surprised folks when they were able to unload most of the Crawford contract in a deal that also involved Adrian Gonzalez and Josh Beckett, an August, 2012 blockbuster trade with the Dodgers.)
Choo's biggest break may have come when the Reds acquired him and moved him into the leadoff spot, where he has thrived.
"There are so many teams that need a leadoff hitter," Boras said.
The need surely is there at a time the teams are flush with cash, and Choo has some standout stats, especially that OBP.
Boras has been known to aim high on occasion. But in this case, Choo has made a compelling case.
While Choo never has been an All-Star, he's blessed with the most important of all assets, and that is timing.
CBS Sports HQ Daily Newsletter
Get the best highlights and stories - yeah, just the good stuff handpicked by our team to start your day.
Please check the opt-in box to acknowledge that you would like to subscribe.
Thanks for signing up!
Keep an eye on your inbox for the latest sports news.
Sorry!
There was an error processing your subscription.
The ALCS starts Oct. 13 in Boston

The NLCS starts Oct. 12 in Milwaukee

Game 3 brings us to Dodger Stadium for the first time in the 2018 NLCS
The series is tied 1-1, and Game 3 of the ALCS is in Minute Maid Park in Houston

The D-Backs could listen to offers for Paul Goldschmidt, but he's not their only interesting...

The NLCS shifts to Dodger Stadium for Game 3