Is Ike Davis back in good graces with Mets after walk-off grand slam?
After hitting a pinch-hit, walkoff grand slam, Ike Davis will be in the Mets lineup Sunday. Can he take back the starting job at first base?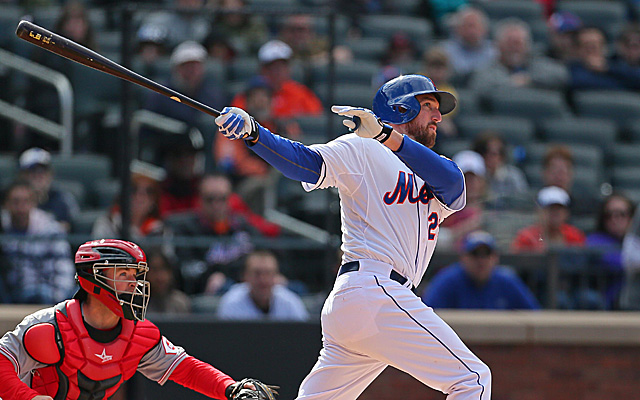 More MLB: Scoreboard | Standings | Probable Pitchers | Sortable Stats | Odds
The Mets beat the Reds 6-3 on Saturday afternoon in New York. They entered the ninth trailing by a run after the bullpen blew a one-run lead in the top of the eighth. With the bases loaded and no out, embattled first baseman Ike Davis came to the plate as a pinch hitter.
And Davis hit a grand slam to win the game in walk-off fashion. Here it is:
Walk-off granny! Those are rare. There were only five last season and three in 2012. The last time it happened was courtesy of Justin Maxwell on Sept. 22, 2013, giving the Royals a 4-0 win over the Rangers. The last time a trailing team got a walk-off grand slam came May 13, 2012, when Joey Votto hit one against the Nationals (click here for the full list on baseball-reference.com's play index).
Anyway, remember, it was only a few days ago that the Mets made the decision to use Lucas Duda as their everyday first baseman on a permanent basis.
After Davis' slam Saturday afternoon, this happened:
Ike will start at first base tomorrow. #Mets

— Anthony DiComo (@AnthonyDiComo) April 5, 2014
It's doubtful that the grand slam caused a quick changing of the mind by Mets manager Terry Collins, but Davis probably has more upside. It's worth a shot to change course, in my view.
Davis was solid his rookie year, hitting .264/.351/.440 (115 OPS+) with 33 doubles, 19 homers and 71 RBI. He was off to a great start the following season until an ankle injury ruined his season. Then, the following spring, he had to deal with valley fever and it may have affected him during his terrible first half.
In the second half of 2012, Davis led the majors with 20 homers (in only 75 games). He was a major disappointment last season, though, and the Mets unsuccessfully tried to trade him most of last offseason. Still, he's 27 years old and has flashed more than enough potential to reasonably believe he could hold down a lower-lineup spot (like sixth, maybe?) and produce 25-30 homer seasons on a regular basis. With it, the club will have to deal with a low batting average, but his walk rate suggests he'll counter with a decent on-base percentage. Even in his terrible 2013 season (.205 average), he managed a .326 on-base percentage which was better than the NL average (.315).
It could rather easily be argued that Davis' downside is much worse than Duda's, but he also has a higher ceiling. Why not see if he can reach it? They've been down this road before with Davis, sure, but just because he didn't turn it around last year doesn't mean he never will.
Like many Mets fans on this Saturday afternoon, I like Ike.
Neither Josh Donaldson nor Brian Dozier have talked about a new contract extension

Francisco leads the Dominican Winter League with seven home runs

Thome deserves enshrinement and here's why the case against him does not hold up
The Twins have already fortified the bullpen with Addison Reed, and now they want to address...

The Orioles likely want pitching, and the Indians have plenty of it

Halladay died in a November plane crash off the coast of Florida