Is it all over for this once-great Phillies team? Some say yes
The scouts don't like this aging team, but Philly still has a few things going for it, including manager Ryne Sandberg.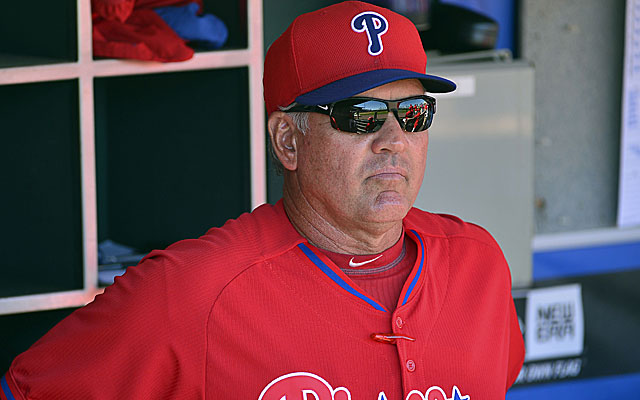 MORE: Spring Training | Scoreboard | Team previews
TAMPA, Fla. -- The Philadelphia Phillies are feeling a little better about things in recent days, following a rough spring that included an arm concern for star pitcher Cole Hamels , a rare infection for important utilityman Freddy Galvis , rough starts for their old stars Ryan Howard and Jimmy Rollins and a controversy involving Rollins and relatively new manager Ryne Sandberg, the former Hall of Fame player who's setting a serious tone for a veteran team more used to fun guy Charlie Manuel.
The habitually confident  and veteran Phillies aren't the type of group that engenders much sympathy, but Sandberg recently received some in the way of a missive from his old 1984 Cubs manager Jim Frey, who reminded him that their magical Cubs team lost 13 straight spring games (and won only five games all spring) en route to surprising folks and winning its division. If Sandberg had been struggling to see the possibilities, Frey's reminder couldn't hurt.
"Potentially, I like what we have," Sandberg said before the Phillies beat the Yankees Tuesday night to climb to 9-15, tied with four others for the worst spring record.
But of course, it's not wins and losses giving scouts pause about the Phillies, whose mini-dynasty is believed by most to be over. They've looked old, tired and even sloppy at times down here, and with their age, their health and their hitting all suspect, some have serious doubt whether they can regenerate.
"They had a nice window of winning, and it just slammed shut, just like that," one NL scout said.
That seems to be close to the consensus in Florida among people who have seen the Phillies. Except Phillies people of course. They have too much invested -- they're just under the $189 million luxury tax threshold in payroll -- to think otherwise.
The Phillies greats hear the assessments, and they seem to be anxious to prove the doubters wrong. This was once a great group, after all.
"This year is a fresh start, I've got to think this could be our year," Howard told CBSSports.com earlier this spring. "It's one of those things where I'd say, Stay tuned." Everyone's entitled to their opinion. The only thing we can do is perform between the white lines."
This is the same core that outperformed expectations in the middle of the last decade, before ultimately winning their World Series championship in 2008, then returning to the Series a year later. 'I hope we can rekindle some of the fire the guys had back in '06-'07," Hamels said earlier in spring.
Even they have toned down some early-spring rhetoric lately, though. Closer Jonathan Papelbon went in front of the microphones at the very beginning of spring to predict a World Series appearance for the team that had been trying to trade him for months. It was a weird moment, and no one's said similar since.
One talent assessor assessed the Phillies in two words: "Potentially dire," said the AL scout.
The word "potentially" seems to be used a lot around the Phillies, who could go either way. The AL scout finally concluded the Phillies needed to "turn back time," which seems like an unlikelihood.
"There are a lot of "ifs" for them not to struggle," that scout said. "They did not look good this spring."
Sandberg in more ways than just may be the right man for this job. Manuel succeeded for a long time as a player's manager who once knew how to motivate a talented team in its prime. The serious Sandberg is here now to make sure they don't get too comfortable.
Perhaps the defining moment of their spring came when Sandberg benched Rollins who had made the mistake of issuing a bad quote to the Philadelphia Daily News, responding "Who cares?" to a question about spring troubles. Sandberg called in the former MVP to make sure Rollins was talking about his own bad stats, not the team's bad performance. Sandberg said, for the record, he's now convinced Rollins had to be referring to his own stats, while Rollins, a terrific personality at his best who can run hot and cold, declined to talk about it after first welcoming the reporter.
Anyway, the team has played and looked a lot better since the dustup, and there are finally a few reasons to believe the Phillies could return to some level of glory. Hamels, perhaps the key to the team, is said to be shooting for an April 20 return, and his presence could give Philly a formidable big three of starting pitchers, with Cliff Lee , who was terrific this spring, and expensive veteran import A.J. Burnett , who was not.
The bullpen, which one scout referred to as a "mess," looks a bit better after recovering veteran righthander Mike Adams threw a scoreless frame against the Yankee. He, too, could be back sometime in April if all goes well.
Sandberg, with help from Frey's pep talk, sees positives, including very nice springs for speedy Ben Revere and outfield import Marlon Byrd , a superb spring for veteran backup Tony Gwynn Jr. (who won the fourth outfielder job) and the throwing of re-signed veteran catcher Carlos Ruiz and his backups. "Overall, we had a good spring defensively," Sandberg declared.
Yes, not all is wrong with the Phillies. They may look rusty to others, but as general manager Ruben Amaro pointed out earlier this thspring, there's plenty of new blood: 28 different names came to camp. Burnett potentially gives them back an imposing three at the top of the rotation, and if Byrd is the same guy who was last year following a 2012 disaster, there is reason to hope. "I feel confident we'll be a contender this year," Amaro said earlier this spring. "That's our goal, to contend every year."
It's been the case every year but last year, when they finished 73-89. But scouts, looking deeper, see bigger concerns.While veteran star second baseman Chase Utley seems to be back to his form, according to the scout, they wonder how close Howard and Rollins can come to their previous MVP form. Howard appears to be in excellent shape but he's still trying to generate his old power. And the AL scout said, "Rollins is very frustrating to watch. He had some lackadaisical at-bats. He looked nonchalant at times, but the last couple games it's been getting better."
Still, there are enough positive signs lately to give Phillies people the belief they can regain some semblance of their past. Papelbon, who was throwing only 88 to 89 mph his first times out, is up to 91-92 the last two times, still not great but much better. Galvis, whose MRSA infection caused a clubhouse fumigation, could be back by mid April, too.
Roberto Hernandez (aka Fausto Carmona) and Kyle Kendrick have looked OK at the back end of the rotation. Young right-hander David Buchanan, who has four pitches, could be a revelation for the future Phillies teams. As could third baseman Makiel Franco, who has monster power.
Though the reputation is that they are decrepit, as Sandberg points out, "We got older and we got youth."
Sandberg is both. He is a veteran baseball man and Hall of Fame player who's fairly new to the Phillies, having come in for the final 42 games last year and earning a three-year deal by going 20-22 with a team that appeared dead at the time.     
He may be exactly the task master they need. After one particularly sloppy game down here, Sandberg, a serious kind of guy, ordered extra work on game situations, something he's done three or four times here.
This time, it wasn't a good sign when one very prominent Phillies player, rather than silently do the extra work, began to whine about the task, whereupon he was cut off my just-as-serious veteran coach and former Phillies great Larry Bowa, the former manager and Sandberg's lieutenant, who told him in his own colorful way that, yes, he had to do the work.
Sandberg and his staff bring a refreshing air of seriousness to a team that had grown painfully stale. Sandberg has put in the work and he deserves this chance. Though he was a playing great, he willingly put in six years as a minor-league manager, beating the bushes in Peoria and Des Moines, a rare apprenticeship for a Hall of Fame player. That's OK. He's a star who didn't mind.
"That's cool … if that's what it takes," Sandberg said. "If I didn't have those six years of experience I think I'd be a fish out of water.
The Cubs great had done his time, yet was passed over for the Cubs managerial job for the likes of Mike Quade and Dale Sveum. He never said a word.
"A lot of players are in the same boat. You pay your dues," Sandberg said.
He has a lot of things going for him, but one trait is obvious.
"I have patience," Sandberg said, confirming my suspicion.
With this team, he may need it.
They're alive in the NLCS after their Game 4 win over the Dodgers

You never know what you might get from Arrieta, but what we got was brilliance in Game 4

The 2017 World Series begins Oct. 24
There will be a Game 5 after all on Thursday night

Tanaka shut the Astros down in ALCS Game 5 and has overcome a down season and past injurie...

The Yankees wouldn't chase Keuchel's bread-and-butter, those tempting pitches just at the knees...