Is Jimmy Rollins in Ryne Sandberg's doghouse?
Phillies shortstop Jimmy Rollins will sit out for the third straight day Thursday and manager Ryne Sandberg doesn't sound pleased with him.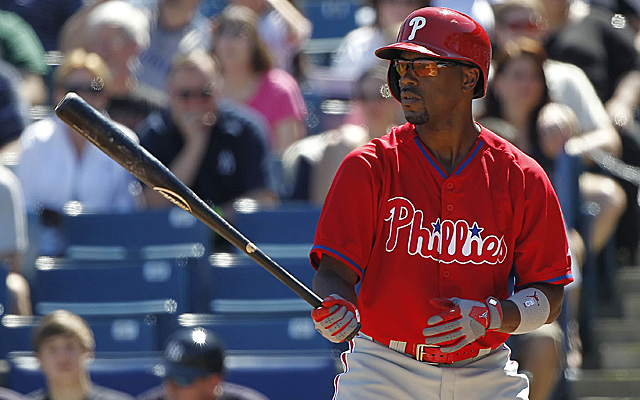 MORE: Spring Training | Scoreboard | FA tracker: hitters | FA tracker: pitchers
Three-time All-Star and former MVP Jimmy Rollins has been a mainstay in the Phillies starting lineup since 2001, when he finished third in Rookie of the Year voting. It's hard to imagine that changing this season, but it sounds like manager Ryne Sandberg isn't exactly a fan of Rollins' work right now.
Rollins will be benched Thursday for the third straight game in favor of Freddy Galvis. Rollins is not injured or resting. When asked about the situation, Sandberg decided to praise Galvis (via Philly.com):
"Freddy's a guy that will get playing time at various positions," Sandberg said. "He's a guy that I like in the lineup. I felt good about what he brings to the table. The biggest thing I like is his energy and his positive influence. His positive influence on everyone around him."

When asked about Rollins' energy and influence, Sandberg said, "No comment."
OK, so now is the time for the necessary reminder that not too much should be taken overly seriously on March 12. We should also take note that Sandberg specifically said that Galvis will play various positions. So it's not like this is becoming a positional battle -- at least not yet.
Still, Sandberg is the boss and Rollins seems to be in at least a minor bit of trouble. I'd say the proper reaction here is to monitor the situation moving forward while still expecting Rollins to be the everyday shortstop, barring a complete derailment in the relationship between Sandberg and Rollins.
Rollins is hitting .133/.316/.333 in 19 plate appearances this spring. He hit .252/.318/.348 (85 OPS+) with 36 doubles, two triples, six homers and 22 steals last season. He's set to make $11 million this season and has an $11 million option for the 2015 season that will vest once he reaches 334 plate appearances.