Is Los Angeles' own Chase Utley on Dodgers' radar?
Chase Utley, the former Long Beach Poly and UCLA star, could be a good fit for his hometown team.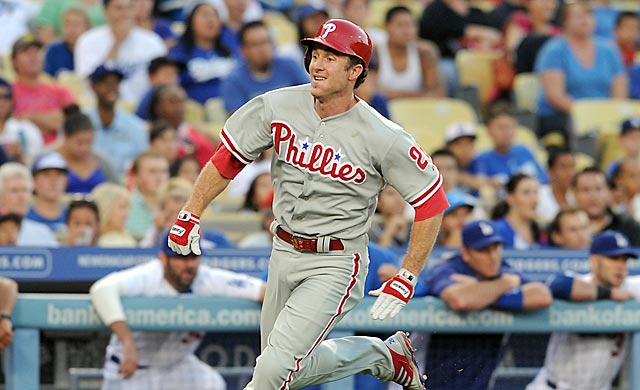 Word going around the game is that the Dodgers could have interest in Chase Utley, the longtime Phillies star who in his younger days starred at UCLA and before that at Long Beach (Calif.) Polytechnic High.
It isn't known if the Dodgers have gone so far as to contact the Phillies regarding Utley, and if they do, Phillies general manager Ruben Amaro doesn't seem anxious to trade Utley despite the fact Utley's contract expires after the year. Amaro told Danny Knobler earlier this week, "I view Chase Utley as a Phillie for life."
If the Phillies do decide to sell, they are said to be more willing to part with Michael Young, who's interested the Dodgers before. Phillies people have a deeper attachment to Utley, who was part of their championship teams.
There could be room on the infield for Utley, who would fit the Dodger preference for big and established names. Dodgers second baseman Mark Ellis has had some injury problems and isn't having his best season while third baseman Juan Uribe generally has been a free-agent disappointment.
Recently off the disabled list, Utley had to have impressed Dodgers people in Los Angeles this week, where he had eight hits, including three home runs, in a four-game series at Dodger Stadium. Overall, Utley is hitting .284 with 11 home runs and 30 RBI.
Asked about Utley, Dodgers GM Ned Colletti said, "I have nothing to [say about] any players not in the Dodgers organization."
Amaro didn't seem surprised the Dodgers might have interest. Amaro has suggested he doesn't want to trade any of his players, but people connected to the organization suggest there's more chance of a trade inolving players on expiring contracts, like Utley (who makes $15 million this year) and Young, than say Cliff Lee and Jonathan Papelbon, who are under contract at least through 2015.
The A's, Royals and Orioles (depending on Brian Roberts' success in staying healthy) could also be fits for Utley, who has the right to block trades to 21 teams, according to Cot's Baseball Contracts.
"We have good players," Amaro said. "I'm sure there will be teams interested in their services."
Francisco leads the Dominican Winter League with seven home runs

Thome deserves enshrinement and here's why the case against him does not hold up

The Twins have already fortified the bullpen with Addison Reed, and now they want to address...
The Orioles likely want pitching, and the Indians have plenty of it

Halladay died in a November plane crash off the coast of Florida

The power-hitting outfielder is headed to Toronto