Is Mariano Rivera having 'second thoughts' about retirement?
According to a report, Yankees closer Mariano Rivera may be having second thoughts about returning in 2013.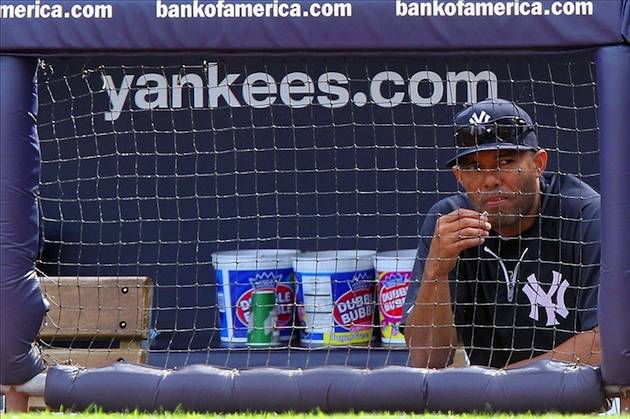 Will Mariano Rivera return to a Yankees uniform? (US Presswire)
Although most expect Mariano Rivera to return in 2013, ESPN New York is reporting the all-time saves leader may be having second thoughts and considering retirement.
Rivera will turn 43 next month and missed most of 2012 after tearing his anterior cruciate ligament in May. He is a free agent this offseason, but it seems unlikely he'd sign with any team other than the Yankees. He made $15 million last season.
ESPN New York cites "sources" as saying Rivera is having second thoughts but still calls his return "probable." While Rivera hinted at retirement before the 2012 season, after his injury, he said he was "definitely" coming back.
In his Wednesday news conference, manager Joe Girardi had nothing definitive to say about Rivera's situation.
"From watching how he rehabbed and everything that he was going through, picked up a baseball sooner than he was supposed to and got his hand smacked a little bit, that would tell me that Mo probably wants to play," Girardi said Wednesday. "But in saying that, it's a decision that I think he'll sit down with his family, evaluate where he is maybe a little bit later in this process and how he feels and how his arm feels to feel like you think you can compete at the same level he's always competed at. But I don't think that you push a rehab like he pushed it unless you think that you possibly have some interest in coming back."
If Rivera doesn't come back, the team could be searching for a new closer. Rafael Soriano replaced Rivera and has an opt-out clause in his contract. His agent, Scott Boras, has indicated Soriano would explore free agency. Soriano had 42 saves in 46 chances, putting up a 2.26 ERA. He signed with the Yankees after leading the American League in saves (45) in 2010 for the Rays. Soriano, 32, made $11 million last season and has a $1.5 million buyout of his $14-million salary for 2013.
For more baseball news, rumors and analysis, follow @EyeOnBaseball on Twitter, subscribe to the RSS feed and "like" us on Facebook.
The coveted right-hander would certainly be a fit in Milwaukee

We rate the best mustaches from random baseball cards because, why not?

Colon wants to break a Dennis Martinez record
The Twins have been rumored to be interested in Darvish all winter

Rolen is one of the best third basemen of all time, but you wouldn't know it based on this...

Neither Josh Donaldson nor Brian Dozier have talked about a new contract extension