Is Max Scherzer actually a good 'sell high' candidate for Tigers?
The Tigers are reportedly open to trading Cy Young winner Max Scherzer, who only has one year left before free agency. Is he a sell high candidate, or should the Tigers 'hold' him?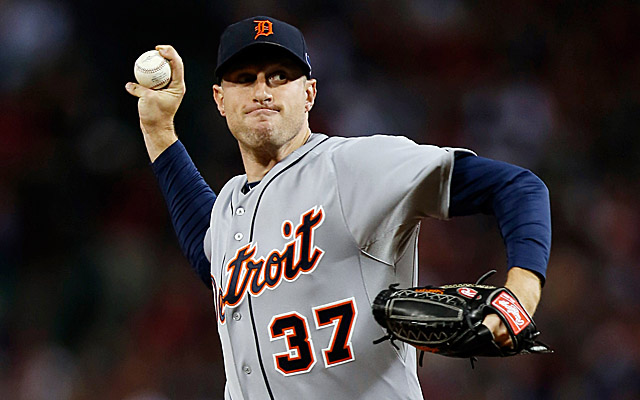 MORE: Scherzer named Cy Young winner | Scherzer, Sale show voters still care about wins
Tigers starting pitcher Max Scherzer is fresh off winning a well-deserved Cy Young award. He's also one of the most prominent names on the rumor mill this offseason, even though he isn't a free agent. Not yet at least.
Scherzer won't hit free agency until next season and with the Tigers' future payroll looking quite robust -- especially considering they need to extend Miguel Cabrera's contract soon, and they certainly will -- multiple reports have the Tigers shopping Scherzer this offseason.
Upon first glance from a pure superficial standpoint, that's utterly ridiculous. He was 21-3! He's the ace of a team that was two games away from the World Series!
As always, though, we should think deeper. One of the great principles of trades -- whether it be the stock market or in professional sports -- is selling high. Is Scherzer's stock as high as it will ever get, and, as such, wouldn't trading him be the prudent thing to do for the Tigers?
Let's take a look.
Argument for selling high
In 2012, Scherzer was 16-7 with a 3.74 ERA and 1.27 WHIP. Those numbers skyrocketed to 21-3, 2.90, 0.97 in just one season. He was 28 years old, too, so it's not like he was a youngster who finally came into his own and learned how to pitch. It was his fifth full big-league season.
Also, might he be a bit tired next year?
Scherzer's previous highest workload in a season -- regular season and postseason combined -- was 2011, when he worked 210 2/3 innings. This time around, that figure was 236 2/3.
Looking into some of the so-called advanced numbers, Scherzer was pretty fortunate on balls in play, with an opposing BABIP at .259, remarkably low considering how poor the Tigers are on defense in terms of range -- especially before getting Jose Iglesias at short -- and Scherzer's career BABIP figure of .302, which is just about league average.
Scherzer's HR/9 was a career best 0.8, partially due to only having allowed home runs only 7.6 percent of his fly balls allowed, which was also the lowest mark of his career. Given that Scherzer is a fly ball pitcher (44.6% flies compared to 36.3% grounders), that was a big-time help.
So if Scherzer's going to regress a bit and only has one year left on his deal, shouldn't the Tigers get what they can out of him now instead of possibly losing him for nothing after next season?
Argument against selling high
Heading into this season, Scherzer was a great breakout candidate. His BABIP (.333) and FIP (3.27, compared to a 3.74 ERA) showed he was better than he pitched in 2012. We also need to consider that he was already very adept at missing bats, as his 11.1 K/9 rate in 2012 was the best in the majors.
Scherzer's strikeout rate actually fell a bit in 2013 (10.1 K/9), but he was still second only to Yu Darvish in the majors in that category.
Scherzer also added a curveball to his repertoire. In fact, he credited his success to the addition back in early June. Via MLB.com:
"The reason I'm pitching better is because I have a curveball," Scherzer said. "I have three pitches to throw at a left-handed hitter. That's the single reason why I'm pitching better."

Scherzer believes in it that much.

"It's just been huge for me," he said, "because most of the time, they stack left-handers against me. My slider has just never matched up well against lefties. I started with it last year, and it's gotten better every single time."
Sure enough, Scherzer is allowing lefties to hit .262/.332/.424 against him in his career, but this past season, lefties were held to just .222/.278/.367 against the new and improved Scherzer.
His control was much better, too, as Scherzer only walked 2.4 hitters per nine innings, another career best. Team that with his career best -- by far -- hit rate of 6.4 H/9 and Scherzer led the AL with a sparkling 0.97 WHIP.
Also, given the better stuff and improved command, it makes sense that the luck in batted balls finding holes for the opposition would go down, just as the number of home runs he allowed on fly balls would naturally go down. Worse contact means fewer hits, obviously, and take note of the 19 percent line drive rate, Scherzer's lowest since moving to the AL and a 3.1 percent drop fro 2012. He's simply allowing fewer balls to be hit hard.
My choice
The Tigers could have won the ALCS just as easily as they could have lost the ALDS. The differences in close playoff series like those are so minute, we can't really measure them. The Tigers will certainly enter next season as the odds-on favorite to win the AL Central, meaning they'll have a great shot at their first World Series championship since 1984.
Why mess with that by trading away such a key piece?
I believe Scherzer may take a small step back next season, but there's lots of evidence that points to his breakout season being pretty real. If he was on a team like, say, the Twins, Astros or Marlins, he'd be a no-brainer to trade as part of the rebuilding process.
On a legitimate World Series contender, though, he's a no-brainer to keep for me. If they win the World Series and Scherzer walks, it will have been well worth keeping him. If they don't and he walks, I'd still believe it was worth a shot and say goodbye with no regrets. These windows of opportunity don't come around too often in a league of 30 teams.
Marcell Ozuna figures to be the next Marlins star on the move

Several relievers have signed in the last two days

Several teams are interested in the switch-hitting first baseman
Neshek and the Phillies are closing on a two-year contract

And the team that first drafted Cole is interested

This scout was SUPER into Jeter