Is Ryne Sandberg having lineups dictated to him?
By the sounds of things, Phillies manager Ryne Sandberg may not have complete control of his lineup cards.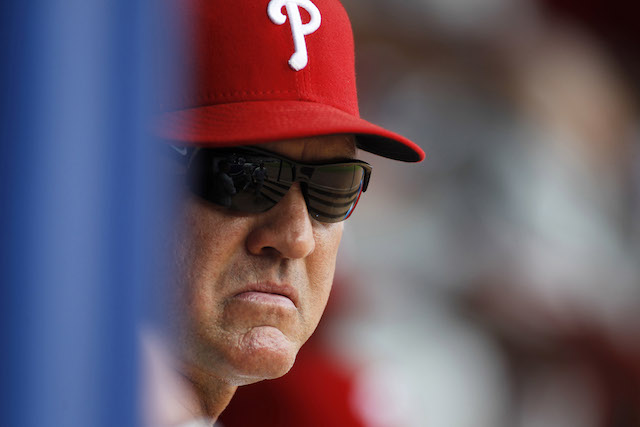 When it comes to filling out his lineup cards, is Phillies manager Ryne Sandberg taking his marching orders from the front office? Meghan Montemurro of the News Journal wrote a recent piece on Domonic Brown's diminished playing time, and Brown had this to say about Sandberg's lineups:
"I don't necessarily think that it's up to Ryno, you know what I mean? He's just the manager. It's whatever the guys up top [in the front office] have in store, what their plans are. We'll see."
As Montemurro notes, the implication is that the lineup isn't left solely to Sandberg's discretion. 
To be sure, this is hardly unprecedented. Front offices dictate lots of things that violate our traditional notions of "division of labor" in baseball. As well, it could be that this has been going on for the entirety of Sandberg's tenure. Furthermore, it could also be that Sandberg agreed to such an arrangement before he took the job. And maybe such mandates are confined to Sandberg's deployment of Brown. 
All that said, managerial accountability flows from managerial autonomy. Stated as a question, how are you going to hold a manager responsible for his decision-making when he's not allowed to make the most basic decisions? 
Of course, the larger problem may be unique to the organization in question: I'd likely not trust the Phillies' front office to fill out a tic-tac-toe grid, let alone a lineup card. 
Granderson, Verlander, Beltran and more are looking to reach the top of the MLB world

Houston's top relievers have been shaky this postseason

Our experts have a unanimous World Series pick
Otani's rare ability to hit and pitch will need to be accounted for in realms beyond real...

Kenny White has won 8 of his last 10 MLB Over-Under picks and has a strong play for Game 1

OOTP's team ran some simulations for us on the 2017 World Series