Is Sabathia still an ace? He'd better be (and he was Friday)
The Yankees seem determined not to go after any more big-money pitchers, and that means they need CC Sabathia to be the ace they signed him to be. Friday night against the Mariners, he showed he's up to it.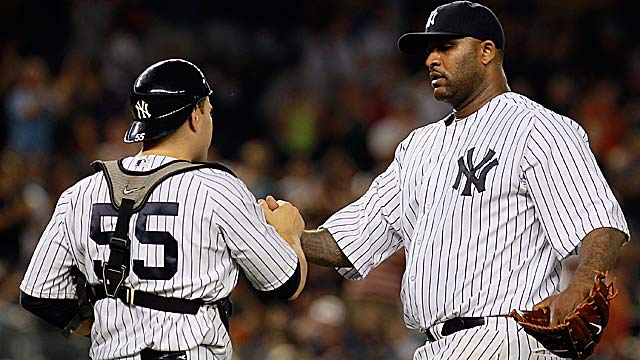 The Yankees want CC Sabathia to be that guy and he looks the part on Friday.
(Getty Images)
NEW YORK -- If this really is a new world for the Yankees, then they absolutely need the old CC Sabathia.

They need the Sabathia who is a no-doubt ace, the Sabathia who showed up to dominate the Mariners Friday night at Yankee Stadium. The one who carried a one-hitter into the eighth and a two-hitter into the ninth, and ended up with a complete-game three-hitter in a 6-3 win.

Aces aren't easy to find these days (ask the Rangers). They're not cheap (ask the Phillies).

The Yankees, insisting (for now) that they need to get their 2014 payroll under the $189 million luxury tax limit, didn't make a serious attempt to trade for a high-end starter last month. They didn't put a claim in on Cliff Lee when he was on waivers this week.


More on M's-Yankees
Related links
If they're going to have an ace, it's going to be the guy they're already paying $122 million for this year and the four years to come.

They need CC to be that guy, and that's why Friday had to be a little satisfying.

"I know who he is, and I know what he's done," manager Joe Girardi said. "And I know it's in there."

But there have been times this year when it was fair to wonder if Sabathia was still a true ace. According to fangraphs.com, his fastball velocity has averaged just 92.2 mph, the lowest of his career. His ERA entering Friday's start was 3.57, his highest since 2005.

His other stats aren't drastically different, and his record (11-3 after Friday's win) is still ace-like, but sometimes there has seemed to be something missing.

Friday, there wasn't. The Mariners are one of baseball's weakest-hitting teams, but they had won seven straight and were feeling more confident offensively. Sabathia shut that confidence down.

"You always want a game like this," Sabathia said. "Every time you go out, you want to think you're going to dominate. Today was just the day."

The Yankees don't have very many big concerns. Even though they'd lost nine of their last 13 before Friday, they still enjoyed a comfortable lead in the American League East.

They have fewer problems than most, and they were never at the point where they viewed Sabathia as a problem.

But they do need to rely on him, as much now as they ever have. For the Yankees to be as good as they want to be, Sabathia needs to be the ace they signed him to be.

Friday night, he played the part.


The O's need rotation help, and Cobb is available for hire

The Red Sox and Cardinals are expected to make trade offers next

The free agent first baseman may be a fit in St. Louis
The front office changes in Atlanta continue

The Marlins are more likely than you think on our list

Judge finished a distant second in the balloting and he paid respect to the winner