It looks like Rob Manfred vs. stalemate in MLB commissioner derby
Rob Manfred is the favorite to be the next commissioner when owner vote Thursday, but does he have the 23 votes necessary for election?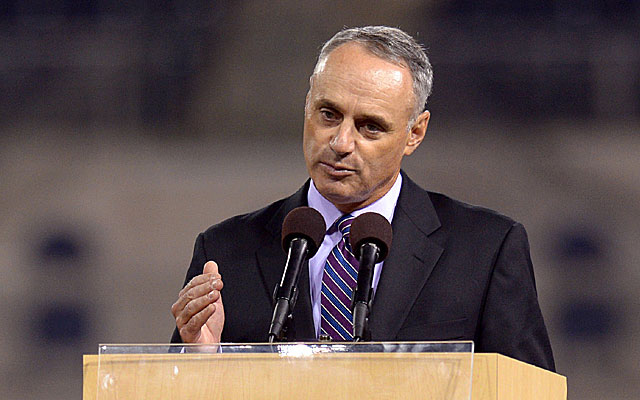 More MLB: Power Rankings | Expert Picks | Latest news & notes | Fantasy news
BALTIMORE -- The Major League Baseball commissioner search has produced many surprises so far, so it's anybody's guess what happens Thursday when baseball's 30 owners get together to vote for a new leader to succeed outgoing commissioner Bud Selig.
Or maybe not.
Indeed, the two most likely outcomes for Thursday's vote are thought to be either 1) Rob Manfred, MLB COO and Selig's right-hand man, wins on either the first ballot or a subsequent ballot or 2) a stalemate occurs, with the decision on a new commissioner tabled for sometime, perhaps even until the owners reconvene in November.
Red Sox part-owner Tom Werner, the surprise second choice in a three-man race, doesn't have the votes to pull off an upset of Manfred, but the hope of those backing Werner is that he and a third candidate, MLB vice president of business Tim Brosnan, can prevent Manfred from receiving the 23 of 30 votes necessary to succeed Selig (at least 75 percent is needed). One club official in the small but seemingly pretty solid group of owners hoping to produce a stalemate signaled that he believes they have the votes to delay the process.
Meanwhile, one owner from the large block of Manfred supporters -- he is believed to have anywhere from 20 to 23 votes -- said he likens it to a jury with an 11-to-1 vote going in, with enough of the minority likely to join the leading side in a subsequent vote to carry Manfred through.
Manfred is hailed by supporters for forging three straight CBAs with the players union without a single work stoppage, for cracking down on PEDs by getting 13 players to take suspensions in the Biogenesis case and for other measures that led to baseball's era of prosperity and multifold increases in franchise values.
As yet another high-ranking club official who supports Manfred said, "It's easy to be in the minority camp going into the vote. But how long are [these owners] going to be in Werner's camp? I would suspect some of the people lined up for one of the lesser candidates may end up bowing to the majority."
That seems logical, but in this commissioner derby, there have been mostly twists, turns and irony.
Who, for instance, would have guessed that Selig's best friend in the game, White Sox owner Jerry Reinsdorf, would be leading the charge to insert seemingly anyone but Selig's man? (For the record, Reinsdorf hasn't publicly stated who he supports, and said in an interview last week with CBSSports.com that he only has a "leaning.")
Who would think Reinsdorf, known as about the most loyal employer in America, much less baseball, wouldn't be loyal to Selig on this big issue? (Selig, who has been commissioner for 22 years, for the record also isn't saying Manfred's his man, though everyone knows he is.)
Who would think Werner, a pleasant man who nonetheless seems like the third man in the powerful Red Sox ownership triumvirate that also includes John Henry and Larry Lucchino, and who has twice gotten ownership of teams in the Selig administration -- that included the storied Red Sox franchise despite reportedly bidding about $100 million less than Charles Dolan -- would be the main competitor to Selig's man?
Under the circumstances, it's no wonder few were willing to predict an outcome in Thursday's vote, though perhaps Cardinals owner Bill DeWitt, who led the commissioner search committee, came closest when he opined, "I'm optimistic we'll have a (new) commissioner."
Everyone praised the presentations before the ownership group of Manfred, Werner and Brosnan, but one owner who supports Manfred said he believes that very likely almost no one who knows all the players was swayed by what was said by the three finalists Wednesday, and that the real interesting stuff comes Thursday, when the minority block either sticks together to form a stalemate, or more likely in his opinion, breaks off to elect Manfred.
Reinsdorf's White Sox, the Brewers and Angels (plus of course the Red Sox) are seen as the most solidly behind Werner while the A's, Blue Jays and Diamondbacks are considered to be leaning that way. The Reds are thought to lean toward Brosnan on the first ballot, with the possibility to switch later, while the Nationals and Rays are seen as possible wild cards who could go either way.
That's potentially 10 votes in the Werner/Brosnan camp -- though a few or some may ultimately decide a stalemate that could last weeks or months isn't in the best interests of the game, and thus switch over to Manfred.
The friendship of Reinsdorf and Selig could survive either way as ultra-successful folks often are able to knock heads, then walk away buddies, even if a little bloodied, and Selig suggested as much in a statement last week. No one can ever seem to recall a falling out between Reinsdorf and Manfred, who understood his job was to serve the owners, though folks in the game understood the pair are "not close."
There's a theory going around that Reinsdorf and Angels owner Arte Moreno are in the camp that's seen as "hawks," and prefer to get tougher on the powerful players union -- though the irony there is that Manfred's last deal was favorable enough for owners thanks to the new draft-pick attachment for top free agents and a slotting system for the draft that many agents and players believe they gave up way too much, especially considering the overall financial health of the game. (There's also a little irony in that Moreno, who has done some great things with the Angels, gave out $365 million in contracts to Albert Pujols and Josh Hamilton yet is supposedly a hawk.)
There's also the theory that Reinsdorf has had such great access to the commissioner's office with his buddy Selig and understands he may lose that with the no-nonsense Manfred -- though that's nothing more than a theory. Another theory is that Reinsdorf simply favors having an owner -- as Selig was -- as commissioner."
"Manfred has no skin in the game," one Reinsdorf loyalist said.
There's also said to be a complaint from some in the challenger camp that Selig did too many "side deals." And there's irony there in that Werner's group got the Red Sox in a side deal that's going to win up being the most successful side deal in sports history.
There is a clique of California-linked owners supportive of Werner, who first made his mark as producer of the TV hits Cosby Show and Roseanne, and they include Brewers owner Mark Attanasio and A's owner Lew Wolff, though Wolff is an interesting case as a former fraternity brother of Selig at the University of Wisconsin. Werner's Red Sox obviously are extremely successful, though his first foray into ownership with the Padres was fairly disastrous.
Werner fairly advised reporters to try asking the voting owners for more guidance on Thursday's outcome rather than asking him. Meanwhile, Manfred said he'd "done enough talking" for one day.
Selig also clearly doesn't want to get in the middle of things now. "I'm outta that business," Selig said on his way to a reception for all the owners at Orioles Park at Camden Yards, before the Orioles' game with the Yankees.
Well, the real truth is, we'll find out Thursday if Selig's out of this fascinating business.
Another team rumored to be interested in Stanton has confirmed their interest

Chris Woodward has spent the last two seasons with the Dodgers

We heard about it being awful for years, but was it?
Then again, three trades in four days might be behind Jerry Dipoto's usual pace

Ohtani is arguably the best hitter and pitcher in Japan

The O's need rotation help, and Cobb is available for hire