It was Mariano Rivera Day, and he made it memorable
The Yankees wanted the game to go better. But Mariano Rivera made sure that his day was special.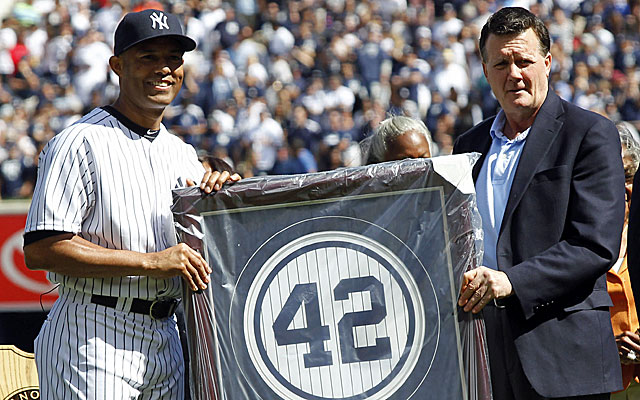 NEW YORK -- Mariano Rivera took the microphone, and he just started talking.
He didn't have notes. He didn't need notes.
He was standing in the middle of the diamond, and as comfortable as he looked, the microphone might as well have been a baseball. The Yankees had planned the perfect ceremony to honor their perfect closer, but appropriately enough, the ending was all up to him.
He nailed it. Of course he did.
He was emotional, and he was funny. He was respectful, and he was thankful.
The man, apparently, can do anything he wants. Anything, it seems, except turn his final Yankee team into a winner.
Yes, the Yankees lost on Mariano Rivera Day. They lost again, and with a four-game deficit, three teams to pass and only six games to go, the dream of one final trip into October has basically passed.
"We've got to try to pull off a miracle here," Andy Pettitte admitted.
There were times in Rivera's career and in Pettitte's career where we would have believed the Yankees would do it. We believed because they believed, and they believed because so many times they had done it.
They won and they won, and that's why all those fans at Yankee Stadium on Sunday were cheering as one after another, the players who made it happen made their way onto the field. Jorge Posada was there, of course, but so were Bernie Williams, and Paul O'Neill and John Wetteland and Hideki Matsui.
The fans had come to honor Rivera and to watch Pettitte, who was making his final start in the Bronx, but they cheered and chanted for every one of the players who made the last two decades so special around here.
In our memories, Rivera and Pettitte belong with that group of Yankees, and not this current group. With Tino Martinez and David Cone, not with Mark Reynolds and Brendan Ryan and J.R. Murphy.
They belong with the guys who always made it to October, and not with this grab-bag group who will fall short.
As the fans chanted J.R. Murphy's name when he batted with two outs in the ninth, it was hard not to think that the era where the Yankees won all the time really has passed.
Murphy, of course, struck out, ending the Mariano Rivera Day game as a 2-1 Yankees loss to the Giants.
It was a game that promised so much, with Pettitte perfect through 4 2/3 and still working on a no-hitter when the sixth inning began. He admitted to thinking about it, but also said that at 41, it's hard to imagine going nine innings, let alone completing nine without giving up a hit.
"It was good to dream," he said.
When Reynolds homered in the third to give the Yankees a lead, Rivera could dream of coming in for one more save, of saving a Pettitte win for a record 73rd time. But Pettitte allowed a home run to Ehire Adrianza with one out in the sixth for the Giants' first hit, and suddenly it was 1-1.
Later, the Giants scored in the top of the eighth. Yankees manager Joe Girardi called on Rivera in a game the Yankees trailed for the first time in a regular-season game in nearly two years.
But even that had the promise of storybook, because if the Yankees scored twice in the bottom of the eighth or ninth, Rivera could end up as the winning pitcher on Mariano Rivera Day. Even if they scored to tie the game, Girardi said later, Rivera was going to stay in and pitch the 10th.
There was no 10th and there was no Yankees victory, not on this day, not with this group, not when the best two players in Yankees uniforms seemed to be the two guys who are retiring.
They didn't win every time, either, even if it sometimes felt that way. But they won so often that they had us convinced -- and had themselves convinced, too -- that they always would.
"It always seems to happen," Pettitte said. "I really thought it was going to happen [Sunday]. It's hard to believe we're sitting here and we lost another game."
It would have made for a great story, but with these guys, we don't need another great story. There have been so many, and that's why Rivera was standing there early Sunday afternoon with that microphone in his hand.
Already, the Yankees had retired his number. Already, Metallica had played Enter Sandman live as Rivera slowly walked in from the bullpen. Already, the Giants had added to Rivera's gift collection with an electric guitar designed by Metallica and signed by Willie Mays.
Then the Yankees gave him a rocking chair, and Posada pushed Rivera to sit down in it.
And then Rivera spoke, with no notes and without knowing exactly where he was going to go.
"It wasn't planned," he said. "It was instantaneous."
And it was perfect. He spoke in English, and also in Spanish. He thanked his fans back home in Panama, and he spoke of his appreciation for America and for the Yankees. He made sure to include Rachel Robinson, Jackie's widow, who was part of the ceremony because Rivera is the last player to wear Jackie's No. 42.
And then there was this:
"Thanks to my parents for having me," Rivera said. "I guarantee it was a great day or a great night."
Hours later, when it was over, Rivera would describe this day as great, too.
No matter how the game ended, it was hard to argue with him.
Gallardo spent the first eight years of his career in Milwaukee

MLB revenues are at a record high right now, but teams aren't spending it on players

Chicago added Tyler Chatwood earlier this offseason but might not be done adding to the ro...
The Dodgers and Braves pulled off a whopper on Saturday

Sabathia will reportedly spend a 10th season in the Bronx

Fowler suffered a knee injury at Chicago's Guaranteed Rate Field