Italy has celebrity coach Mike Piazza, and it turns out a few hitters too
Mike Piazza says his mission to keep things simple and the guys loose. It's all working. Said Piazza: "I'm elated.''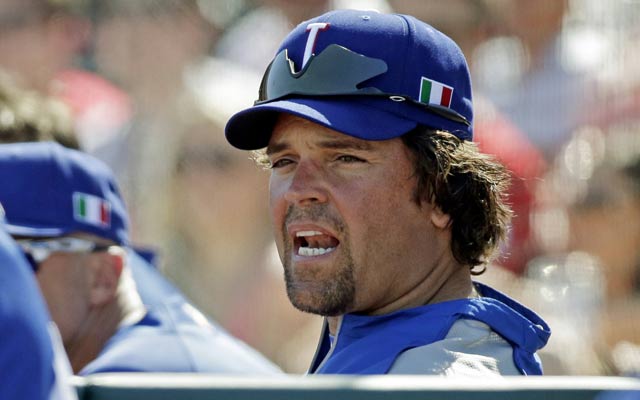 PHOENIX -- Team Italy's celebrity is pretty much limited to its hitting coach, who happens to be Mike Piazza, the greatest hitting catcher of all-time, and judging by Italy's performance in its first two World Baseball Classic games, not half bad as a hitting coach, either.
Italy's entire playing roster has 70 career big-league home runs, which happens to be 357 fewer than Piazza, but its team of mostly MLB backups and hopefuls -- plus a few Italian Baseball League players and one MLB starter (the Cubs' Anthony Rizzo) -- decimated a more accomplished Team Canada, 14-4, to win its second game against no losses. They are practically assured of a spot in the second round of the WBC in Miami next week.
"I just did a little cheering. And a little praying,'' Piazza said.
Piazza cited one of the main reasons Team Italy surprised its critics with two straight victories as its ability to avoid intimidation even though Team Canada had two former MVPs, Joey Votto and Justin Morneau. That they aren't intimidated by their own hitting coach shouldn't be surprising, as Piazza is a low-key cat who doesn't carry any All-Star airs despite playing in 12 All-Star games.
"I like to have fun with the guys,'' Piazza said. "They're loose.''
Of course, his hitters are aware of the resume. "He's got a lot of knowledge. He's one of the greatest hitters ever,'' said shortstop Anthony Granato, who had two of Italy's 17 hits in the win over Canada that was ended in the eighth inning by the mercy rule. "I like him a lot. He's smart ... and he keeps it simple.''
Team Italy gathered together only last Sunday, so Piazza, who is very bright indeed, made sure not to try to reinvent anyone's swing. He gave all the credit to manager Marco Mazzieri and the players. He cited Mazzieri telling the guys: "You're good enough,'' as a key.
"We just came prepared. We did our homework,'' Piaza said. "We came in shape. We didn't want to come here and just show up. We came to play well.''
Marco Chiarini, an outfielder from Rimini of the IBL, lined a single to end the game after Mike Costanzo's ground-rule double that was originally ruled a game-ending home run set the stage for the ending. Chiarini and Costanzo, who's a minor-leaguer with the Nationals, had two hits apiece, two of seven Italy players who had at least two.
"It's really cool, probably the coolest thing I ever experienced,'' said Chris Colabello, a Twins minor leaguer who had four hits.
Piazza, a .308 career hitter, has had bigger moments, between the 12 All-Star games, 10 Silver Sluggers, seven top-10 finishes in MVP voting, the Subway World Series and the memorable home run on the return after 9/11. But that doesn't mean he isn't excited about Italy's two-game performance.
He is thrilled to represent the homeland of his grandfather and other ancestors, and just as thrilled to show MLB that Italy can produce players and play the game.
"It's been a labor of passion, a labor of love,'' Piazza said. "I'm elated.''
Here are the bullet-points of what went down Tuesday regarding MLB and the Braves' punishm...

The owners need to ratify on the new system in place, but the takeaway here is Ohtani is coming...

A preliminary report National Transportation Safety Board has shined some light on details...
John Coppolella was placed on the permanently ineligible list by MLB on Tuesday

Among other sanctions, Atlanta lost the player who was deemed the No. 1 international signing...

Among other penalties, No. 1 international prospect Kevin Maitan is now a free agent