It's a slow go for five excellent free agents with the scarlet letter: Q
Five very good players are still looking for work, as teams are reluctant to surrender draft choices. It's getting so that maybe the rule attaching draft choices to free agents should be changed.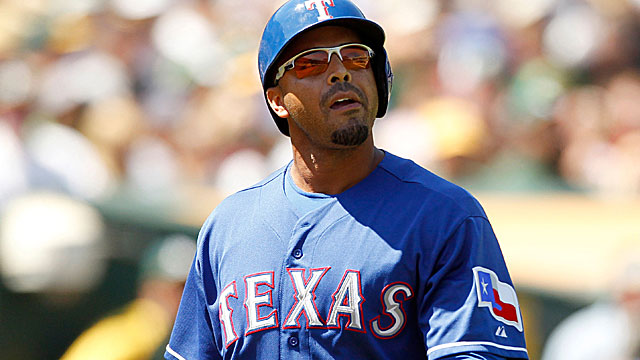 One GM said he recently looked up at the board in his office, saw a string of players with a "Q" next to their names and quickly looked away. That GM likes multiple players on that list, but he also knows the ones with a 'Q' have draft choices attached to them.
At least a half-dozen excellent major-league players are among the few dozen free agents remaining on the market, with five of them marked by the 'Q,' meaning they turned down qualifying offers of $14.1 million from their incumbent teams to become free agents and would cost a signing team a coveted draft choice.
So while those Q-tagged players are up on the GM's board, they may as well not be. He isn't touching any one of them, though he knows they could help him now. That GM -- and many others, too -- seem very attached to the draft choices they'd lose by signing free agent players who turned down qualifying offers. (Some may argue they are too attached to those draft choices.)
Pitchers Ervin Santana and Ubaldo Jimenez, outfielder Nelson Cruz, DH/first baseman Kendrys Morales and shortstop Stephen Drew are the five very good remaining free-agent players with the Q attached to their names at a time when teams are valuing draft choices more than ever. Baseball execs forever used to say the draft was a real "crapshoot" but now that those 20 late first-round picks that are in peril (the bottom 10 teams' picks are protected) for some reason those picks are being viewed as gold. Some teams have hit home runs on the late first rounders in recent years -- Mike Trout, Jose Fernandez, Michael Wacha and Sonny Gray are prime examples -- which may partly explain some teams' reluctance to risk the loss of even a late first-round pick.
Meanwhile, agents understandably aren't very pleased about how the rule that attaches draft choices is impeding the free market. The union is concerned, too, but it may be disinclined to try to re-open a CBA that expires in 2016 over a handful of players. Though at least the one quirk whereby players traded in mid-year the year before are exempt from qualifying offers, meaning players on bad teams are benefiting while Jimenez, Santana, Drew and others are suffering simply because they were contributing to pennant contenders, would seem to need to be re-examined.
"They're being penalized because they were trying to help their teams win," one agent pointed out.
One executive speculated that it would take a lot for the MLB to give back this concession no matter what the union wanted. But no one could have foreseen the market drag this rule has caused, and MLB people admit as much, saying they don't see it as a "gotcha moment."
But by now, at least five players may feel they've been gotten.
Last year Michael Bourn, Adam La Roche and Kyle Lohse seemed to be most affected by the rule. Bourn didn't sign until the eve of spring training, but his $48 million, four-year deal with an option for a fifth seems quite fair for an outfielder with a lifetime sub-.700 OPS. However, LaRoche had to settle for a two-year deal coming off a big season, and Lohse didn't sign until March 25; he got a $33 million, three-year deal from the Brewers, but only after team owner Mark Attanasio overruled GM Doug Melvin and surrendered the No. 16 draft choice to sign Lohse.
Attanasio loves his deal, as Lohse readied himself quickly and performed well. But that doesn't mean other GMs are rushing to give up their picks this year.
All five of the current free-agent players with draft picks attached could help teams now, and all five will get deals at some point. But it's been a long slog for five good players. Santana is, by any measure, a well above-average starting pitcher. Jimenez is a former ace who finished extremely strong in September last year.
Morales put up good numbers (23 homers, 80 RBI) in a pitchers' park, Safeco Field. Drew helped the Red Sox to a World Series win while posting one of the better OPS's among big-league shortstops. And Cruz has been an exceptional middle lineup producer for years.
It's always a surprise when such good players don't have jobs, though maybe less so since the new rule tied those who turned down qualifying offers to first-round draft choices for all but the teams with the 10 worst records. The Blue Jays have two protected first rounders, and while they are still in the market for improvements, especially in their iffy rotation, they appear to be waiting out a market where most of their main competition may be more worried about the draft choice they might lose.
It's a surprise any of these guys are still looking for work, but some execs are confounded by one or two in particular. "Nelson Cruz, that one I don't get," said one baseball executive.
"He's been consistently productive for years," said another.
The same could be said for Santana, who like Cruz also had a very good platform year. Santana's agents put together a strong promotional book, pointing out some highlights that may surprise folks. Santana was tied for ninth in quality starts (23) last year, tied for ninth also in the ratio of above-average to below-average starts (3.00; he had 24 that were above average, just eight  below average) and tied for eighth in the ratio of starts deemed "strong" or "dominant" by Inside Edge (59.4 percent). In that category, he was tied with no less than Yu Darvish, Jordan Zimmermann and Max Scherzer, the AL Cy Young winner.
Cruz could be hurt by some degree by his age, his declining defense and his PED penalty last year, but no one foresaw this. It also very likely didn't have anything to do with an over-inflated asking price, as Cruz's people weeks ago are known to have called at least one team and suggested a deal for "two or three years," which would seem to many like an underpay when looking at past markets and past performance. Perhaps that was a team that held particular interest for Cruz, but in any case, he seemed anything but unrealistic at that juncture.
In addition to the pretty fabulous fivesome, pitchers Bronson Arroyo remains a free agent, and A.J. Burnett is back on the market, and with neither of those players having the Q attached to their names, they just add two more viable pitchers to a strangely slow-moving market.
Arroyo announced to ESPN.com the other day that he had yet to receive an offer, which seems hard to believe considering his career-long consistency and durability. But it raised the question: If Arroyo has no offers, what's going on with the other guys?
Here's a rundown of what we know …
1. Santana: This guy is much better than you think, though he may have to settle for less than we all figured. His persuasive promotional book points out that only nine pitchers have started more games than Santana since 2005, and only 11 have thrown more innings. And they aren't bad innings, either. He's been a consistent strike thrower and winner who's become more of a groundball pitcher with the development of a sinker, save for one off year in 2012, when he received all-time bad run support. Pitching only in the American League, he's won 105 games (38 more than Matt Garza, who got $50 million for four years plus a vesting option with no draft choice attached) and should be in line for a major deal. The book points to a value of $112.57 million over five years based on past contracts given to comps Zack Greinke, John Lackey and Burnett. That was never an asking price, mind you. But you couldn't blame them for aiming high considering the numbers. The Jays are known to have checked in, while the Orioles, Yankees and Twins are known to have requested his medicals. Beyond that, not much is known. There's no word yet Santana has dropped his asking price from five years, though at this stage, a four-year deal wouldn't be bad at all.
2. Jimenez: At his best, he's an ace, and he was just that late in the year, posting a brilliant September to remind folks of his 2010 season in Colorado. The Blue Jays are believed one of three teams currently in the mix, though Toronto is said to be waiting before making offers considering the unknown market to date. One exec who knows Jimenez well said he believes Toronto would be an ideal fit for Jimenez, a smart and worldly sort. There has been word in management circles Jimenez could be amenable to as little as a three-year deal now, though that is uncomfirmed. If the price does drop, the incumbent Indians, who like him, could come back into play. But for now, the Jays seem most likely.
3. Cruz: The Mariners have been the team most often linked to Cruz, who could fit in behind $240 million free-agent pickup Robinson Cano in the Mariners lineup. Some Mariners connected people said they'd be worried about Cruz's transition from the Rangers' hitters park to Safeco, where he's a .238 career hitter, and worried, too, in the year after the PED charge. Cruz has an excellent rep as a clubhouse guy (though some teammates might have preferred he play it out last year rather than accept the ban) and he was having a very nice year last year, with a team-leading 27 home runs and 76 RBI at the time of the suspension. Some have suggested the Rangers could be a fallback on a one-year deal, but after Derek Holland's untimely injury, it would seem they'd need pitching more.
4. Drew: The Red Sox have left the door ajar, as manager John Farrell is known to be a big fan. Boston has great hopes for prospect Xander Bogaerts, but if they don't retain Drew they may then have to depend on three kids (also center fielder Jackie Bradley and third baseman Will Middlebrooks) coming off a World Series win. The belief is he'd go back to where he won the championship. However, there are other possibilities: the Mets look like an excellent fit as a team without a proven starting shortstop and the Yankees have at least considered Drew for their iffy infield (though there doesn't seem to be a meeting of the minds on the price at the moment) and Toronto has shown interest, though the Jays aren't ideal since he would have to play second base for them.
5. Morales: Some suggest he might have taken the qualifying offer, though hoping to duplicate a fine year in Seattle isn't such an easy task. That said, the Mariners could still be a possibility if they are willing to trade Justin Smoak (while GM Jack Zduriencik remains a Smoak believer, others would love Morales back). Like Cruz, he'd provide excellent protection for the new star Cano. Plus, he was a big hit in the clubhouse with the team's nice young nucleus. The Rangers, Jays and Royals all could be possibilities, though those might take trades to happen first, perhaps of Mitch Moreland, Adam Lind or Billy Butler.
This would undoubtedly be the worst trade in Miami Marlins history

The Pirates recently shipped Gerrit Cole and Andrew McCutchen to Houston and San Francisco,...

Surely, Martinez and his agent are holding out for more
The reliever had a very good 2017 season with the NL Central champs

We don't need to discuss Chipper's Hall of Fame case, so let's have fun instead

Dioner Navarro still hopes to return someday