It's complicated, but Paul Goldschmidt keeps it simple
Diamondbacks slugger and NL All-Star Paul Goldschmidt's approach entails trying to think about any kind of approach. It's working.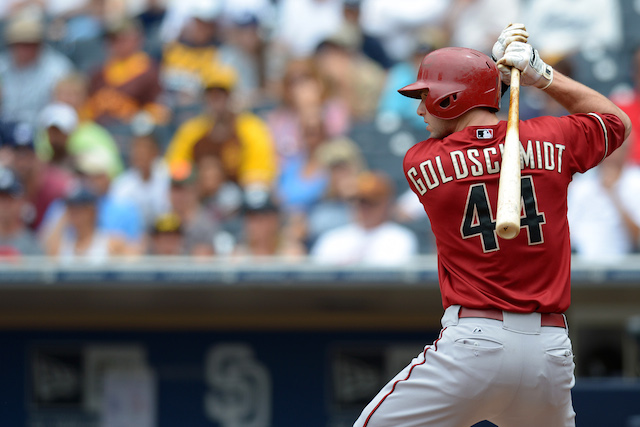 All-Star Game: Starting lineups | AL, NL rosters | Cespedes wins HR Derby
MINNEAPOLIS -- At some point between the end of the 2012 season and the beginning of the 2013 season, Diamondbacks first baseman and NL All-Star Paul Goldschmidt made the not-insubstantial leap from good to very good (or, if you prefer, great). The proof is in the numbers: since the start of last season, Goldschmidt is batting .304/.400/.551 (160 OPS+) with 52 homers and 72 doubles in 255 games.
Coincident with Goldschmidt's climbing the ranks has been improved plate discipline. For instance, over his first two seasons in the bigs, Goldschmidt struck out in 24.0 percent of his plate appearances and drew a walk in 10.5 percent of his plate appearances. Since 2013, those figures have improved to 21.2 percent and 13.6 percent, respectively.
So the question is raised: A change in approach or regular progress and growth? The latter, Goldschmidt guesses. He "guesses" because, to hear him tell it, he makes an effort not to think about it, to let only the most basic elements occupy his thoughts. "I don't know if my numbers are good or bad," Goldschmidt said Monday while getting ready for his second All-Star Game. "I'm not a guy who looks at them."
In a sense, that's a shame, because he's missing some pretty impressive numbers. In particular, the other aspect of his growth as a hitter -- better numbers against same-handed pitching -- tells a story he would probably enjoy.
In 2012, the right-handed-hitting Goldschmidt batted a rather middling .257/.326/.412 against right-handed pitching. At the time he was a 24-year-old second-year player who had been an eighth-round draft choice and coming up through the system had never cracked a top-100 prospect list. Absent improvement against same-side pitching, Goldschmidt could have become pigeonholed as a platoon player -- a corner defender capable of mashing lefties but not much else. That prototype certainly has its uses, but Goldschmidt, as we know, would become much more than that.
In 2013, he almost doubled his walk rate against right-handers. By waiting for his pitch and being selective, he was able to do more damage on the pitches he did swing at. The result? He ended that season with a line of .300/.406/.534 against righties. At the mid-point of this season, he's hitting .294/.372/.549 in such situations. That's elite production, to state the obvious.
Goldschmidt, though, still hewing to his code of simplicity, shies away even from a dictinction as basic and self-evident as pitcher handed-ness. "The lefties and righties," he said, "they can kind of do it all now. You know, lefty with a cutter, righty with a sinker, and there's a lot of right-handed cutters, as well, and that's two fastballs that look different. Most guys are throwing a slider, which looks like a fastball and breaks out of the zone. Every pitcher's different, so you have to keep it simple. See the ball, hit the ball, hopefully hard.
"Looking back on the past three months, I think there are times I did that well, and at those times I'm guessing all the other numbers are good."
About the numbers, he's right of course. And those MVP-caliber numbers, again, flow from his improved selectivity and command of the zone. For Goldschmidt, though, it might be more accurately termed "situational discipline."
"You can't go up there saying, 'I'm not going to swing at anything out of the zone,'" he explained. "Every hitter knows not to swing at the slider outside and the fastball up high, but it's a lot easier said than done because the pitcher is trying to make everything look like a strike and keep your timing messed up.
"If you're ahead in the count, you can afford to be a little more patient, but if there's a particularly nasty pitcher on the mound, you want to be aggressive because you don't want to fall behind against a guy like that. At the same time, there are nasty pitchers who it's hard to [get to] their stuff on the corners, so you want to lay off more. You want a simple approach. Look for middle of zone, lay off if it's not there, expand if you have two strikes."
There's that word again: simple. In this regard, it's moment to moment. One ball-strike count calls for restraint. The very next pitch may call for an expanded hitting zone. The process, then, becomes reducible to nothing more than the instant at hand. For Goldschmidt, that simplicity is working splendidly.
Washington's right fielders have sputtered offensively since Harper went down

The good news? Wichita still has a chance to win the series Tuesday night

Soon more home runs will have been hit in 2017 than in any other season in MLB history
Ferrell somehow avoided going to the ground

Plus, we saw a possible AL Wild Card Game preview in the Bronx and lots more from around M...

The Pirates disappointed in 2017. Will 2018 be any different?