It's early May, and already playoff odds give Astros no shot
To hear two major playoff odds boards tell it, the Astros have no mathematical shot at winning the World Series.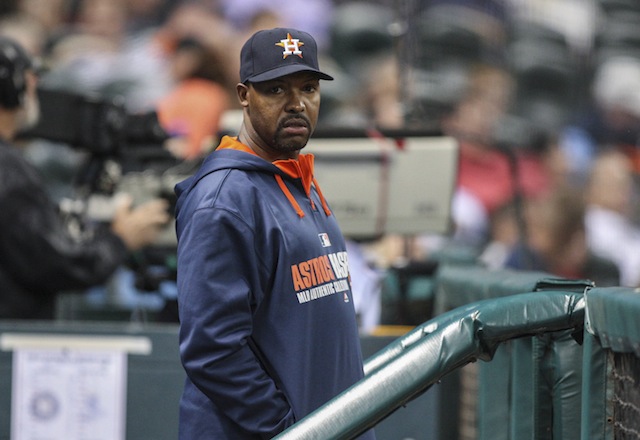 More MLB: Power Rankings | Expert Picks | Latest news & notes | Fantasy news
At this writing, the Astros find themselves on pace for a 2014 record of 49-113. In other words, despite losing 106 games in 2011, the Astros are also on pace to post a worse record on a year-over-year basis for the fourth straight season. That's ... something. 
While there's plenty of time for Houston to arrest current trends and maybe even come within hailing distance of something maybe possibly vaguely resembling a thing sort of perhaps resembling respectability, we break no news when we say that the 2014 Astros aren't going to the playoffs. 
That said, it's a whole other level of ... something ... for a team to be wholly dismissed by the two major playoff projection systems in early May. As of the start of play on Wednesday, here's what FanGraphs' playoffs odds system said about the AL West ... 

As you can see, the Astros, per FanGraphs, have no measurable shot at making the postseason, even via the "service entrance" (i.e., the wild card). 
Now here's what Baseball Prospectus's method tells us ... 

Somewhat more optimism to be found! That is, BP gives the Fightin' 'Stros no chance of winning the division or wild card, but thanks to the quirks of mathematics those add up to an 0.1 percent chance of making the postseason. No dice on the World Series, though. 
Yes, we all knew the Astros were going to be some flavor of awful this season, but that they're yielding these kinds of playoff odds this early is ... something. That's what happens when a terrible team toils in a tough division. 
Let's end on a positive note: Their odds of nabbing the top overall pick in the draft are exponentially better than their odds of making the playoffs.