It's Game 7, it's Kyle Lohse -- and he's exactly the guy the Cardinals want
Seven months ago, when Chris Carpenter couldn't pitch on opening day, Cardinals manager Mike Matheny picked Kyle Lohse to replace him. Lohse was brilliant that night and great all season, and now that the NLCS has gone to Game 7, the Cardinals wouldn't want anyone else on the mound.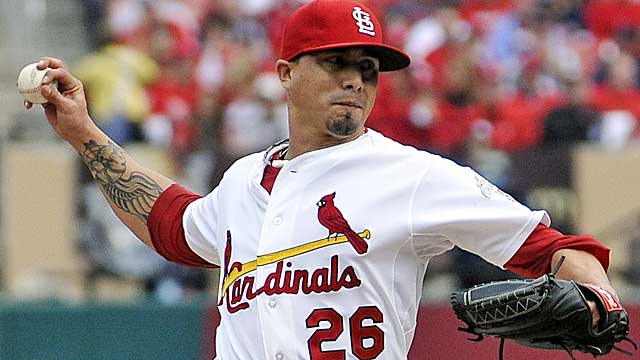 'Loshey was our ace this year,' says teammate Skip Schumaker. He'll need to be on Monday. (US Presswire)
SAN FRANCISCO -- Seven months ago, the Cardinals lost their ace. Chris Carpenter was hurt, and in one of his first decisions as a new manager Mike Matheny had to pick someone else to pitch the first game of the season.

He picked Kyle Lohse.

Now it's seven months later. Now, Carpenter just lost Game 6 to the Giants. Now the Cardinals face what could be the last game of their season.


More on Game 7
Related content
Now it's Game 7, and the Cardinals starter will be Kyle Lohse.

Back in March, even some people in the Cardinals organization wondered if Lohse was a worthy fill-in for Carpenter, whether he could be trusted with the pressure of an opening day start.

Now it's Game 7, and the Cardinals wouldn't really want anyone else.

It's Game 7, the game that either sends the Cardinals back to the World Series or sends them home wondering what happened in this National League Championship Series they once controlled. It's Game 7, and the idea of Kyle Lohse starting the most important game of the year inspires confidence rather than concern.

"Loshey was our ace this year," Skip Schumaker said late Sunday, after the Cardinals' 6-1 loss in Game 6. "Luckily we have him for Game 7 here. It would have been nice to have him for Game 1 [of the World Series], but we need him [Monday] more than we need him in Game 1."

Yes, that's right. The only negative the Cardinals see about having Lohse in Game 7 against the Giants is that now he wouldn't be available to face Justin Verlander in a Game 1 on Wednesday night.

This is the guy they'd want on the mound.

This is the guy they'd choose, just as Matheny chose Lohse for the wild-card play-in game 2 1/2 weeks ago in Atlanta -- and just as the Cardinals manager chose him seven months ago for that opening night at Marlins Park.

"I just feel like all year, starting then, he's shown confidence in me," Lohse said Sunday. "He's left me in games when I've had guys on base. As a pitcher, you appreciate that."

You appreciate it, especially when it's something new, especially when it's confidence that Tony La Russa didn't really show.

Perhaps Lohse didn't earn the confidence before. Up until that game in Atlanta, he was winless in four postseason starts. He had a 5.54 ERA in nine postseason appearances overall (although that includes five appearances with the Twins, when by his own admission, he just tried to throw 94 mph fastballs by the then-powerful Yankees).

We make a lot out of postseason success or failure, and sometimes we're right to do that. We've built Carpenter up as a postseason ace, and Game 7 last year against the Rangers showed that he deserved the praise.

But after a season mostly ruined by injury, Carpenter obviously isn't the same guy now. He's 0-2 in this NLCS, and while the record shows that he has allowed more unearned runs (six) than earned runs (four), it also shows that he has allowed 12 hits and four walks in eight innings.

It shows that he was outpitched Sunday night by Ryan Vogelsong, bad defense or no bad defense.

"These are two pretty evenly-matched teams," injured Cardinals first baseman Lance Berkman said. "You can kind of throw the momentum thing out the window. It's whoever gets the best pitching performance.

"Who wins [Game 7] won't show who has the better team. It's who gets the better pitching performance."

The Giants have Matt Cain, and no one needs to say that they feel comfortable with that. The Cardinals have Lohse, and despite his 16-3 record in the regular season and a 2-0 mark in three playoff starts this month, Matheny got asked Sunday about "Kyle's struggles."

"Kyle struggles?" Matheny asked.

Not really.

"The most impressive thing about Kyle isn't the 16 wins," Berkman said. "It's the three losses. He probably could have won 22 times if we'd scored some runs for him. But for me, it's the losses. He's only been beat three times."

If they'd only scored some runs . . .

The Cardinals could easily feel that way about this NLCS, or at least about the two games they have lost since getting to within one win of a return to the World Series. The Cardinals were shut out by Barry Zito and the Giants' bullpen in Game 5 Friday night in St. Louis. Sunday, they didn't get a hit off Vogelsong until the fifth inning, and scored their lone run an inning later.

They credited the pitching. They said that in this series, it's all about starting pitching, because both teams have strong bullpens.

They predicted that Game 7 will be all about the starters, too. And they said that they have absolutely no problem believing that Lohse will save their season.

"I'd love to see Kyle go out and dominate that game," said Adam Wainwright, who will be available in relief (perhaps reprising his role from Game 7 against the Mets in 2006?), but hopes not to be needed.

Wainwright remembers that opening game in Miami. He remembers how big a deal it was, because it was the nationally televised major-league opener, and because it was the first game ever in a new ballpark.

"[The Marlins] were fired up," he said.

That night, Lohse didn't allow a hit until the seventh inning.

"He wins that game, and he wins the play-in game [in Atlanta]," Wainwright said. "He's definitely earned his stripes with us. We trust him to go out and pitch a good game [Monday]."

And if you think the Cardinals are concerned that this NLCS they once controlled now comes down to a Game 7, then you don't really know this team.

"I just think it's what we do," Wainwright said. "For whatever reason, we always make it harder than it needs to be. Looking back, you can ask why, if we win. It's a fun argument to have, if we win."

The Giants, of course, feel the same way. They were the team that lost the first two games of the Division Series at home, forcing them to win three games in Cincinnati.

But the Cardinals were the team that not only had to win the decisive Game 5 of the Division Series on the road, but had to do it after first falling behind 6-0 to the Nationals (and still trailing with one strike to go).

"It's great TV," Wainwright said. "Television's got to love it. The fans in St. Louis have gotta have no fingernails left. But it's the same with Giants fans here.

"I saw a sign behind their dugout that said, 'Who's been tortured more than us?' I thought, what about our fans?"

There was a time when the thought of Kyle Lohse pitching to save the season might have tortured Cardinals fans. Not now.

"It's not my first elimination game of the year," Lohse said with a smile. "It's going to be fun to be in this atmosphere. It's going to be fun to feel it.

"And it's going to be fun to block it out."

It's Game 7, with Kyle Lohse starting. And yes, the Cardinals believe, it's going to be fun.


Neither Josh Donaldson nor Brian Dozier have talked about a new contract extension

Francisco leads the Dominican Winter League with seven home runs

Thome deserves enshrinement and here's why the case against him does not hold up
The Twins have already fortified the bullpen with Addison Reed, and now they want to address...

The Orioles likely want pitching, and the Indians have plenty of it

Halladay died in a November plane crash off the coast of Florida