It's hope week for the Yankees, who need help (and even A-Rod)
The Yankees came out of the All-Star break the way they went into it, and the best thing they have going is hope they'll get better.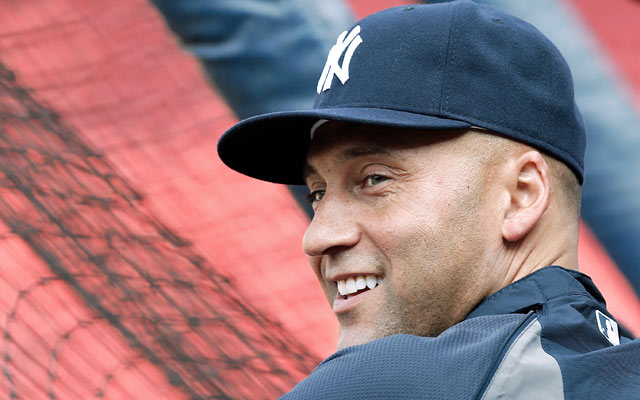 BOSTON -- The Yankees kept talking Friday about hope, and this time it had nothing to do with the fine HOPE Week charitable initiative they sponsor each year.
They kept talking about hope and Alex Rodriguez, and this time it wasn't that they were hoping their troubled third baseman with the monster contract would simply disappear.
You watched the Yankees come out of the All-Star break basically the way they went into it -- with Derek Jeter back on the disabled list, with another player joining him there by the end of the night, with Andy Pettitte losing and with a lineup full of barely recognizable names -- and you understand that hope is what they're left with.
The Yankees aren't done. They're three games out of a playoff spot with 66 games to play, and theoretically they're still going to get some talented players back within the next 2-3 weeks.
But to believe in the Yankees now, you basically have to believe in the 39-year-old shortstop who has managed zero innings at short so far and the 37-year-old third baseman who has spent plenty of time in the headlines and none at all so far on a major-league field.
The team they put on the field Friday clearly isn't good enough, not because of what we saw in one game (a 4-2 loss to the Red Sox) but because of what we've seen for three months.
The Yankees deserved some consideration as baseball's surprise team of the first half, for staying above .500 with what on most nights looked like a spring training split-squad lineup. But the real surprise would be if that same lineup could carry them to the playoffs.
They wake up Saturday morning seven games out of first place, their biggest deficit since the end of the 2008 season, the only Yankee season since the 1994 strike that ended without a playoff appearance. The last time they woke up on July 20 this far out of first place was in 1995, the year they won the first-ever American League wild-card berth.
The wild-card could well become the goal this summer as well, a possibility manager Joe Girardi basically acknowledged when he said that the first three series coming out of the break were against "three teams all in front of us" -- a group that includes the wild-card leading Rangers.
The first three of those games are against the Red Sox, a team not without issues themselves. The Sox emerged from the break with the news that former closer Andrew Bailey may well need shoulder surgery, and with still no definite plan for when Clay Buchholz can pitch again. And they, like the Yankees, had an outfielder leave Friday night's game with an injury.
But the trade market should provide help for the bullpen, and the Red Sox said their injured outfielder (Shane Victorino) wasn't seriously hurt.
The Yankees' injured outfielder (Zoilo Almonte) had his foot in a boot and was headed to the disabled list. And as general manager Brian Cashman acknowledged, the trade market is extremely light on impact hitters.
"Name me the bat that's moved so far," Cashman said.
Cashman also basically acknowledged that his current lineup isn't good enough ("These guys are trying, but . . . "), and that whether or not A-Rod is anywhere close to as good as he once was, the Yankees badly need him ("I think he'll be better than the production we've gotten from third base, with all due respect").
Brent Lillibridge was the Yankee third baseman Friday, the seventh different player used there in A-Rod's absence. The first six combined for a .589 OPS, which ranked dead-last in the majors. The six shortstops they've used have been no better, with a .548 OPS that ranks 29th (ahead of only the Mariners).
The numbers help explain why both Girardi and Cashman kept using the word "hope" when they were asked about A-Rod, who had two hits Friday night in Triple-A and looks more and more likely to make his 2013 Yankee debut Monday in Texas. Girardi used the same word when asked about Jeter, saying he hopes Jeter can come back from the DL next Saturday, the first day he'd be eligible.
Perhaps he can, but it's worth noting that Cashman said a Thursday MRI of Jeter's injured quad showed only "minimal healing" a full week after he suffered the injury.
You wouldn't want to count on him being ready next Saturday, and you wouldn't want to count on him being able to play shortstop regularly -- and effectively -- at 39 years old coming off a serious ankle injury.
You wouldn't want to count on A-Rod at all, not when he's coming off a second hip surgery, not when he's facing MLB's Biogenesis police.
But that's what the Yankees are left with. They're left hoping for Jeter to return. They're left, more amazingly, hoping to see A-Rod come back.
"Our hope is that he's active on Monday," Cashman said. "Ultimately, the hope is that he's ready on Monday."
Cashman later strengthened that statement a little, saying that the Yankees' "full expectation" is that Rodriguez will be activated Monday.
But really, the first answer was better. Really, everything around the Yankees right now is based on hope.
They're not good enough right now. Sometime, before it's too late, they hope they will be.
Neshek and the Phillies are closing on a two-year contract

And the team that first drafted Cole is interested

This scout was SUPER into Jeter
Stanton warned Marlins fans about the lean years that are forthcoming

The World Series champions aren't complacent

Stanton swiped at his old team on his way out