It's loud, it's wild and the Pirates now lead the Cardinals in this NLDS
The PNC Park atmosphere was as advertised, and the fans screamed and celebrated another memorable Pirates win in Game 3 of the National League Division Series with the Cardinals.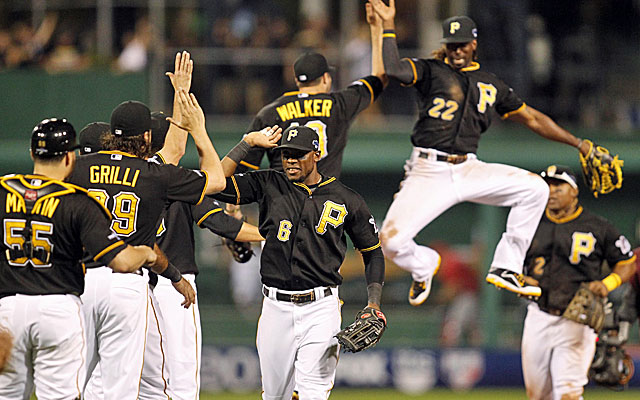 PITTSBURGH -- There's something building here, something special.
There's a city whose fans are the talk of baseball, and a team that seems to respond. Watch a game here, and it's easy to buy in, because the atmosphere is everything you've heard, and more.
The team isn't bad, either.
The Pirates -- and their loud, partying fans -- beat the Cardinals again in Sunday's Game 3, which can only mean that the fans will be even louder (is that possible?) when the Pirates have a chance to finish this series in Monday's Game 4.
"They're going to be louder," center fielder Andrew McCutchen said confidently, when the Pirates' 5-3 Game 3 win was over.
Is that possible?
"Oh, absolutely," he said. "They want to see a winner, and they want to see us win at home."
There's no reason to think that the loud fans were the reason the Cardinals lost Sunday, no reason to think the fans are an obstacle to the Cardinals winning Monday and taking the series back to St. Louis for a Game 5 on Wednesday. But the fans here and the atmosphere here have absolutely become the story, not just of this series but of the first week of the postseason as a whole.
It may not last. The Cardinals could well come back to win the next two games, and we'll move on to the next series and the next story.
But what has happened here won't soon be forgotten, not by anyone who experienced it, and not by any of the Pirates who are playing in it.
McCutchen said he walks out before every game to try to soak in the atmosphere, knowing that once the game begins he won't be able to fully appreciate it. Second baseman Neil Walker, a Pittsburgh native, said he does the same thing.
And when you hear Walker describing what he sees in the eyes of those thousands of black-clad Pittsburghers, it's as if he's talking about someone who is actually playing in these October games.
"I see desire," he said. "I see heart. You can feel the 20 years of frustration."
He sees it more than most, he feels it more than most and he hears it more than most.
He hears it in the voice of his father Tom. Or he would, if Tom Walker wasn't among the thousands losing his voice by screaming for the Pirates.
"My dad, as an ex-big leaguer, losing his voice -- that should tell you a lot," Walker said.
The Pirates insist that all those voices are helping to carry them. Closer Jason Grilli, who entered Sunday's game minutes after the Pedro Alvarez single that put the Pirates ahead for good, said the adrenaline makes him feel "like I could lift up my Hummer. If you can't feed off what this adrenaline's bringing to the table, I don't know.
"Look how fast you're writing. It's getting to you, too."
Is it? I don't know.
I do know that when you think of postseason baseball at its best, this is it. I know that in a city where fall Sundays have come to mean football and football only, a baseball team has gotten into this city's heart and into its throat.
And players like Walker and McCutchen, each in his fifth year with the Pirates and (obviously) in his first postseason, are coming to realize that what they always heard about the playoffs really is true.
"You hear people say that once you experience it, you want more," McCutchen said. "I can understand that. This is something you dream about, and you're living in the moment. It's great to be here. It's an honor to be here."
McCutchen, who hears "M-V-P!" chants regularly, had a part in all three Pirate rallies Sunday. Every one of them was necessary, too, because Carlos Beltran (in his fourth postseason) twice brought the Cardinals back, with a fifth-inning single that made it 2-2, and an eighth-inning home run that made it 3-3.
Beltran's home run, his 16th in 37 postseason games, didn't exactly silence the crowd. But the volume did drop a notch, or a half-notch, for maybe a minute. Then McCutchen singled, and soon after Alvarez's single had the stadium shaking.
Grilli survived a leadoff single in the ninth, and soon enough the Pirates led this series, two games to one.
"This is the best sporting event I've ever been to," said Grilli, who pitched in the World Series with the 2006 Tigers. "These people are awesome, and I'm happy we're delivering for them."
There's a definite sense that a bond has developed between these fans and this team, even more than it does in most playoff cities. Maybe it has something to do with Pittsburgh and with these players, but more likely it's mostly a product of that 20-year drought.
As bad as that was for the Pirates to go through, that's what helped lead to this.
"These fans haven't seen playoff baseball," McCutchen said. "They want to feel like they're the 10th guy -- and I feel they are."
This is Pittsburgh, so you couldn't avoid a mention of that other team in town.
"Well, it helped that the Steelers were on a bye week," Walker said.
He smiled as he said that. He smiled as he said everything.
They're all smiling around here, all the Pirates and all their fans. Smiling and screaming, and they don't want it to end anytime soon.
With a win Monday, it won't.
MLB can unilaterally implement rule changes, which will also include limits on mound visit...

If the MLBPA wants to fix MLB's economic system, it should push for more money for young p...

Fans aren't happy Gerrit Cole and Andrew McCutchen have been traded away
Acuna is arguably the best prospect in baseball

Kent had a good career, particularly with the bat

This would undoubtedly be the worst trade in Miami Marlins history