It's NLCS and it's Greinke vs. Cardinals, but this is not 2011
Zack Greinke starts Game 1 of the NLCS against the Cardinals for the second time in three years, but the circumstances could hardly be more different.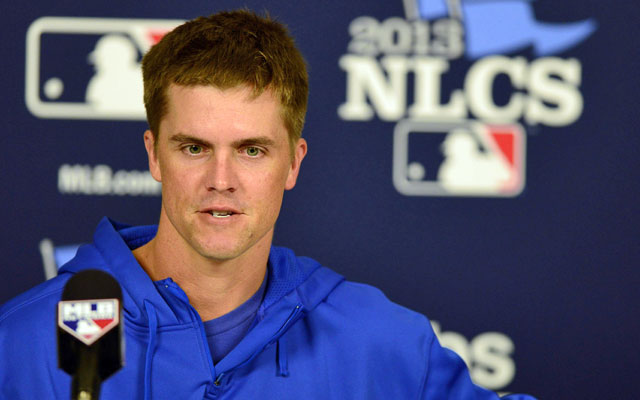 ST. LOUIS -- The Zack Greinke factor in this National League Championship Series has a lot less to do with what he says than with how he pitches.
If he's going to make news, it will either be because the Cardinals can't hit him, or because they can. If he gets under the Cardinals' skin, it will be because he and Clayton Kershaw kept the Cards from the World Series, and not because he says Chris Carpenter has "a phony attitude."
That was two years ago, and that was before an NLCS that matched two division rivals who really didn't like each other.
That was Brewers-Cardinals, this is Dodgers-Cardinals, and if Greinke isn't completely different, then at least the circumstances are.
And it probably helps that the Dodgers don't have anyone like Nyjer Morgan.
Greinke is a big part of the buildup for this NLCS, because the Dodgers' decision to start Clayton Kershaw on three days' rest in Game 4 against the Braves pushed Greinke into the Game 1 start here on Friday night. And because if the Dodgers have an advantage over the Cardinals, it's that Greinke and Kershaw could start four of a possible seven games.
Or maybe more than four.
Dodgers manager Don Mattingly has only revealed the first two names in his NLCS rotation, with Greinke going Friday and Kershaw on Saturday. Mattingly gave a vague answer when asked Thursday about using anyone on three days' rest, and Greinke responded to a short-rest question by saying he wanted to keep his feelings on it a secret for competitive reasons.
Greinke is as honest as they come, sometimes too honest. Ask him a question and you'll almost always get a straight answer, which he showed in that pre-start press conference two years ago by blurting out that "no one [on the Brewers] really likes Carpenter."
Thursday's Greinke press conference had none of that, not because he wanted to hide anything about the Dodgers' feelings toward the Cardinals, but because there really wasn't anything to hide. Greinke complimented the Cardinals and their hitters, just as the Cardinals have complimented the Dodgers' twin aces.
"It's a challenge both ways," Carlos Beltran said. "A lot of people are talking about [Greinke and Kershaw], but they've got to face this lineup, too. It's going to be a fun series."
A fun series, not an angry one.
Cardinals players claimed to not even remember Greinke's comments from two Octobers back. John Axford, a Brewer then and a Cardinal now, said his teammates haven't asked him about Greinke.
"More people ask about Nyjer Morgan," Axford said.
Greinke started two games in that 2011 NLCS. He gave up six runs in Game 1, but the Brewers won 9-6. He gave up just five runs (two earned) in Game 5, and the Cardinals won 7-1.
He has faced the Cardinals three times since then, winning all three starts and allowing just three runs in 19 1/3 innings.
"The way he has pitched this year, he looks fantastic," Axford said. "He looks like the Greinke we saw in 2011 or -- and I hate to say this -- even better. His stuff seems incredible. It seems like it's even better than I saw that year, and that's a little hard to say, given that we're going to be facing him [Friday night]."
Greinke did have a fine first season with the Dodgers, who made him their big offseason target and signed him to a six-year, $147 million contract. He went 15-4 with a 2.63 ERA, and the Dodgers won 22 of his 28 starts.
It's no easier to beat Kershaw, although a lack of run support kept the Dodgers from going better than 19-14 in his starts.
"I think we feel like both guys are our number ones," Mattingly said.
Because the Cardinals needed Game 5 to get past the Pirates, they won't be able to pitch ace Adam Wainwright until Game 3 against the Dodgers. That leaves Joe Kelly and Michael Wacha to start the first two games.
Then again, since Kelly was 10-2 with a 1.90 ERA in his final 14 regular-season games, and Wacha took no-hit bids into the eighth and ninth innings in his past two starts, that may not be as big a Dodgers advantage as it seems.
Kelly actually beat Kershaw in a July game in St. Louis, the only game the Cardinals won in that four-game series. Kelly allowed one run in 5 1/3 innings that night, while the Cardinals scored twice in six innings against Kershaw and went on to a 5-1 win.
Neither team is claiming that the results of that series are much of a tell for what will happen in this one, especially since the Cardinals were without Yadier Molina at that time.
"That changes a lot," Greinke said. "We were playing really well at the time, and so it's different circumstances, I would say."
Different circumstances from early August, and definitely different circumstances from October 2011. Now that Greinke is a Dodger and not a Brewer, these aren't the hated Cardinals.
They're just the Cardinals, a very good NLCS opponent.
"They're sort of just another team now," Greinke said. "When you're playing in the same division, it's a lot more of a rival. I guess as soon as you switch organizations, the rivalry kind of ends, I guess.
"That's kind of how it feels in this instance, at least."
It feels like a fun NLCS, and it feels like Greinke could be a very big part of it.
It also feels nothing like 2011.