It's starting to look a lot like 2006 for the Tigers (and they'll take it)
The 2006 Tigers swept the A's in the ALCS, giving them a full week off before beginning a World Series they would lose to the Cardinals (possibly because of all that time off). They see the possibility that history is repeating, now that they're up three games to none on the Yankees. If so, the Tigers will take it (but they might try to handle the week off a little different than last time).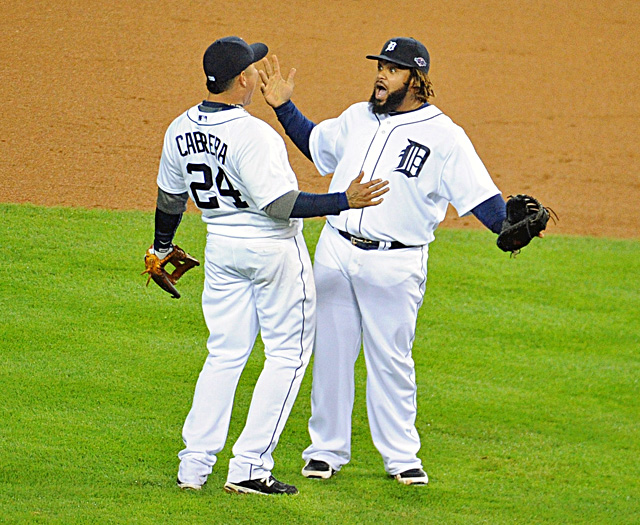 Miguel Cabrera celebrates with Prince Fielder following the Tigers' 2-1 win over the Yankees in Game 3.
(US Presswire)
DETROIT -- Up three games to none in the American League Championship Series, the Tigers have reason to be worried.

They have reason to be scared.

This isn't about the Yankees, because they couldn't scare anyone right now. This isn't about what happens if the Yankees wake up and win a game.

This is about what happens if they don't.

An ALCS sweep . . . followed by a full week off . . . followed by a World Series that could be against the Cardinals.

Just like 2006 . . . when the week off led to a World Series that didn't work out real well for the Tigers.

Maybe you don't remember. Rest assured, plenty of people with the Tigers do.

Is this really all happening again?


It sure felt like it Tuesday night, when 2006 alum Justin Verlander dominated the Yankees on a night when, by his own admission, "I was all over the place from the fourth inning on." It sure felt like it, after a 2-1 Tiger win in Game 3, setting up a possible sweep-ending win in Wednesday night's Game 4.

"3-0, that's great," Miguel Cabrera said. "You want to be in this spot."

Cabrera went on to say how much the Tigers respect the Yankees. He went on to talk about what happened last week, when the Tigers went up two games to none on the A's in the best-of-5 Division Series, only to lose the next two games in Oakland before Verlander saved them in Game 5.

"We have to come with the same mind-set we had [Tuesday], the same mindset we had in New York," he said. "We can't think we're going to the World Series. We have to think about winning a game.

"It's the Yankees. You never know what's going to happen."

Yes, it's the Yankees. And it's CC Sabathia on Wednesday. It's no guarantee.

But what if the Tigers win? What then?

The last thing the Tigers would admit is they're thinking about that. The last thing they would say out loud is that they're planning for it.

"If that happens, we'd make some adjustments," Verlander said. "But we have to win another game first."

They only need to win one more, because of what Verlander did Tuesday. This wasn't vintage Verlander, because he was behind in the count on nearly every batter from the fourth inning on.

He didn't actually walk anyone, and he didn't allow a hit to anyone but Ichiro Suzuki (who had two fairly meaningless singles) until the ninth. But as he said, he was all over the place, which is why he also needed two outs of help from Phil Coke in the ninth.

Verlander was without doubt the Tigers' most important pitcher against the A's, with two wins that included a complete-game shutout in that winner-take-all Game 5.

Verlander has not been the most important Tiger pitcher against the Yankees. Coke has.

In a series where Jose Valverde's struggles left the Tigers without anyone to close out games, Coke got the final six outs Sunday and the final two on Tuesday. Because the Yankees rely so much on left-handed hitters, the Tigers thought Coke would be key in this series.

They could never have imagined that he'd be this key.

"The results are good," Coke said.

It helps, of course, that the Yankees look so helpless at the plate. It helps that Yankees manager Joe Girardi has lost so much confidence in his right-handed hitters that he allowed lefty Raul Ibanez to make the final out against Coke, because he knew that if he pinch-hit Alex Rodriguez, he'd get Joaquin Benoit out of the Tiger bullpen, and he hated that matchup.

The Tigers can't say this series is over. But if they're not planning for the possibility that it is, they're not doing their jobs.

You can bet that any team with Dave Dombrowski as general manager and Jim Leyland as manager is planning for any possibility, especially one that seems as likely as this one.

You can bet that the Tigers would set up intrasquad games in the next week, if they finish the Yankees off on Wednesday. They couldn't do that in 2006, because terrible weather forced them inside.

"This time, it looks like better weather," said Ramon Santiago, one of the current Tigers (along with Verlander and Omar Infante) who was also here in 2006. "But first we've got to do it. We've got work to do.

"Then we'll talk."

But yes, Santiago admitted, it is starting to look a little like 2006. But he sees one difference.

"Our pitching," he said. "I've never seen anything like it. Not even in 2006."

With this pitching, they'll take their chances. They'll chance another sweep. They'll chance another week off.

They'll chance another World Series against the Cardinals, if that's what baseball gives them.

After all, it could be worse. They could be the Yankees.
This would undoubtedly be the worst trade in Miami Marlins history

The Pirates recently shipped Gerrit Cole and Andrew McCutchen to Houston and San Francisco,...

Surely, Martinez and his agent are holding out for more
The reliever had a very good 2017 season with the NL Central champs

We don't need to discuss Chipper's Hall of Fame case, so let's have fun instead

Dioner Navarro still hopes to return someday