It's time to start thinking of Yasiel Puig as a smart hitter
Despite his reputation for thriving on talent alone, Dodgers phenom Yasiel Puig has a heady and evolving approach at the plate.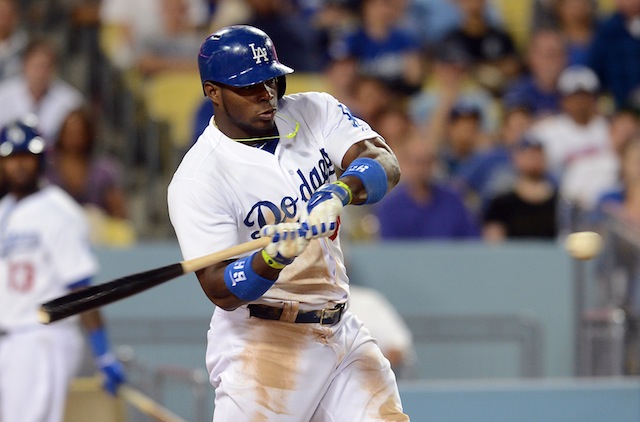 More MLB: Power Rankings | Expert Picks | Latest news & notes | Fantasy news
During the 2013 postseason, I wrote that at the plate Dodgers supernova Yasiel Puig had a better idea of the strike zone than was generally believed. Thanks to his untrammeled style and occasional missteps, Puig has acquired the veneer of player who thrives on talent and fast-twitch instinct alone. While every MLB player necessarily has a tremendous amount of talent (even the scrappiest of dirty-uniformers is a supremely gifted ballplayer), Puig was something else altogether, we were told -- so much so that hoofed-mammal metaphors still abound. 
All of these perceptions -- justified or no -- obscure the fact that Puig continues to evolve with the bat in his hands. He's becoming gradually more disciplined, he's committing the strike zone to memory, and he's methodically addressing the holes in his offensive game. Those are the kinds of traits we reference when declaring someone to be a smart hitter. Perhaps Puig really is careening on two street-illegal wheels toward glorious immolation, but you should think of him as -- yes -- a smart hitter. 
To this end, let's take a look at some indicators of said improving plate smarts. Below you'll find Puig's 2013 versus 2014 outputs for walk/strikeout ratio ("BB/K"), swing rate on pitches outside the strike zone ("O-Swing %"), rate of contact ("Contact %") and percentage of pitches on which he's swung and missed ("Whiff %") ... 
Yasiel Puig's improving plate discipline
Year/Stat
BB/K
O-Swing %
Contact %
Whiff %
2013
0.37
37.0
67.7
29.4
2014
0.56
26.5
73.9
22.3
As you can see, Puig is demonstrating more restraint and a better eye in all the right places. He's laying off pitches he can't handle, and he's putting the bat on the ball more often. Over at FanGraphs, the most excellent Jeff Sullivan not long ago noted that Puig this season has improved his swing rate on pitches outside of the strike zone to a greater extent than any hitter in baseball this season. In a related matter, his strikeout rate has dropped, his walk rate is up, and he's also hitting infield pop-ups at a much lower rate. As well, his fly-ball/groundball ratio is trending in the right direction. Puig is showing all the signs of learning which pitches he can barrel and which he should let go. Oh, this season he's hitting .322/.411/.586 (178 OPS+, good for 3rd in the NL). 
To get more granular for a moment, recall that in that piece linked at the top I haughtily opined that the Cardinals heading into the 2013 NLCS would do well to pitch Puig low and away (which they subsequently did, to great effect). On that point, here's Puig's strike zone plot and swing percentage from his rookie season (courtesy of Brooks Baseball) ... 
This is presented from the catcher's point of view, so low-and-away for a right-handed batter like Puig would be the lower right portions of the image. Indeed, Puig chased such pitches quite often. Now here's his 2014 zone plot (again via the most wondrous Brooks) ...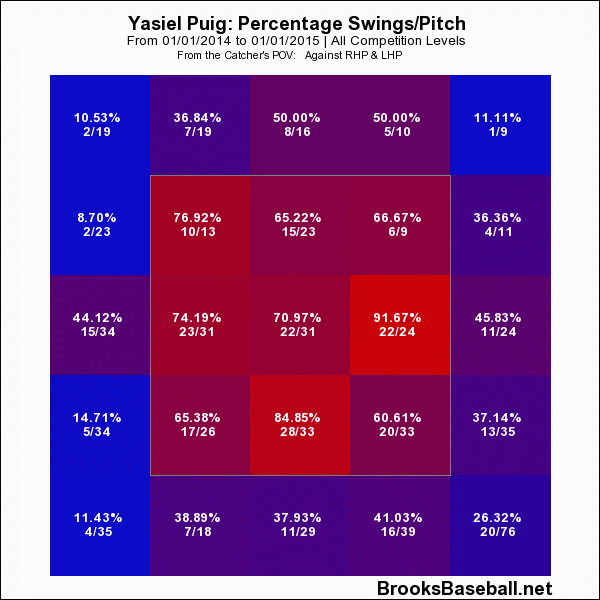 Yep: Puig's doing a much better job of laying off "chase" pitches that were all too tempting for him just a season ago. 
There's sure to be a lot of right-handed sliders in those numbers, as that's where that pitch tends to wind up when delivered by a righty. When it comes to resisting the charms of the put-away, two-strike slider from a right-hander -- something that's hard for even the most honed righty hitter to do -- Puig has reduced his swing percentage on such pitches from 67.1 in 2013 to 40.0 this year (sample-size caveats apply, of course). 
In the end, Puig is not only flashing a better approach across the board, but he's also showing discipline in very specific ways that eluded him during his first major-league season. Given all that, yes, one should probably lay aside the noise and start thinking of Puig as ... a smart hitter.  
Our Latest Stories
Vargas' hand was fractured by a comebacker and he does need surgery

Vogelbach is having a huge spring and may steal the first base job from Ryon Healy

Polanco tested positive for Stanozolol, a common banned substance
MLB was angry with the Yankees slugger, saying his comments were not appropriate

A closer look at the teams in the Cactus League and Grapefruit League

The Orioles are trying, even if their attempt leaves something to be desired