Jack Morris, others accuse Clay Buchholz of doctoring baseballs
Did Clay Buchholz cheat by using a foreign substance on his forearm in Wednesday night's stellar outing in Toronto? He says no, it was just rosin (which is legal). And his manager has his back. Jack Morris and others from Toronto disagree.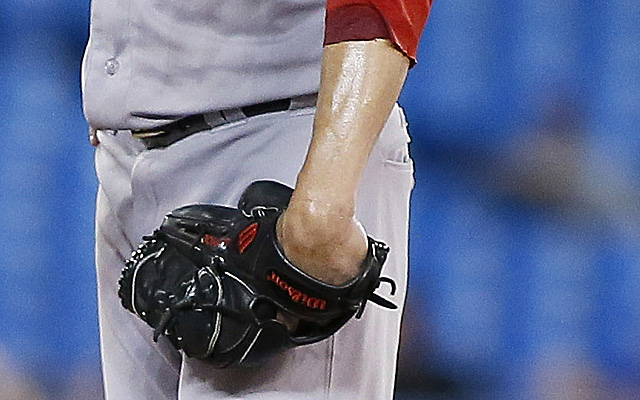 More MLB: Scoreboard | Standings | Probable Pitchers | Sortable Stats | Odds
Some video footage from the Rogers Centre scoreboard crew during the Blue Jays game against the Red Sox on Wednesday was used to question whether Red Sox starter Clay Buchholz was doctoring the baseball.
Video initially unearthed by the stadium's scoreboard crew from his outing Wednesday and subsequently added to by the Sportsnet broadcast team showed a streak of what looked like a creamy white substance on his left forearm, which he would run through with his index and middle fingers.
Now, before we go any further, let's make something clear: The Toronto Blue Jays did not accuse Buchholz of cheating during the game or through the media afterward. This stems from the stadium camera crew and Sportsnet broadcast, not John Gibbons or any of his players. So let's not blame the Blue Jays.
Jack Morris, however, is definitely on board with accusing Buchholz of cheating.
"It was all over his forearm, all over the lower part of his T-shirt, it's all in his hair," Morris said. "I can't prove anything. I can't prove anything.

"Funny thing, the way the game is played today. In our generation, every player, every coach would have seen it, the umpire would have gone out and made him change, made him stop and that changes everything. Or else they throw him out of the game. So what kind of bugs all of us is nothing is done here."
Morris also believes Buchholz was throwing spitballs.
Buchholz dominated the Jays for seven shutout innings, allowing only two hits and striking out eight in a 10-1 victory. So maybe Morris was just angry Buchholz didn't pitch to the score? I kid, I kid.
Anyway, there was a visible white streak on his arm, but it's a rather simple explanation.
"There's a rosin bag behind the mound and it's there for everybody to use every inning after our warm-up," he said (via sportsnet.ca). "Put rosin on my arm throughout the game. Sweat, water, whatever. … Sometimes I put a little thing of water on my hip just to get moisture on your hands. Cause sometimes the balls that they throw to you feel like cue balls off a pool table. Got to find a way to get grip. But yeah, I mean, definitely no foreign objects or substances on my arm."
Rosin is legal. And it's perfectly normal for powder to form a shiny paste in sweat. Red Sox catcher David Ross backs up Buchholz's defense.
"I touch the ball as much as Buch does and I know when a pitcher is messing with the ball. He's not putting anything on it. And that shirt he wears is about 40 years old," Ross said to ESPN Boston.
Buchholz is the way-too-early leader in the clubhouse for the AL Cy Young, as he's now 6-0 with a 1.01 ERA, 0.96 WHIP and 47 strikeouts in 44 2/3 innings pitched through six starts. No team has accused Buchholz of anything nefarious or checked any balls during his starts.
No word, as far as I can tell, on what the Sportsnet broadcasting team's excuse was for the Blue Jays allowing 10 runs in the game.
On a serious note, maybe Morris and company really did find something. Anything's possible.
One thing is for sure, Buchholz will definitely be watched closely next time he takes the mound, which will be Monday in Boston against the Twins.
UPDATE: Hall of Famer Dennis Eckersley had some choice words about the accusation -- including going hard after Morris.
MLB can unilaterally implement rule changes, which will also include limits on mound visit...

If the MLBPA wants to fix MLB's economic system, it should push for more money for young p...

Fans aren't happy Gerrit Cole and Andrew McCutchen have been traded away
Acuna is arguably the best prospect in baseball

Kent had a good career, particularly with the bat

This would undoubtedly be the worst trade in Miami Marlins history