Jake Arrieta on PED whispers: 'Some people are idiots'
Apparently, no player is ever allowed to improve, lest he be accused of cheating.
Given the run of Cubs ace and reigning Cy Young winner Jake Arrieta, it's not surprising that some feeble-minded folks out there believe he's using performance-enhancing drugs. It doesn't make it any less disappointing, of course, but we'll never rid ourselves of the PED talk.
Arrieta's response? Bob Nightengale of USA Today asked him, and here you go:
"I've heard players, and I'm talking about some of the best players in the league," Arrieta told USA TODAY Sports, "question whether I've taken steroids or not. Some of the things I hear are pretty funny, and some people are idiots, frankly.

"I'll see on Twitter, 'My close source revealed to me he's on steroids.' Well, the 10 tests I take a year say otherwise. I eat plants. I eat lean meat. I work out. And I do things the right way.

"If there are guys still on it, I hope they get caught. I care about the integrity of the game. I wouldn't want to disappoint my family, my friends, my fans. That's a huge motivating factor in doing it the right way.

--snip--

"Hey, that's one of the best compliments you can give a guy," he says. "I appreciate the fact that you think I'm pretty good, but taking steroids, that's pushing it."
The story notes that Arrieta was more laughing than angry when discussing.
I actually noticed a few rubes late last week on Twitter -- mainstream things like no-hitters bring out not-even-casual "fans" -- and engaged a few. I had some questions.
Among them:
Did you know that the Orioles hated the way Arrieta threw across his body and wanted to "fix" this issue?
Via a Chicago Tribune article from this week:
Before the deal, Arrieta and Orioles pitching coach Rick Adair weren't on the same page. The Orioles were trying to get him to throw directly on line to the plate instead of his favored crossfire delivery. Their way felt uncomfortable to Arrieta.

"I knew I got [to the majors] for a reason," Arrieta told Sports Illustrated during spring training, "and I was confused about why I was changing that. You feel everybody has your own best interests in mind, but you come to find out that's not necessarily the case."
This Cubs have also made several other mechanical changes to Arrieta, thanks to excellent pitching coach Chris Bosio.
Did you know the Orioles don't allow pitchers to throw the cutter and it's Arrieta's out pitch now (he calls it a slider, but it's more of a cutter to the point that many dub it a "slutter")?
This is pretty common knowledge among die-hard baseball fans and I covered it a bit last October.
Did you know that his velocity hasn't had any meaningful change, nor has his body since his last few years with the Orioles?
From September 2012 to June 2013 -- when Arrieta was struggling mightily with the Orioles -- his fastball was averaging over 95 mph. In 2015, his average dipped below 95 in April, June, August and October (brooksbaseball.net).
Did you know that Arrieta was long hailed as a top prospect and a guy who had the potential to develop into a frontline ace?
He was ranked as a top-100 prospect two straight years, sitting at 52nd overall by Baseball Prospectus in 2009. He had stints in Triple-A where he dominated, and the Orioles saw fit to make him their Opening Day starter in 2012 (on a team that went to the playoffs).
---
The first two questions are in order to see if these mindless accusers realize that sometimes players can get better by making adjustments. The third is because, I don't know, I think that if a pitcher all of a sudden got awesome only because of "juice" that we would see some numbers like velocity start moving. The fourth is an illustration that everyone who watched Arrieta pitch always saw the potential in there. He just needed to unlock it. The change of scenery, mechanical adjustments and new pitch were part of it.
A funny thing about the people I questioned: They couldn't or wouldn't answer any of these questions. The answers were as mindless as the thought process. It was a bunch of non-answers like "you probably still believe Lance Armstrong" and idiocy that has nothing to do with Arrieta. 
Just as I've done with Jose Bautista and a laundry list of others (even Mike Trout and Bryce Harper), I'll continue to defend players in the face of this type of junk until they've proven they don't deserve the defense. A lot more goes into someone improving later in a career (hey, go check out Cliff Lee) than cheating. Players throughout history have gotten better by making adjustments and working hard. It's still possible, people.
It's unfair and, again, mindless to argue otherwise.
Of course, maybe the best question to these people who think the only way to get good is to cheat would be: So why even pay attention? Just stop watching.
As Arrieta said, some people are idiots.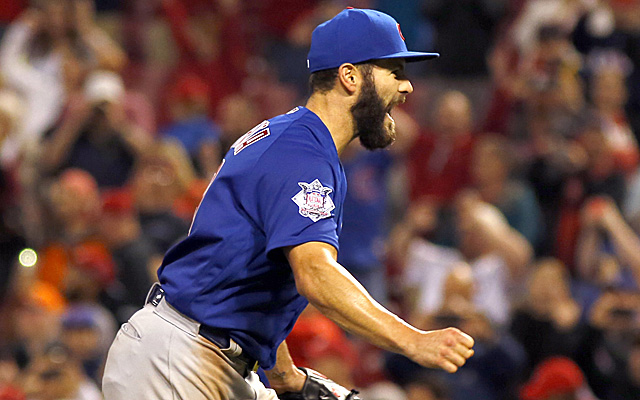 Souza is tasked with replacing J.D. Martinez in the Arizona lineup

Samardzija had the MRI done on Thursday following a poor start

Well, you don't see this every day ... at least not in spring training
Our advanced computer model simulated the Cardinals' entire 2018 season 10,000 times

Our advanced computer model simulated the Cubs' entire 2018 season 10,000 times

The lefty ace has already put together an excellent career, and there's more to come